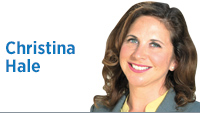 When I was a kid, my parents could safely assume I was safe in bed at night.
They knew who was contacting me outside of school hours because the only way I could take a phone call was on our home line. Imagine teens today sharing a party line with their siblings and parents? If you want to give yourself a good laugh, describe what that was like to a Gen Z kid. I promise—once you convince the kid this was true and not just a tale by the Brothers Grimm, the look of absolute horror on his or her face will be priceless.
Remember when your dad would pick up the other line and tell you to get off the d*&% phone and go to bed? When I think of the night I finally got the call from my high school crush, I must admit, yes, the embarrassment still stings.
More safe eyes were on our kids and teens, and unsafe adults did not have the intimate access to very young people that personal cellphones now allow.
Families had a pretty good idea of what their kids were reading and filling their minds with because they could see and hear the evidence.
Not only are we assailed today by propaganda all day long on our personal hand-held devices, we have more televisions in more rooms in our houses. Wait a second. I must correct myself; that is hopelessly old-fashioned. I should say, we have more screens that we can stream from or to, including the individual screens our kids watch in the car from infancy.
These days, it is nearly impossible to know when our children are filling their minds with hate and dark propaganda. It is not always easy to see when they lose their grip and what you perceive as normal depression or teen brooding is something more serious.
There are also more guns in family homes in 2018 than there have ever been in American history.
Most people take great care with their weapons and handle them with the respect they deserve. Yet even some of these good actors, these responsible citizen gun owners, can be vulnerable when a mentally ill, yet determined, student sets out to get his or her hands on guns in the home. Just ask the parents who have lost children to suicide by family gun.
As we experience more youth-on-youth gun violence in schools, we are likely much better off working on support systems for parents of teens in this age of rapidly evolving technology and change.
How we do family is forever changed for the better and the worse. Technology has made our lives and parenting so much easier in any number of ways. Yet it has dire unintended consequences as well. While we might long for simpler times, this is our rapidly unfolding reality and we have to deal with it.
The kids of today are expecting an incident of mass violence in their school, a place we used to take for granted as safe.
As we examine and debate the laws that govern us and the practical tactics of school safety, to effectively address the many contributing factors to escalating youth violence in schools, it is critical that we engage in a 360-degree evaluation of contemporary American family life as well.
After the 9/11 terrorist attacks, we reacted by putting in place a number of security measures intended to keep us safe from the bad guys. One of those reactionary tactics was to put locks on the inside of the cockpit door. This very thing that might have saved us from one disaster allowed another, the deliberate crash of Germanwings Flight 9525, which caused a loss of 150 passengers and crew.
Rather than merely react to what has happened, let's work urgently, and be thorough and thoughtful, as we attempt to prevent the next incidents of unacceptable violence.
Precious lives are at stake.•
Click here for more Forefront columns.
__________
Hale is a former member of the Indiana House and ran for lieutenant governor in 2016 on the Democratic ticket. Send comments to ibjedit@ibj.com.
Please enable JavaScript to view this content.