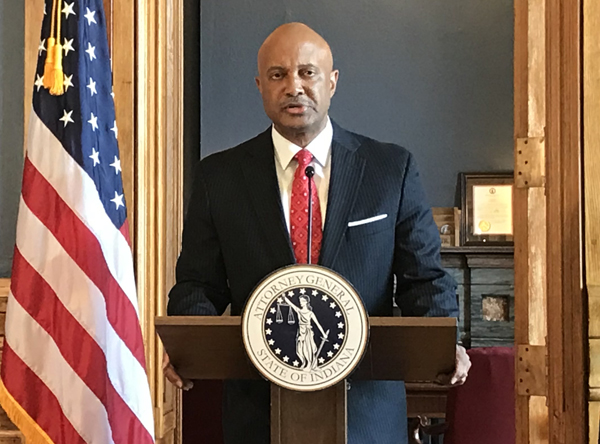 Indiana Attorney General Curtis Hill on Monday addressed the media in person for the first time since allegations were made public that he groped four women at a bar in March, and said calls for his resignation are "unwarranted" and should be rescinded.
Hill is accused of inappropriately touching Rep. Mara Candelaria Reardon, D-Munster; Gabrielle McLemore, communications director for the Indiana Senate Democrats; and two other women at a party after the General Assembly session ended.
Gov. Eric Holcomb, House Speaker Brian Bosma, Senate Pro Tem David Long and a growing number of other Republican and Democratic elected officials have called for Hill to resign amid the accusations.
Hill released several statements prior to Monday calling the accusations false and saying he would not resign. He has described an investigation that Bosma and Long ordered as unfair because he was never interviewed. He has argued that he has not been given due process.
He reiterated those claims in his remarks Monday morning, saying he has not been "afforded fairness in this investigation." He said he first heard about the accusations and the investigation by top Republican lawmakers three days before it became public last week.
"I never dreamed this could happen to me, and yet here I stand," Hill said. "I stand before you a condemned man."
Hill said he respected the governor, but wishes Holcomb would have contacted him before publicly calling for his resignation.
Hill refused to answer any questions from the media after speaking for about seven minutes.
"A week ago today, I had a name," Hill said. "And I want my name back."
Reardon and McLemore have both issued extensive narratives recounting their encounters with Hill.
McLemore described the touching as an "unwanted, slow, sexual rub on the back."
Reardon wrote that Hill "placed his hand on my back and slid his hand down to my buttocks and grabbed it." She told him to "back off" and walked away, but he approached her later in the evening and touched her again.
 
Hill denied the allegations again on Monday.
 
"I now stand falsely and publicly accused," Hill said.
 
Holcomb has requested the Indiana Inspector General investigate the allegations, but Hill has argued any investigation from that office would not be fair because the governor appoints the position.
Hill has requested the Marion County Prosecutor's Office conduct an independent investigation of the claims.
The prosecutor's office has not said whether it is looking into the claims.
If Hill does not resign–and he gave no impression on Monday that he planned to–the state Legislature does have the power to impeach him.
Democratic state Rep. Ed DeLaney told IBJ on Friday morning that he plans to proceed with impeachment if Hill doesn't remove himself from office. But it's unclear if Republicans support that approach.
 
The impeachment process would begin in the Indiana House. Bosma has not commented on whether that is something he would consider.
Please enable JavaScript to view this content.