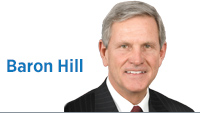 I wanted to write about the latest outrage coming from the president of the United States. Like the "interesting idea" of allowing Russian prosecutors to question U.S. officials, including a former U.S. ambassador to Russia.
Or, like criticizing Article 5 of the NATO treaty, a provision that calls for NATO members to come to the defense of an ally under attack. Remember 9/11? When our NATO allies came to our defense? But I'm going to save my Trump rant for another day. Perhaps when the dog days of the summer heat can no longer affect the mood I'm in.
Instead, I'm going to write about how the trade war is a stupid development and bad for Indiana.
First, a little history. Globalization, a creature of advanced technology and multinational corporations, has shrunk the world. Protectionism became unrealistic. In 1947, the General Agreement on Tariffs and Trade—known as GATT—was signed by 23 countries to reduce trade barriers such as tariffs and quotas. In 1994, a new agreement was signed by 123 nations, followed by the Uruguay Round and the creation of the World Trade Organization in 1995.
What are the facts about how these agreements have affected the United States? First, the U.S. is the largest trading nation, and trade supports almost 10 million American jobs. These jobs pay 13 percent to 18 percent more than the U.S. national average. Almost 41 million jobs are directly or indirectly affected by global trade.
According to the Federal Reserve Bank, real manufacturing output has risen nearly 80 percent over the past 25 years. For American farmers, one in three acres is planted for exports. While there has been some displacement of jobs (especially in the steel industry), the net effect has been positive for jobs in the United States.
What about Indiana? International trade supports 812,000 Indiana jobs. We export $38 billion in goods and $8.9 billion in services. Nearly 200 countries buy Indiana-made goods and services. Foreign-owned companies invest and employ 160,000 workers.
Indiana ranks among the top five state exporters in 10 industries, and is America's eighth-largest exporter of agricultural products, including the fourth-largest exporter of soybeans and fifth-largest exporter of corn.
So has trade been good for Indiana? No doubt it has.
So how will this trade war affect Indiana? To answer, let's go straight to whom it will help: the steel industry. Tariffs will help the steel industry and steel jobs. But at a cost. Wabash College professor Frank Howard says other Indiana industries will experience increased cost of steel and aluminum products.
I believe the auto industry will be hit hard. The Indiana auto industry is now second in the nation and employs 102,000 people in auto manufacturing alone. Add jobs at Cummins, Firestone, Remy International and in Elkhart County, the RV capital of the world, and you begin to see the picture.
And then there are our farmers. China is threatening to retaliate the Trump tariffs with a 25 percent tariff on soybeans. A Purdue University study found that a tariff of only 10 percent would result in a 33 percent drop in exports. And a 30 percent tariff would result in a 71 percent drop in exports.
Now, Trump has said trade wars are good in a strong economy and everything is going to be all right.
He also said everything would be OK with Carrier. Don't believe him.•
Click here for more Forefront columns.
__________
Hill is a Democrat and former congressman from the 9th District in Southern Indiana.Send comments to ibjedit@ibj.com.
Please enable JavaScript to view this content.