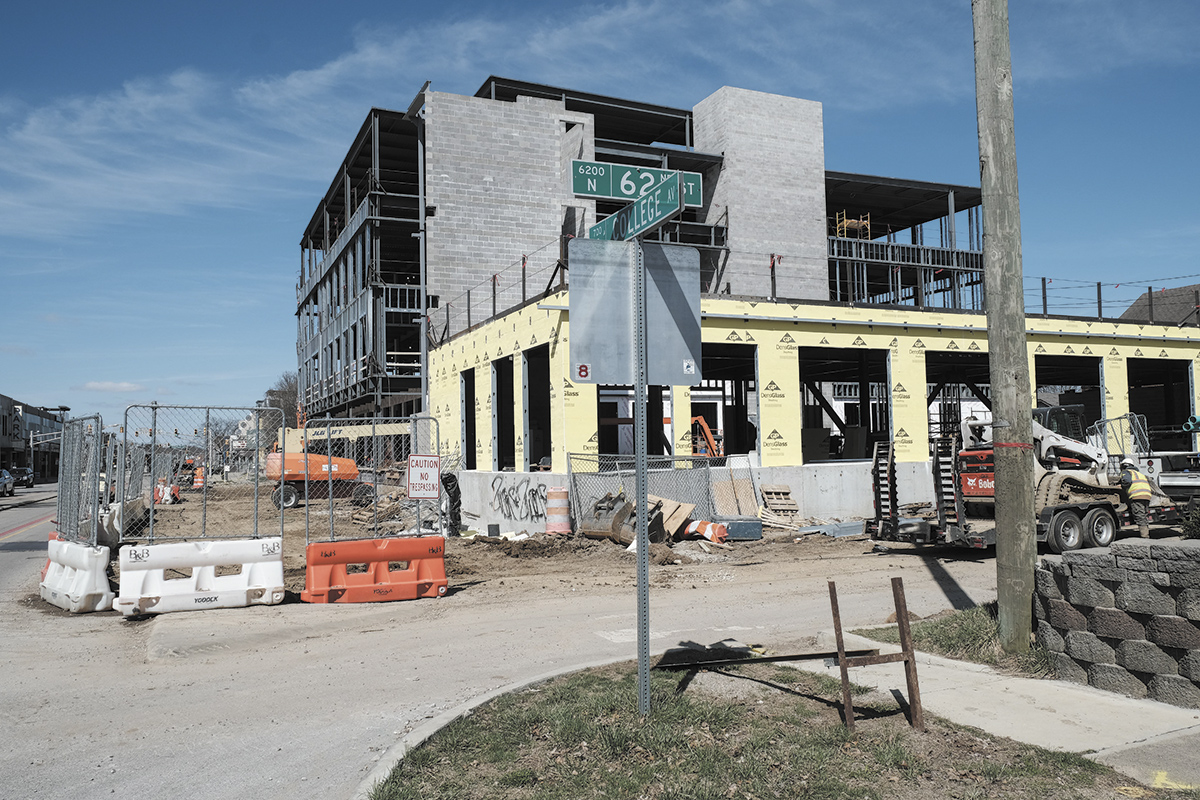 A six-story multifamily development planned in the heart of Broad Ripple is the latest in a series of substantial projects that observers say might draw new residents and workers to one of the city's most iconic neighborhoods.
The $65 million project, planned for the former Kroger store in the 6200 block of Guilford Avenue, will be the work of a trio of local developers—Gershman Partners Inc., Citimark Inc. and Milhaus LLC. With more than 200 apartments, the development is one of the largest single-site projects Broad Ripple has seen in 10 years. No groundbreaking date has been set.
The apartments are in demand. The existing multifamily properties—including several that have come online in the past five years—are at about 98% occupancy overall, according to the Indianapolis office of Los Angeles-based brokerage CBRE.
The scarcity of units has driven up prices and has developers scrambling to find parcels in what is already a densely populated area of Indianapolis.
Since 2018, at least $120 million has been injected into Broad Ripple through development efforts that have created nearly 800 apartments. And the neighborhood expects tens of millions of dollars more in investments by 2024 through projects that will create nealry 600 more apartments.
"Indianapolis in general is a growing city, and I think we're doing a good job of maintaining that growth with them," said Jordan Dillon, executive director of the Broad Ripple Village Association.
"We don't want to fall behind, where Broad Ripple becomes an area that is dated or that … isn't keeping up with the metropolitan area around it," Dillon said. "We want to grow, and still maintain that charm and funk of the village, while bringing in some of these larger developments."
In addition to the project at the former Kroger store, a number of other residential and commercial projects have recently opened or are underway in Broad Ripple and adjacent neighborhoods.
G-Bloc, a new co-working space adjacent to the Monon Trail, will soon be home to an office for Audiochuck, a locally based media company that owns the popular Crime Junkie podcast and several others.
A partnership between local developers Chase Development and Veritas Realty is continuing work on a two-building project consisting of headquarters office space for staffing agency Eight Eleven Group, plus 36 apartments. The project, at 6207 N. College Ave., is expected to include two, four-story buildings totaling 60,000 square feet of office space, as well as structured parking and the apartments. The developers received $3.5 million in city funds for the project.
In 2021, locally based Buckingham Cos. said it planned to break ground this year on a 187-unit apartment project at 6114 Carvel Ave.
Mix of project types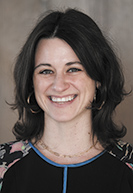 Scarlett Andrews, director of the city's Department of Metropolitan Development, said the mix of projects in Broad Ripple is important. The city supports apartment projects, she said, but officials are interested as well in mixed-use developments featuring retail and office space.
She said projects that will drive daytime traffic in the neighborhood, along with more family-friendly restaurants and entertainment spaces, will contribute to continued growth as much as residential development.
"I think you'll continue to see that's the stuff that's being proposed," Andrews said. "I think there's demand for it, and it is something that we're supportive of."
The city is helping to finance one of a handful of projects Gershman is planning in Broad Ripple.
Madera, Gershman's $17 million, four-story, timber-constructed building, is set to break ground this year. The developer has requested a tax abatement—a common economic development tool—from the city that could save it as much as $1.35 million on real property taxes over 10 years. In exchange for the tax break, the city has asked Gershman to contribute about 5% of its incentive money—about $50,000—to the Broad Ripple Village Association for new programming efforts, though those terms have not been finalized.
Additionally, Chase Development has partnered with JC Hart Co. on a proposed redevelopment of The Willows Ballroom, 6729 Westfield Blvd., into apartments and townhouses.
The project would feature about 238 apartments and a 303-space parking garage, along with 16 townhomes ranging from three to four stories. Apartments would range from about $1,200 to $2,100 per month, and the townhouses from $700,000 to $1 million.
Locally based Keystone Corp. is working on a mixed-use project—adding apartments just south of a parking garage it opened in 2013 at the corner of College and Broad Ripple avenues. It is also building a space there for Purdue Polytechnic High School.
Likewise, IndyParks is continuing to build a family center in Broad Ripple Park, through a partnership with BR Health Holdings LLC that began nearly three years ago. The $20 million building will offer a health clinic, recreation areas and meeting spaces for park programming.
Blast Media, a public relations agency, has moved its headquarters to a building near Broad Ripple at 6161 Hillside Drive. COhatch, a co-working firm based in Columbus, Ohio, opened less than a year ago in a former church at 6151 Central Ave. in the neighborhood. That building offers about 18,800 square feet of workspace, including 38 private offices.
"We have a lot of these local companies that are choosing to put their businesses in this village, and I think it's very important for us to accept them here," said BRVA's Dillon. What's happening with new development is "great for our businesses because it brings in lunchtime traffic—we're looking good."
Carving a path
One major parcel that hasn't been redeveloped is the former Broad Ripple High School, which shuttered in 2018. Indianapolis Public Schools has expressed interest in selling the property, but the district said it's still hamstrung by a rule requiring it to first offer the building to charter schools for $1—something IPS has said isn't financially feasible.
Currently, the building is used for a variety of district-wide functions, including training sessions, immunization and vaccine clinics, athletic events and as the hub for the system's facilities management team.
"Our district has continued to advocate at the Statehouse for a change in the $1 charter school law to have the needed flexibility to consider all possible opportunities for future use of this valuable asset and property," IPS said in a statement. "Unfortunately, we've not yet been successful, [though] our position remains unchanged. As our 'Rebuilding Stronger' planning work continues, we look forward to considering the future of Broad Ripple High School."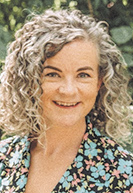 Catherine Esselman, principal of local real estate advisory Cat Consulting, said that, while the question of the high school's future is a challenge, the uncertainty is not necessarily a hindrance for the neighborhood and its growth prospects.
"It's just not on the table until it is," she said. "It's such a big parcel, so it won't be just one thing. It would be a multiphase redevelopment initiative … but [there's] no doubt that whatever it will be [will] be very important."
She said that site has some advantages over ones a few blocks west, closer to the commercial core of Broad Ripple, because whatever goes on those parcels has to directly interplay with plans for nearby properties.
Dillon, of the village association, said residents are generally more receptive to developments than they once were—particularly those that will add density to the neighborhood. She said there's also been some consideration to updating the long-standing Envision Broad Ripple Plan, which was last modified in 2012.
One goal, Dillon said, is to keep the neighborhood affordable. "That's something that's very important to us; we don't want to put up a bunch of developments that are not affordable for people to live in," she said. "We want people to be able to find great places in the village."
And she said affordability will be key to long-term, diverse growth in the neighborhood, which is attractive to people at many price points because it is walkable, on the Red Line and has easy access to amenities on the north side and downtown.
A pricey proposition
Rents have been on the rise in Broad Ripple. The CBRE report said rents rose 11% in 2021, with some complexes raising prices as much as 20%. Another 10.7% increase is expected this year.
But Dillon said the development on the former Kroger site might actually help stabilize rents, because the addition of 200 apartments will help provide more supply to meet increasing demand.
"It's not cheap to live in multifamily units," she said, "so if we can try to add some more [units] in there, maybe we'll be able to balance out that expense for people and make it a little bit more affordable to live" in the area.
That's not to say those new apartments will be the affordable ones. The Kroger development apartments will be priced at about $1,150 a month for a basic studio unit to about $2,200 per month for the largest two-bedrooms, said Brad Vogelsmeier, vice president of development for Milhaus.
Compare that to the average rent of $1,251 per month for a two-bedroom, two-bath in Marion County, according to a November 2021 report from the Indianapolis multifamily office of Chicago-based Cushman & Wakefield. The average rate for a two-bedroom, two-bath unit in a so-called Class A building—those built in the last 15 years or so and with high-end amenities—was $1,461 in 2021.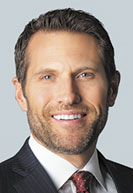 And the Kroger project—where about 65% of the apartments will be studio and one-bedroom units, with the remainder two-bedrooms—has no plans to set aside units for lower-income residents. That is typically required when developers seek city incentives, which hasn't happened in this project.
Instead, the construction of more, newer apartments could help make older ones more affordable. In addition, Vogelsmeier said he expects future projects in the neighborhood to use incentives and therefore offer subsidized units.
Steve LaMotte, a multifamily broker with the Indianapolis office of CBRE, said he's not sure the additional apartments will lead to drops in rental prices anytime soon.
"The fundamentals of the multifamily space are extremely, extremely solid and it's a tight market" for renters, he said. "Broad Ripple is experiencing significant rent growth, and everything's leasing up very well."•
Please enable JavaScript to view this content.