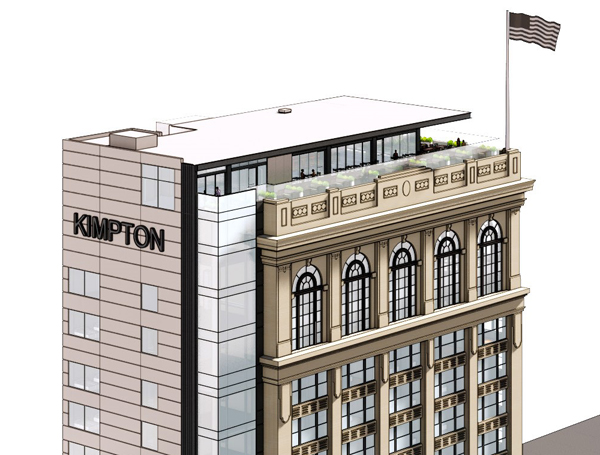 Although local development firm Loftus Robinson this week confirmed plans to check out of an unfinished hotel project in Speedway to make way for another developer, the company says it has no intention of doing the same thing with a different hotel project proposed for prominent corner in downtown Indianapolis.
Loftus Robinson Principal Drew Loftus said the upscale 16-story Kimpton hotel planned at 1 N. Pennsylvania St. is "still an active project" despite prolonged delays similar to those involving the firm's Wilshaw project across from Indianapolis Motor Speedway.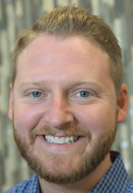 Loftus said additional financing for the downtown redevelopment project was lined up earlier this year through a financial partnership with Chicago-based T2 Capital Management. Loftus said he's excited to work with the firm because his company can benefit from a long-term relationship with a stable real estate finance business that has been involved in dozens of projects in the Midwest. The loan with T2 replaces a previous loan the firm had with another Chicago financial partner.
"We've been lucky to align ourselves with a capital partner that we really like and have a good relationship with, so they're a good fit for us going forward," Loftus, 34, said. "Really, all of our projects and our pipeline—including the Kimpton—is something that's in their wheelhouse, so we're confident we'll be able to get that done."
The 130-room Kimpton project, planned for the 113-year-old Odd Fellows Building, has been delayed since the pandemic began, Loftus said, because of challenges securing federal approvals for a historic tax credit application that was submitted in late 2019 to the National Parks Service, which administers the program.
That submission followed approval from the Indianapolis Historic Preservation Commission in August 2019 for a glass-accented addition to the building's north side, along with a new rooftop lounge and some facade changes.
"We're really at the mercy of a handful of approvals," he said. "It's just gone slower than we expected, but we're working closely with them—our consultants, our design team—just to get the go-ahead."
Throughout 2018 and early 2019, the project was waylaid by a legal dispute between Loftus—operating as 1 North Penn LLC—and longtime tenant Centier Bank, in a matter that was ultimately settled out of court.
Loftus Robinson has declined to share a projected development cost for the Kimpton project, but hotel experts in the past have ballparked the figure around $60 million, based on the building's size and the project's scope. But those costs could rise because of the pandemic, Loftus said.
"We don't have a final development number pegged to it yet because of what's going on with … tax credits, but there's definitely going to be an escalation," he said. "But the project can sustain it."
He said there's not yet a set timeline for when work might resume on the project.
Changes in leadership, approach
Kyle Robinson, who co-founded Loftus Robinson in 2011, left the firm in September 2020 and is now a principal at Telgen, an Indianapolis-based startup focused on energy solutions for corporate users. Loftus declined to discuss the circumstances of Robinson's departure.
Dale Johns, who has worked for Loftus Robinson since 2015, was recently appointed a principal in Robinson's place, joining Loftus at the helm of the six-person firm. It's not clear whether the company's current name will remain in place long-term.
One thing that's definitely changing, Loftus said, is the firm's focus. It will shift from office development and management to national multifamily and extended-stay hospitality products.
"We're looking forward to what the future has in store," said Loftus "We will still have a presence in central Indiana and will be opportunistic if the right deal presents itself. But we're moving abroad and expanding our focus."
Debacle in Speedway
The Wilshaw project, Loftus said, was among the biggest challenges Loftus Robinson has encountered since it was founded. The firm on Monday confirmed the $27 million development would be largely taken over by Georgia-based Hotel Equities Group.
The 127-room project, first announced in 2015, was initially a three-party deal that included Scannell Property Group—which completed the apartments portion of the mixed-use development in early 2019—and the town of Speedway.
Loftus said he worked closely with Hotel Equities for about six months to bring the firm on board. Due diligence on a handoff of the project is now under way. The deal is expected to close in the next few months.
The move follows more than two years without progress on the Wilshaw amid a financial dispute tied to the equity required for Loftus Robinson to receive a loan payout from its financial partner. That led to several liens on the property—all of which have since been resolved.
In 2020, Loftus partnered with MHG Hotels, which has done other projects in Speedway. Loftus said despite public statements from town officials about the possibility of legal action, he was in constant contact with Speedway representatives, both directly and through his attorney.
MHG told IBJ Tuesday it will remain part of the development team when Hotel Equities takes over. Loftus will also retain a limited role in the project.
Loftus described the Wilshaw project as a "far less than ideal situation," but he added the difficulties in finding a solution have helped him better appreciate aspects of development he didn't generally focus on much in the past.
"It's been a very challenging project and kept me up at night more than I wish to admit," he said. "It was, at the end of the day, a very, very complicated public-private partnership, so for it to get derailed the way that it did, it was sort of sink or swim as we figured it all out. I think the takeaway for me on that, in terms of my tradecraft as a developer, I certainly feel like I'm more well rounded.
"I definitely feel like we've learned a lot and I can take that with me, and that's really all I can ask for. The project is going to get done and I think it's going to be successful. It's still our vision and still our design. It's still what we wanted to see built. And at the end of the day, I can still drive my two little girls past it and point to it and say, 'Hey, you know, this is something that your dad envisioned and here it is.'"
Construction on the Wilshaw could resume as early as spring, with an anticipated completion of the first quarter of 2023.
"No one gets into a deal expecting to have happen what happened to us, but then it does and you have to be equipped to handle it," he said.
Please enable JavaScript to view this content.