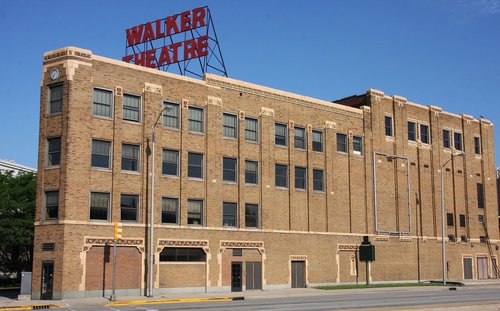 Indianapolis Mayor Joe Hogsett on Tuesday announced four projects that are slated to receive $35 million in New Markets Tax Credits from the U.S. Department of the Treasury.
Hogsett announced in May that the city would receive $55 million through the NMTC program, but didn't identify program recipients until Tuesday, when he said the projects would include the Madam Walker Legacy Center, Wheeler Mission Center for Women and Children, the 16 Tech Innovation Hub and RecycleForce.
The New Markets Tax Credit program uses tax credits to incentivize private investors to make equity investments in development or redevelopment projects in severely distressed census tracts.
The Madam Walker Legacy Center is expected to get $10 million in tax credits, with the Wheeler Mission Center for Women and Children getting $9 million, and the 16 Tech Innovation Hub and RecycleForce receiving $8 million each.
Another $10 million will be directed to the Grow Indianapolis Fund, which provides small business loans to groups operating in distressed census tracts.
Another $10 million is up for grabs. The city is still accepting applications and reviewing projects in the pipeline. It has up to two years to deploy all of the credits.
"We've left ourselves a little bit of wiggle room, flexibility, to fund other projects," deputy mayor of community development Jeff Bennett said.
Madam Walker Legacy Center

The 92-year-old Madam Walker Legacy Center (formerly Madam Walker Theatre) at the corner of Indiana Avenue and Martin Luther King Jr. Street is in the middle of a major renovation that received a boost last year through a $15.3 million grant from the Lilly Endowment.
The landmark building served as the national headquarters for the Madame C.J. Walker Manufacturing Co., named for the trailblazing African-American entrepreneur who built a grooming-products empire in the early 1900s. It was added to the National Register of Historic Places in 1980.
"Between the $15.3 Lilly Endowment investment and the potential award of New Market Tax Credits, the Madam Walker Theatre is headed into a new era," Judith Thomas, president of the Madam Walker Legacy Center, said in a written statement. "Madam Walker chose to build her empire in the Circle City and we are proud to keep her legacy alive."
Wheeler Mission Center for Women and Children
The Wheeler Mission, 3208 E. Michigan St., announced in August that it had raised more than $7.4 million toward a $12 million capital campaign it would use to expand its Center for Women and Children. The donations included $3 million from Lilly Endowment.
Plans call for expanded shelter to offer 164 permanent beds, 40 emergency shelter beds, 84 family shelter beds, 30 transitional apartments for mothers with children, and additional medical, education, dining, child care and programming facilities.
16 Tech Innovation Hub

The 16 Tech Innovation Hub is the co-working and makers space at the 16 Tech innovation district on the near-west side of Indianapolis. The 16 Tech campus is designed to facilitate collaboration between innovators and entrepreneurs in the life sciences, technology and advanced manufacturing and engineering fields.
The hub will focus on life sciences and offer start-up and scale-up services to incubator and training programs.
RecycleForce
RecycleForce, an Indianapolis not-for-profit that helps ex-offenders transition back into the workforce, has been raising money to construct a $10 million, 105,000-square-foot building in Sherman Park on the east side.
The organization, currently housed at 1255 Roosevelt Ave., provides electronics-recycling jobs to high-risk ex-offenders in an effort to reduce recidivism.
"All four of these projects have the potential to strengthen our city as a whole while lifting neighborhoods full of potential," Hogsett said in written comments. "The New Markets Tax Credits program has proven to be one of the most effective tools in making community development projects not only a possibility, but a success."
The city has received two other NMTC allotments over the past 20 years.
Its 2016 award of $55 million in tax credits helped fund projects involving the Riverside High School in the former Heslar Naval Armory, the new downtown Phoenix Theatre, the PR Mallory campus restoration on the near-east side and the OrthoIndy Foundation YMCA in Pike Township. Also, $8.3 million flowed to a new entity called the Grow Indianapolis Fund, which provided five small business loans to groups operating in distressed census tracts.
In 2010, it used $32 million from its tax credit allocation to fund the Ivy Tech Corporate College and Culinary Arts Training Center on North Meridian Street and the Avondale Meadows Health and Wellness Center.
The Indianapolis Redevelopment CDE LLC evaluates and scores applications for the NMTC program, and has approved the four projects.
Please enable JavaScript to view this content.