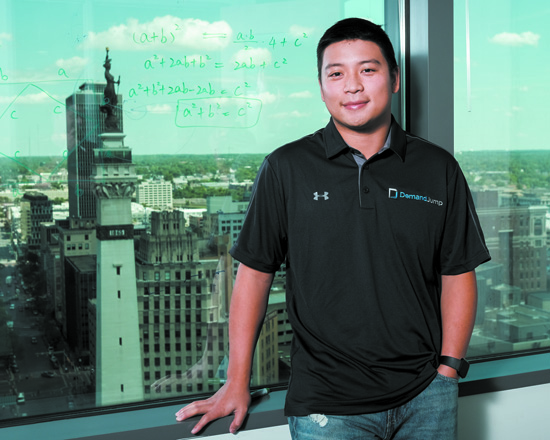 Luke Zhang had offers from the biggest tech firms in the country when he graduated with three degrees—in computer science, software engineering and mathematics—from Rose-Hulman Institute of Technology.
But Zhang chose to take a job instead with DemandJump in Indianapolis, a move he attributes to the people he met during a TechPoint internship program and the desire to be in a place where he could make a difference.
Zhang, who came to the U.S. from China as a teenager, talks with podcast host Mason King about what makes the Indy tech community special and how it could market itself better. And he explains why he takes people skills as seriously as he does his math skills.
To read more about Zhang, check out this story by IBJ reporter Anthony Schoettle, who talked to Zhang's colleagues, including his boss at DemandJump who called Zhang a "generational talent."
Click here to find the IBJ Podcast each Monday. You can also subscribe at iTunes, Google Play, Tune In and Spotify. Here are some of our recent podcasts:
IBJ Podcast: How a former cop came to lead the area's top-selling real estate team
IBJ Podcast: Pete The Planner on how to prepare for the next recession
IBJ Podcast: Upland expands Indiana footprint as it sends beer overseas
IBJ Podcast: Don Brown's newest venture combines his two passions—health and technology
IBJ Podcast: Is the historic Drake building worth saving?
IBJ photo/Eric Learned
Please enable JavaScript to view this content.