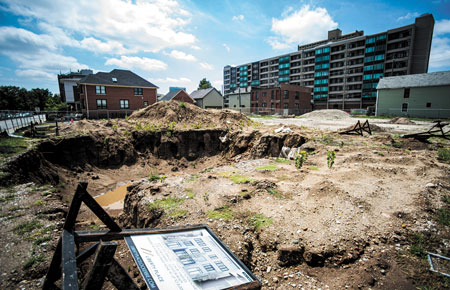 Indianapolis-based development firm Litz & Eaton Investments LLC—whose principals are entangled in several legal battles as part of a messy split—has sold three properties to other local companies who plan to move forward with developing the sites.
Brad Litz and John Eaton agreed to sell a one-acre lot at the southwest corner of North Park Avenue and East North Street to Integra Builders, a Fishers-based custom home builder.
The sale, which closed Jan. 9, will allow the Liberty Place@Lockerbie Square project—an $8 million, 12-unit condominium development comprised of five buildings—to move forward as planned, Litz said in an email to IBJ. The project had been expected to be finished by February.
Integra also this month bought the firm's Fall Creek Villas townhouse project at the southwest corner of Delaware Street and East Fall Creek Parkway South Drive. The $2 million project comprised of five 2,100-square-foot town homes, was supposed to be completed by mid-2019.
Litz said Integra plans to break ground on both projects in the near or immediate future, but he did not offer specifics on the firm's timeline. Both he and Eaton will are expected to consult separately on the projects.
In addition to the properties bought by Integra, Litz & Eaton also this month sold five lots along Leon Street, just south of the Liberty Square development, to TKW Builders, which plans to construct five single-family homes. Litz is consulting on the project.
Financial details of the three sales were not disclosed.
Integra has built several upscale condo, townhome and custom home developments throughout central Indiana, including several in Fountain Square, Broad Ripple, Fishers, Carmel and Zionsville. The company declined to comment.
The projects on the lots bought by Integra each stalled after Eaton and Litz split in June amid allegations of financial misconduct. The breakup has spurred a handful of lawsuits against the men, separately and jointly, including one Eaton filed against Litz.
One such suit was directly tied to the Liberty Place property. Elements Financial—which in April 2019 agreed to provide a $5.8 million construction loan for the project—filed suit in October and placed a lien on the property in hopes of forcing a foreclosure on the loan.
Elements' filing sought to recover an outstanding balance of $1.1 million—in addition to interest, legal fees, collection costs, and late fees—for land acquisition, architectural fees and other pre-construction expenses.
To settle the dispute and avoid foreclosure, Eaton and Litz agreed to deed the property to an Integra subsidiary, SIG LLC. The transfer released the lien Elements filed on the property and the lawsuit was dismissed Jan. 14.
An update on the Liberty Place project will likely be heard by the Indianapolis Historic Preservation Commission—which has authority over development in the historic Lockerbie neighborhood—in the coming months, after updated filings have been submitted.
John Eaton did not return a call requesting comment.
Please enable JavaScript to view this content.