Purdue University, the Indiana Department of Transportation and other partners are teaming up to develop technology that could someday allow electric vehicles to juice up as they barrel down the highway.
The project focuses on whether the same sort of wireless charging that today can recharge a cell phone could be adapted for highway use, allowing electric vehicles to refresh their batteries while they drive along specially equipped stretches of road.
The concept is called dynamic wireless charging technology—a system in which electrified coils in (or on top of) the road generate magnetic fields that specially equipped electric vehicles can convert into battery power. Purdue and INDOT will be working with Magment GmbH, a German startup that has developed a magnetizable concrete.
Magment also has a local presence—the company joined the Indiana IoT Lab in Fishers in March 2020. And in 2019, Magment and Purdue formed an innovation partnership to work on electric transportation pilot tests at Purdue.
John Haddock, a Purdue engineering professor who is the principal investigator for the project, said Magment has already demonstrated that its product works in certain applications—wireless charging pads for electric scooters, for instance, and dynamic wireless charging for forklifts in warehouse settings.
Now, the goal is to see whether that same concept can work on a much larger scale.
"The deployments throughout the world have been fairly small," Haddock said. "We're trying to work on systems that can power vehicles all the way up to a semitractor-trailer—and that's never been done before, to our knowledge."
The first phases of the project will take place at Purdue. Then, likely in 2023, INDOT intends to deploy the technology on a yet-to-be-determined stretch of Indiana interstate.
"We've not identified anywhere where this technology has been tested on an actual public highway segment," said INDOT spokesman Scott Manning. "One of the things we're hoping to accomplish through this research project is the viability of doing this on a major highly traveled highway segment."
The project is being funded by INDOT, which is contributing $477,469; and Purdue, which is contributing an estimated $562,236. Purdue's portion of the funding comes from ASPIRE, a university consortium with which Purdue is affiliated.
ASPIRE, which stands for Advancing Sustainability through Powered Infrastructure for Roadway Electrification, aims to develop infrastructure that encourages the adoption of electric vehicles. The center is funded by a five-year, $26 million National Science Foundation grant, which is renewable to 10 years and $50.6 million.
ASPIRE has its headquarters at Utah State University, which is the lead university in the public-private effort. Purdue is one of four other university partners.
ASPIRE's innovation director, David Christensen, said the consortium is researching a "technology portfolio" that includes a variety of electric vehicle recharging technologies, including both plug-in and dynamic options. "What we're really working toward is an ecosystem where charging is ubiquitous."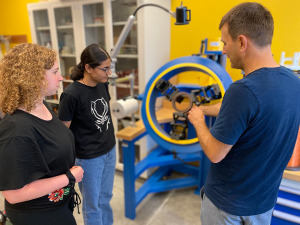 Heavy-duty charging
Proponents say the technology could be especially helpful for heavy trucks. Even though electric passenger cars are becoming increasingly common, the technology hasn't yet caught on for semis. In part, that's because existing battery and charging technology have range limitations that make electrification impractical for long-haul trucking. Developing a way for electric trucks to recharge as they drive could help change that equation.
As one example: Columbus-based Cummins Inc. introduced a demo version of its fully electric semi truck, the Aeos, in 2017. The company launched its first electric powertrains in 2019, and its earliest customers included transit bus manufacturer Gillig and school bus maker Blue Bird. Cummins hasn't yet launched an electric powertrain for semi trucks, in part because there isn't yet enough high-power charging infrastructure for that size of vehicle. The chargers that can power an electric car don't deliver enough juice to recharge a semi in a reasonable length of time.
"Charging infrastructure is one of the greatest challenges to commercial electric vehicles," said John Kresse, director of advanced electrification technologies at Cummins. His job is to investigate emerging technologies that might be three to 10 years from production and determine which ones have commercial potential.
Kresse said Cummins has talked to Purdue about the project and is interested in being involved, though the company hasn't made a formal commitment.
"This is interesting technology, and we will probably participate," Kresse said. "We need to investigate to see whether something like this is viable."
Those familiar with the project admit a lot of unknowns are yet to be worked out, and it's too early to say whether the technology might ever go into commercial use.
"The hard part is to actually design and build the system," Haddock said.
Some of the questions the project will address, he said, are engineering-focused: How will the charging coils affect the integrity of the road? What's the best way to deal with the heat the coils will generate? Where should the roadside power sources be located? And what are the best construction methods for installing everything?
Other important questions, including financial considerations, lie outside the scope of this project.
"It's good to investigate, but the challenge is, what will it cost to electrify enough roadway to make enough impact to electrify this potential fleet of electric trucks?" Kresse said. "There's a lot of challenges to this."
Right now, Manning said, the goal is to determine whether the technology is viable. The financial questions—how much it might cost and who would pay for it—are down the road.
One possibility, he said, is that INDOT would fund the charging infrastructure installation. But he could also envision a scenario in which private companies fund the infrastructure, similar to the model for electric lines or other utilities. "I think there are a lot of different options, assuming this becomes widely available."
Charging mix
Whatever happens, the future of electric vehicles will most likely include multiple charging options.
"I think there will always be a mix of different ways to charge," Haddock said.
Genevieve Cullen, president of the Washington, D.C.-based Electric Drive Transportation Association, agreed. "The models for charging are as diverse as the communities and the use case."
Static charging stations that can fully charge a vehicle in a couple of hours can be a good solution for personal electric vehicles that are parked overnight, Cullen said. Higher-powered charging options of 150 kilowatts to 350 kilowatts, which can charge a vehicle in 15 minutes or so, might be the best option for highway rest stops.
Developers are working on even higher-powered chargers that would deliver 1 megawatt or more, making charging even faster.
It's too early to tell whether dynamic wireless charging will be a viable option for real-world use, Cullen said, but if it does, it could be a "game-changing" technology. "You have just created a charging option that requires essentially no effort on the part of the driver. You've maxed the convenience."
The topic is especially relevant now, Cullen said, as Congress is considering a bipartisan $1.2 trillion infrastructure spending bill.
"This is exactly the right time to say, 'All right, we're trying to make our roads smarter in every way,'" Cullen said. "It's not such a fantastical next step."
ASPIRE's Christensen said he's confident the technology Purdue and INDOT are testing will work on public roads, though he doesn't expect it to be adopted right away.
"It's not a year or two—it's five or 10 years, very likely, before it's more widespread in public roadways," Christensen said. "And pilot projects like this really help move the needle."•
Please enable JavaScript to view this content.