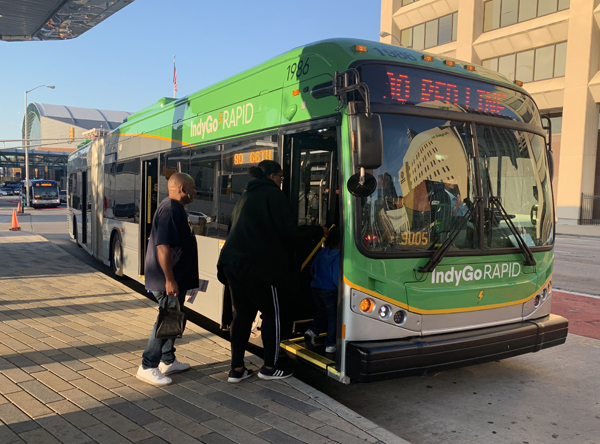 As it works through the Red Line's expected early-days hiccups, IndyGo says it's pleased with rider response so far to the city's first bus-rapid-transit line.
Service launched Sunday on the 13.1-mile line, which runs between College Avenue at 66th Street and the University of Indianapolis at Hannah Avenue.
According to preliminary numbers, riders took 8,200 trips on the Red Line on Sunday, said IndyGo spokesman Bryan Luellen.
In comparison, before the launch of the Red Line and associated system-wide improvements this past weekend, average Sunday ridership for the entire IndyGo system was about 6,500, Luellen said.
And IndyGo projects that daily Red Line ridership will be about 11,000 at the end of the first year of service, according to a model developed by the Federal Transit Administration.
"The biggest surprise was how many people were on the [Red Line] buses all day long," Luellen said of Sunday's ridership. "It's really demonstrating that there is a fantastic demand for this service."
Many of the riders on Sunday and Monday were new to the bus system and trying out the service. Some made a trip on the bus a family outing. Others took advantage of the holiday to plan their routes for the work week.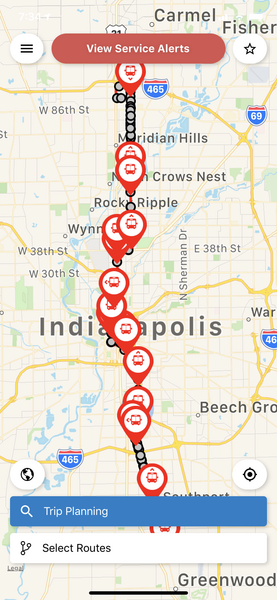 The Red Line offers buses that arrive more frequently, stops spaced farther apart than on traditional routes, dedicated bus lanes along much of the route, traffic-signal priority for buses, and other features meant to improve the speed and reliability of service.
Because IndyGo is still working through the implementation of new technology, Luellen said, the system doesn't yet have access to ridership estimates from Monday or from Tuesday morning.  Likewise, it's too early to say whether certain segments of the Red Line or certain times of day will carry more riders than others, he said.
"Frankly, we haven't had any time for analysis yet," Luellen said.
Over the weekend, riders reported that some Red Line buses were completely full. According to live data from IndyGo's new MyStop app, as of late morning on Tuesday some Red Line buses had more than 25 riders on board while other buses were empty.
The roll-out has not been glitch-free. IndyGo has already had to adjust scheduling to deal with spacing issues—Red Line buses were clumping up along certain parts of the route rather than remaining evenly spaced.
The revamped schedule rolled out on Tuesday and seems to be working as intended, Luellen said. "Today is the first day of a new schedule, and we're already seeing better spacing."
For now, the electric buses are also taking scheduled breaks to return to IndyGo's headquarters for brief recharging sessions, Luellen said. In-route charging stations will be installed within the next several months.
Please enable JavaScript to view this content.