LaToya Johnson vividly recalls a couple of years ago, she was approached by a visiting entertainer in Indianapolis, asking where the attractions were for a specific culture.
"I woke up the next morning and said, 'There should be an app for that,'" Johnson told IBJ.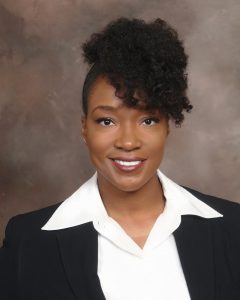 So in October 2017, Johnson launched Indianapolis-based AwayZone, which she describes as a kind of digital Green Book.
The Green Book was an annual guidebook for African American travelers that was published from 1936 to 1966, during the era of Jim Crow laws.
AwayZone isn't the first app that helps locate destinations that align with people's particular cultural preferences. The Official Black Wall Street is an app for people of color, and Gayborhood is an app focused on the LBGTQ community.
But Johnson, who has a master's degree in public health and spent 13 years working in occupational health and safety risk management, said AwayZone is one of the first apps that helps people from various communities and backgrounds through a single platform to find various destinations and attractions of their choice.
"Those [other apps] pick one culture and focus on that," Johnson said. "What makes us stand out is we focus on all under-represented minorities."
The AwayZone app, Johnson explained, will have tabs that people can click on that will direct them to various businesses and destinations catering to a particular culture.
This year, AwayZone has been testing a "minimal viable product" that is available through Google Play and Apple's App Store, and Johnson said the response has been even better than expected.
AwayZone, Johnson explained, will generate subscription revenue from companies that want to be a part of the app. Companies—which may or may not be subscribers—can pay to place advertisements on the app.
The app will be free for people to use.
Already, Johnson said, she has commitments from 30 Indiana businesses to be part of the app as monthly subscribers.
"The response from a variety of businesses has been overwhelmingly positive," Johnson said. "They want to be a part of the app so they're not lost in a sea of information on Yelp or Google search engines. I think the community is ready for this."
While, Johnson said AwayZone is off to a solid start, she acknowledges it's just the start.
"Our goal for 2020 is to secure more than 1,000 dues-paying subscribers," Johnson said. "If we can sign up 1,145 subscribers—that's the goal—we would have $245,000 in revenue from subscriptions."
AwayZone corporate subscriptions are $40 per month, and Johnson's business plan calls for revenue to hit $4.1 million by 2022.
So far, AwayZone has been completely self-funded by Johnson, but as she—and the company's senior technologist, Matt Metcalf—work on an enhanced version of the app, they are planning for an angel round of funding.
Johnson hopes to close on a mid-six figure round in the first quarter of 2020.
The second generation of the AwayZone app will initially be focused on a 12-state Midwest region.
"We want to highlight the Midwest first, because it's often overlooked," Johnson said.
Long-term, Johnson would like to take AwayZone national. She said a future partnership with a larger operation like Yelp is possible.
Cities with established cultural chambers of commerce and that are close to universities, foreign trade zones and not-for-profits that do cultural outreach will be the initial focus for the AwayZone app. Marketing will initially be focused on Indiana before expanding to the Midwest.
"The capital we raise would be used to redevelop the app; make it more robust and scalable, and to substantially increase marketing," Metcalf said.
Marketing will be done through social media—especially Facebook and LinkedIn—as well as through various targeted chambers of commerce and event marketing, Johnson explained.
The enhanced version of the app will include advanced analytics for advertisers and corporate subscribers, a rating function for people and businesses using the app, and a feature that allows subscribers and advertisers to push notifications to the app's users.
Johnson added that there will be features that assures "search results are ethnographically—not just demographically—driven."
The app will heavily emphasize inclusivity, Johnson emphasized.
"The goal is to acknowledge and honor differences in culture," Johnson said. "The AwayZone app allows companies to say we are paying attention to your differences and needs.
"The app points people to a certain cultural experience," she added, "regardless who you are."
Please enable JavaScript to view this content.