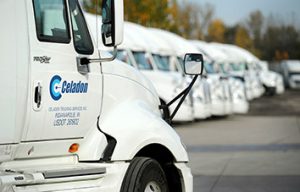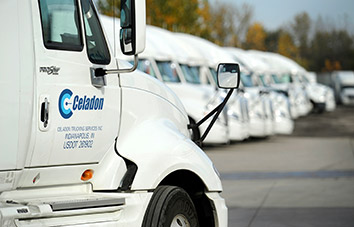 A Marion County judge in December said Celadon Group Inc.'s practice of withholding part of its fuel savings from its owner/operator drivers breaches the terms of its agreement with 2,262 current and former drivers.
Read More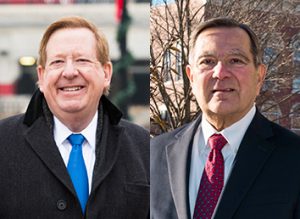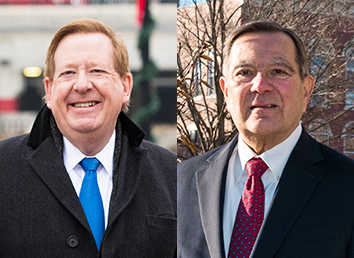 Carmel Mayor Jim Brainard has led Carmel since 1996, and John Ditslear has led Noblesville since 2004.
Read More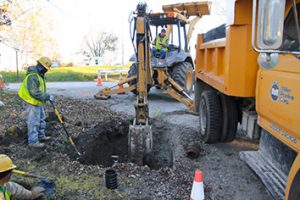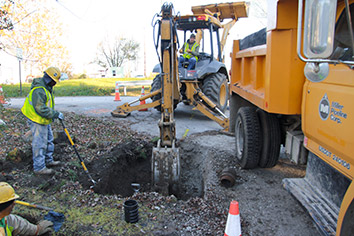 Miller Pipeline has seen its head count grow from 1,700 to 3,600 since 2008, partly because of its investment in the shale-oil fracking boom. But it also has a lucrative fallback line of business: replacing aging natural-gas pipes.
Read More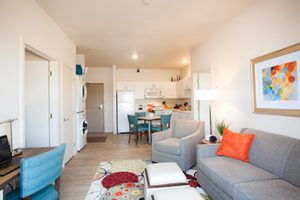 Jack DeBoer, a Kansas-based businessman known as the creator of the extended-stay hotel, is bringing his hotel/apartment hybrid to Indianapolis.
Read More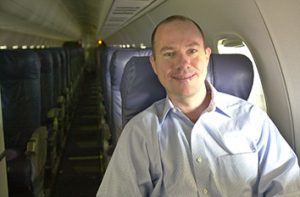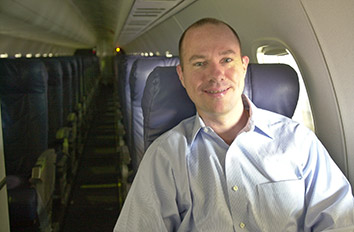 Indianapolis-based Republic Airways Holdings Inc. has spent the past year since selling its passenger service, Frontier Airlines, getting back to its basics of contract flying and trying to ramp up profit in part by transitioning to a fleet of larger planes.
Read More
Founder Don Brown, 58, has been CEO, president and chairman of Interactive Intelligence since the company launched in 1994. He talked with IBJ recently about the tech firm's recent milestone, its 20th anniversary.
Read More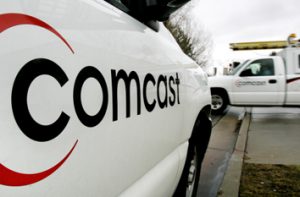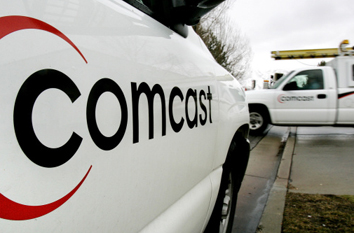 GreatLand Connections Inc. is geared to replace Comcast Cable in Indianapolis and some other markets in 2015, and the switch could bring changes in offerings, rates and service.
Read More
The not-for-profit wants to construct a 125,000-square-foot warehouse in Greenwood, despite suffering a setback from the city council.
Read More
Local government in Indiana is still bloated, but governor and legislators look the other way.
Read More
I regret there will be no more adventures with one of the city's most generous entrepreneurs.
Read More
Many Americans believed that whatever caused the Great Recession should not be permitted to happen again. Most of the country seemed to agree that Wall Street's reckless gambling with depositors' money should never again be able to threaten the jobs and livelihoods on Main Street.
Read More
With no more elections on his watch, our president has entered (with apologies to Shelley) his "Obama Unbound" phase, freed from political constraints and entitled to unilaterally impose his will.
Read More
This session will feature a battle of priorities, led by education spending. With no game-changing revenue enhancements on the horizon, the gap between perception and reality on the forecast can't be bridged.
Read More
Project to relocate jails and courts is a failure of urban design fundamentals.
Read More
if you can get comfortable with uncertainty; adopt a long-term perspective; and follow a disciplined, patient and unemotional investment approach, you'll be miles ahead of most investors.
Read More
Because of the gasoline-price drop, businesses might be more profitable and might be able to use the extra revenue to hire more workers or make other investments. If they pass their profits on to owners, this will mean more money for retirees and other stockholders.
Read More
Butler Auto Group plans to move its Indianapolis Fiat and Maserati dealerships to a new facility on 96th Street that also will sell the resurgent Alfa Romeo sports car.
Read More
The local arts group is planning on beefing up its projects and collaborations with artists.
Read More
Colette Irwin-Knott, the first female partner at Umbaugh, has retired after 33 years at the municipal financial advisory firm.
Read More
Indianapolis Power & Light is seeking a general rate increase for the first time since 1994, and the company estimates that the average residential customer's bill would rise 8 percent.
Read More
Beginning next season, the Colts' pre-season games will be broadcast on either WXIN-TV or WTTV-TV. In addition, programs such as "The Coaches Show with Chuck Pagano" and "Colts Up Close" will air on the stations.
Read More