Locally based C&R Racing will lose $2 million next year in IndyCar-related business, but company founder Chris Paulsen has no fear.

That's because the executive with IndyCar roots knows NASCAR is coming to the rescue.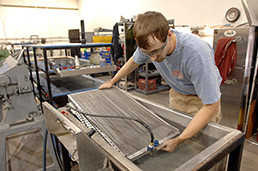 About 90 percent of the teams competing at NASCAR's highest level use C&R radiators and other components. (IBJ Photo/ Perry Reichanadter)
NASCAR has tapped C&R to make parts that conform to recent changes in stock car engine and cooling systems. That should soften the blow when the IndyCar Series next year begins using Italy-based Dallara, Honda, Chevy and Lotus exclusively to build its cars and engines.

Paulsen thinks the NASCAR business and other diversification efforts will keep C&R in high gear. The company projects sales this year of $12 million.

Still, it will be an odd shift for Paulsen, 52, who was an open-wheel chief mechanic before starting C&R as a custom machine shop and metal fabrication business serving the IndyCar industry.

In October, NASCAR called C&R, a leading manufacturer of cooling systems and drivetrain components for race cars, to solve a growing concern in the stock car series.

NASCAR is trying to curb what series insiders call tandem racing—an extreme form of drafting where two cars go around the track nose to tail to increase speeds.

League officials think there are inherent dangers in having two cars running so close together and at the higher speeds facilitated by such tandem racing. Fans and some drivers have been critical of it because, unless a driver can create an alliance with another driver to form a tandem, the driver can't compete.

NASCAR decided to end the practice by redesigning the cooling system. Under the new system, cars that draft too closely for too long will risk overheating.

C&R cranked out 50 of the new systems in four days from the firm's 35,000-square-foot facility on Guion Road in time for the Oct. 23 NASCAR Sprint Cup race in Talladega.

Despite C&R's IndyCar roots, the 67-person firm founded in 1988 is no stranger to NASCAR. In fact, in 1999, C&R ushered in a pressurized cooling system that allowed the stock car engines to run hotter.

That system allowed cars to run so hot—up to 280 degrees—that it fostered the tandem racing the series is now trying to discourage.
Paulsen
NASCAR asked C&R to lead the re-engineering effort for the new specifications. The changes include a smaller radiator that C&R is building for NASCAR. It's a bonus that the smaller radiators carry a higher profit margin because, says Paulsen, "they're a bit easier to make."

NASCAR drivers are divided over the rules changes.

"I'm not sure [whether the rule changes] will break up the two-car drafting or not, but I hope it does," said Dale Earnhardt Jr., one of NASCAR's most popular drivers. "I think the changes they made were good moves.

"I like the different style of racing that we used to have, where you didn't have to have a partner, you didn't have to be pushing each other every lap," Earnhardt added. "[Tandem drafting] is just not what I prefer."

NASCAR driver Jeff Gordon said he's concerned that the need to have the two cars moving in and out of each other's drafts to cool the engine could cause more accidents.

Whatever they think of the change, no one seems to have a problem with the selection of C&R to make the new components.

"Chris Paulsen is known for the quality of his work, and his ability to work within any racing sanctioning body's rules and regulations," said Mike Hull, managing director for Target Chip Ganassi Racing, which has teams in the IndyCar and NASCAR series. "I've never heard one bad thing about C&R Racing. In this sport, that's very hard to find. That's a testament to the quality of their product."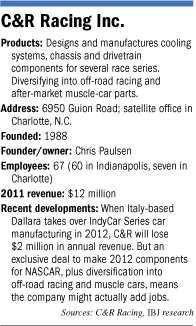 Zak Brown, president of Just Marketing International, a local motorsports marketing firm active in NASCAR, isn't surprised the North Carolina-based stock car series called on an Indianapolis firm to help with the issue.

"This company has been around a long time in racing, and they're very credible and well-respected," Brown said.

With the new NASCAR rules for next year, Paulsen expects his company's NASCAR business to increase 15 percent in 2012, which should help make up for the IndyCar shortfall. Already, C&R makes 90 percent of all radiators used in NASCAR's top-level series, Sprint Cup, as well as two of its feeder and support series, NASCAR officials said. The new regulations mean those clients—and others—will be asking for more parts in the coming year, Paulsen said.

"The growth in NASCAR is coming at an ideal time," he said. "It not only increases our revenue, but our exposure, too. It's getting to the point that you can't watch a NASCAR race on TV without seeing our C&R logo."

"They're well-known by everybody in the sport and their profile is only going to rise," Brown said.

Buoyed by the increased exposure, Paulsen is launching a line of components for off-road racing and muscle cars that he hopes will entirely erase the loss from the IndyCar shift.

"Primarily to handle the NASCAR business, we added 15 new positions in 2011," Paulsen said. "The diversification is starting to help, too."

The move to muscle cars is a new foray into after-market parts for street-legal cars, Paulsen said.

He said he expects to lay off only two or three workers—primarily in sales—due to the loss of IndyCar business.

"Most of the jobs will be retained and rolled over," Paulsen said. "We hate to lose that IndyCar business, and we hope one day it will come back. But right now, we're moving on."•