More
Stories
Veteran executive Mark Miles now has one of the most difficult jobs in sports—putting open-wheel racing on sound financial footing.
Miles was introduced Nov. 20 as the new CEO of Hulman & Co., which oversees the diverse business interests of the Hulman-George family, from Clabber Girl baking powder to IndyCar. It's IndyCar, however, that will be Miles' biggest challenge.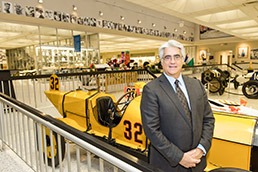 (IBJ file photo)
He officially began his new job Dec. 17.
Though the series offers an exciting brand of racing, it has struggled to gain a big enough following to boost television ratings and sponsorship revenue.
Miles will try to do what ousted IndyCar boss Randy Bernard couldn't: build trust with hard-to-please team owners and drivers and build a following among fans.
"Mark Miles' reputation speaks for itself. He has the track record and experience in sports and sports sponsorships to really grow this sport," said Eric Timmerman, CEO of Fuzzy's Ultra Premium Vodka, an IndyCar sponsor.
Miles, who was CEO of the Central Indiana Corporate Partnership, replaced Jeff Belskus, who served as interim CEO of the IndyCar Series following Bernard's removal in October.
Miles already was a director of Hulman & Co., appointed in March. He served as chairman of the 2012 Super Bowl Host Committee and is a former CEO of the ATP Tour, the governing body of men's pro tennis.
Miles will lead the overall business direction and management of Hulman & Co., including a key role in the refinement and implementation of the company's long-term strategy.•
Please enable JavaScript to view this content.