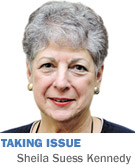 The ugly mud-wrestling match that was the fiscal cliff negotiation is over for the time being. Congress has done what Congress has been doing with some regularity the past few years—it has kicked the can down the road a few months.
As we enjoy this brief hiatus between periods of cynical political posturing and hyperbole, it may be worth taking note of the country's fiscal landscape, and pondering the largely unrecognized extent to which the cuts in government spending ardently desired by those who fancy themselves fiscally conservative actually threaten job creation, private-sector incomes and, ultimately, governments' tax receipts.
Lawmakers seem oblivious to a relatively recent reality of the U.S. economy, namely, the extent to which the private and not-for-profit sectors are now part and parcel of that "bloated and wasteful" government we routinely excoriate. The nasty little reality is that government is no longer a word that describes—government, as in public-sector employees and elected and appointed officials.
The truth is, after decades of privatization and contracting out, government is all of us and everywhere—defense contractors, civil engineers, social service agencies and other for-profits and not-for-profits that depend upon government contracts to survive.
The last analysis I saw—and it is now several years old—counted some 18 million people working full time at ostensibly private and not-for-profit jobs whose salaries were supported by our tax dollars. Their putative employers are providing public services under government contracts, and they differ from "government employees" only in the sense that a third party signs their paychecks.
Cuts in government spending will require retrenchment in those government contracts, and such retrenchment will affect more than the people who are employed in what we might call the "quasi-government" sector.
When the defense contractor loses his biggest customer, his suppliers lose theirs, and so on down the line. When we cut social services, we don't just reduce benefits to the recipients of those services; we reduce the number of jobs in the not-for-profit sector. Reductions in government spending would thus be a rapid and severe economic contraction.
That's certainly not an argument for unrestrained spending. It is, however, an argument for recognizing the extent to which "privatization"—which has increased, rather than reduced, the size of government—has made the necessary spending cuts infinitely more difficult.
Morton Marcus is fond of pointing out an undeniable reality: "Privatization" is a misnomer. Privatization is what Margaret Thatcher did in England—selling off steel mills or other enterprises that government really shouldn't own and letting them succeed or fail in the private sector.
That is not what the word means in the U.S. Here, it means contracting with a third-party intermediary to provide goods and services on government's behalf, and one of its effects is to expand, rather than shrink, government. (Another effect is to make that expansion less visible.)
Like all tools, contracting can be useful. We don't expect government to manufacture its own computers; we authorize their procurement from the private sector. Similarly, there are times when it makes sense to contract with private-sector enterprises to fill potholes or augment city snow-removal efforts.
The problem arises when privatization becomes an end in itself rather than a tool to be deployed when circumstances warrant. When that happens, we hollow out the capacity of the public sector and create dependencies in the private- and not-for-profit sectors.
We also add a confounding element to efforts at deficit reduction.•
Kennedy is a professor of law and public policy at the School of Public and Environmental Affairs at IUPUI. She blogs regularly at www.sheilakennedy.net. She can be reached at skennedy@ibj.com. Send comments on this column to ibjedit@ibj.com.
Please enable JavaScript to view this content.