An Indianapolis software startup that hopes to win contracts from public-transit agencies across the country is protesting a no-bid deal by IndyGo.

SerVaas
The Indianapolis Public Transportation Corp. signed a $636,166 contract with Ontario-based Trapeze Group for a system upgrade that will allow IndyGo to provide riders with real-time information. Local startup DoubleMap Inc. could have done the same work as Trapeze but didn't have a chance to bid because IndyGo never issued a request for proposals, DoubleMap President Peter SerVaas said.
SerVaas said he plans to complain to the Federal Transit Administration, which generally likes to see a public bidding process in the award of contracts paid through federal funds. IndyGo is using an $866,000 federal grant to cover the Trapeze contract. The remainder will go to future work on the real-time system, which will likely involve other firms.
"We've been involved in these kinds of solutions and processes around the country," said SerVaas, who is a grandson of the late Beurt SerVaas, the long-serving president of the Indianapolis City-County Council and a wealthy industrialist. "We sell exactly what they're interested in having done by Trapeze."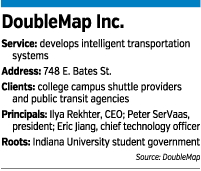 IndyGo spokesman Bryan Luellen said the Federal Transit Administration allows for "sole source" contracts when they are in the best interest of the agency using the money.
"We always look at options, and we always do our homework," Luellen said.
IndyGo decided to go with Trapeze after obtaining estimates from other providers and considering how much already had been invested in the existing system on which IndyGo spent about $4 million in 2009. The system is by Transit Master, a company that Trapeze acquired, Luellen said.
IndyGo uses the Transit Master system to create reports, manage radio traffic, track driver performance and route on-time performance, Luellen said. The current system does not allow IndyGo to open its data for use by software developers that could create real-time bus arrival applications, he said.
To reach the open-data state, IndyGo needs a system upgrade, which officials believe would best be performed by Trapeze. IndyGo's data "lives in" Transit Master, Luellen said, "and we have to use Trapeze to get it out."
DoubleMap competes with Trapeze and several other firms that provide "intelligent transportation systems." Founded by SerVaas and two other Indiana University graduates in 2011, DoubleMap only recently began to focus on public-transit agencies. Most of its work so far is with college-campus shuttle providers.
The firm's first contract was with Indiana University, where SerVaas, now 26, was student body president. DoubleMap co-founder and CEO Ilya Rekhter was the head of transportation initiatives, an administrative position in student government.
During SerVaas' presidency, the student government developed a real-time tracking system for the campus shuttle that relied on cell phones.
In 2011, Rekhter and Chief Technology Officer Eric Jiang developed a more sophisticated system, which DoubleMap sold to IU. DoubleMap went on to replace what the firm calls "organic" systems, created by students or staff from online how-to guides, at Northwestern University, the University of Michigan and University of Cincinnati, SerVaas said. Most of the firm's more than 50 clients are universities or their campus shuttle vendors.
Locally, DoubleMap's system is on the Indianapolis International Airport's downtown shuttle and the campus circulator at IUPUI.
DoubleMap will not disclose its revenue, but SerVaas said it shot up in 2013 from the "low millions" the prior year. A small but growing number of clients are public-transit agencies.
Focusing on small and medium-size cities, DoubleMap recently closed a contract with Eau Claire, Wisconsin, SerVaas said. "There's such a need for them to have solutions that are easy to manage, easy to work on, doesn't require them to have an IT specialist," he said.
DoubleMap's largest contract so far, about $1 million, is with the city of Orlando, Florida, which shuttles people into the city from stops on a new light-rail system, SunRail. DoubleMap will create a system that manages the rides, which don't follow a fixed route, as well as payments and real-time arrival information.
SerVaas hopes to have 25 public-transit contracts by the end of the year, but even then DoubleMap would be a very small player, he said. One of its largest competitors, Nextbus, owned by California-based Cubic Transportation Systems, has 130 public-transit customers.
One challenge of competing for public-transit contracts, SerVaas said, is that officials in that world seem more comfortable with well-established companies like Trapeze. He pointed out that some customers are having problems with their offerings.
As the Columbus Dispatch has reported, the Central Ohio Transit Authority says Trapeze failed to deliver real-time bus tracking and other functions under a $7.6 million contract.•
Please enable JavaScript to view this content.