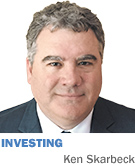 As the world frets over the events in Greece, a giant debt default closer to home is barely raising eyebrows.
Alejandro Garcia Padilla, the governor of Puerto Rico, announced at the end of June that the island commonwealth cannot pay its $72 billion in municipal bond debt.
Puerto Rico has been a U.S. territory since 1917. Its 3.5 million residents have American citizenship and don't pay federal tax on their local income. Puerto Rico has the population of Oklahoma and a gross domestic product smaller than Kansas. Yet its $72 billion of debt is more than all the states except for California and New York.
Unlike the bonds of most states and municipalities, Congress granted Puerto Rico the power to issue bonds exempt from federal, state and local taxes. Many observers believe this generous tax-exempt feature enabled the commonwealth and its Wall Street brokers to continue to sell Puerto Rican bonds to affluent buyers, all the while running up the commonwealth's debts.
Back in March 2014, Puerto Rico issued a record $3.5 billion of junk-rated municipal bonds with an 8.73-percent tax-free yield to lure investors. Most of the bonds were purchased by hedge funds specializing in distressed debt.
Some have likened Puerto Rico to America's Greece. Both are plagued by tax corruption and unfunded pensions, and neither can devalue their currency.
However, Greece is larger, with 11 million citizens, and is $360 billion in debt. In addition, Grecian debt was held by European banks, which could have caused a contagion across Europe's financial system.
Puerto Rican debt is mostly held by hedge funds and individual investors via municipal bond mutual funds—whose investors might not be aware of the extent of their bad debt exposure. Also, it would be unlikely for Puerto Rico to seek to leave the dollar as its currency, whereas Greece could leave the euro.
As a commonwealth, Puerto Rico cannot file for bankruptcy and restructure its debt via a Chapter 9 filing—like Detroit, for example. And since the island's debt is not held throughout our banking system, it is unlikely the Obama administration or the Fed will bail out Puerto Rico.
Meanwhile, the Puerto Rican economy has been in recession for nine years. The real estate crash hit the island hard and the economy has shrunk 10 percent since 2005. Puerto Rico's poverty rate is double that of the poorest state, Mississippi.
While this Puerto Rican episode will not inflict damage on the U.S. economy, it is going to be the largest restructuring ever in the $3.6 trillion municipal market. Debt committees and lawyers hired by the competing creditors and the Puerto Rican government will slug it out in court in what will surely be a long, messy affair. It seems inevitable that bondholders will eventually take sizable haircuts on their bond principal balances.
For Puerto Rico, the outlook is grim. Restructuring its finances and economy will entail great hardship on its residents.•
__________
Skarbeck is managing partner of Indianapolis-based Aldebaran Capital LLC, a money-management firm. His column appears every other week. Views expressed are his own. He can be reached at 818-7827 or ken@aldebarancapital.com.
Please enable JavaScript to view this content.