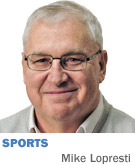 It was the Indianapolis 500 of smoke. It was the Indianapolis 500 of fire. It was the Indianapolis 500 that had to be stopped after two laps, so the dead and dying could be taken away.
It was the Indianapolis 500 that convinced A.J. Foyt he was right in never getting too close to his fellow drivers, because look what might happen.
And it was the Indianapolis 500 that told a sport there had to be a safer way.
It was May 30, 1964, the day Turn 4 seemed to explode. Fifty years ago, two drivers named Eddie Sachs and Dave MacDonald died in a horrific accident. The Speedway has seen few darker moments, if any. That crash remains the only one at an Indy 500 to kill two drivers.
A half century later, two legends who were on the track that day and who keep coming back have never forgotten how awful it was.
There is the man who won the race.
"To me, it was a victory, period," Foyt said. "It was not a victory you go celebrate. It was not a victory you brag about. It wasn't the kind of victory that A.J. Foyt likes.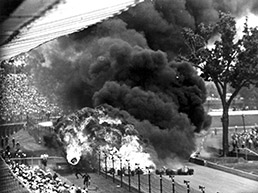 (AP photo)
"I lost some good friends that day."
Also, there is the man who was rolling into Turn 4 as a racing catastrophe unfolded in front of him, yet somehow made it through.
"I remember everything, indelibly," Johnny Rutherford said. "It was something in a millisecond. One of those quick things where you come out on the other side, and everything is OK. Except for the loss of two great guys."
Eddie Sachs. He had turned 37 two days before the race, and was among Indy's most popular drivers. In the 1961 Indianapolis 500, he was leading with three laps to go, but decided to pit when his tire became unstable, rather than risk those last 7-1/2 miles. It opened the door for Foyt to get his first Indy 500 victory.
"I'd sooner finish second," Sachs said at the time, "than be dead."
Dave MacDonald. He was a 27-year-old Indy 500 rookie, known for his bold, hard-driving ways. The problem was his car, the Sears Allstate Special, a radical new design that looked something like a sports car but had become notorious around the Speedway for its handling problems. Stories would later quote driver Jim Clark as telling MacDonald days before the race, "Get out of that car, mate. Just walk away."
Whether the words attributed to Clark are accurate or not, Foyt had this to say of the MacDonald car 50 years later: "It shouldn't have even been allowed out there."
MacDonald was one of the youngest drivers in the field. He wore a sweater and tie that week for the drivers' group picture. Seated next to him by chance in that photo: Eddie Sachs.
MacDonald started in the middle of the fifth row on race day. Next to him on the outside was Rutherford, destined to be a three-time champion, but only in his second race in 1964. Sachs was behind in the sixth row. Foyt, a 29-year-old blossoming star, was up front in the second row.
The race that year was on a Saturday, and it started like all Indy 500s do, with color and pageantry and noise. As the field slowly went down the front stretch on the parade lap, MacDonald threw his wife, Sherry, a kiss.
Then the racing began. Coming out of Turn 2 on the second lap, MacDonald blew past Sachs and Rutherford, though he seemed to be struggling with his car. In 1964 stories, Rutherford was quoted as saying the thought went through his mind that MacDonald "was either going to win this thing, or crash."
Fifty years later, Rutherford repeated that is exactly what he was thinking. "He was on a mission. He wanted to go to the front. That was just the way he drove, very hard, and he was probably a little inexperienced. As it turned out, he paid for it."
As Rutherford headed into Turn 4, he decided to duck in behind Sachs. Then he saw dust ahead, as MacDonald's red No. 83 spun and crashed into the inside wall. Seven cars in the field still used gasoline, in all its flammability. One was MacDonald. Another was Sachs.
"When he hit," Foyt said of MacDonald, "he exploded like a bomb."
Suddenly, all Rutherford saw were flames and smoke in front of him. "It looked like they were pulling a black and orange curtain across the track."
Sachs, in the costliest and final decision of his life, decided to try to go to the outside to escape, but that is exactly where MacDonald's inferno had stopped. Sachs smashed into MacDonald and exploded. Turn 4 at the Indianapolis Motor Speedway suddenly looked like a war zone.
"When Eddie hit Davey, it was like jerking the door open on a blast furnace," said Rutherford, who went under Sachs' wreckage—Sachs' tire left marks on his car's nose—then went up on the wall and over what was left of MacDonald's car. Magically in the clear, Rutherford managed to drive around the track and back to the short chute leading into Turn 4, where he got out and found his car was leaking fuel—though he was using methanol. Fellow driver Don Branson was there, too.
"I started up toward the incident," Rutherford said, "and Don grabbed me by the arm and said, 'You don't want to go up there.'"
Seven cars had been involved. It was the first time in history the Indianapolis 500 had been stopped because of an accident. Rutherford was taken to the medical center to be treated for burns on his neck. Foyt prepared for the restart.
"They didn't say anybody had lost their lives," Foyt said. "But I'd been around racing long enough to know that somebody had to be killed."
Sachs had died instantly from the trauma of the crash. The rescue workers could not even get his body from the car until they took it back to the garage. MacDonald, badly burned, died soon after.
In the meantime, Rutherford, released from the medical center, went back to his garage where chief mechanic Herb Porter had found something strange in the car's engine compartment.
A lemon. With a shoestring for a necklace. "Herb said, 'Where did that come from?''' Rutherford remembered. "And somebody else said, 'Oh my God, Eddie had that around his neck.'
"That's getting pretty close."
Foyt led 146 laps and captured his second Indy 500, while recognizing how kindly fate had treated him that afternoon. "I was there, lucky enough to win the race," he said, "but I could have been with them guys."
There is a picture of Foyt in Victory Lane, standing in front of the Borg-Warner Trophy, the unhappiest-looking champion imaginable. In his hands is a newspaper extra that someone had just handed him, with a banner headline: "Foyt winner in 500. Sachs, MacDonald die."
The official result lists Foyt's winnings that day as $153,650. It also tells us that Eddie Sachs earned $6,300, and Dave MacDonald $5,100.
The use of gasoline would disappear from Indianapolis after that. More and more safety regulations followed. Since that awful day in 1964, only one driver—Swede Savage in 1973—has been killed by injuries suffered during the race. Danger is still a part of the deal, but it is hard to imagine the massive fire and billowing smoke happening again.
"I got burned two or three times. Every time you used to wreck, the cars blew up," Foyt said. "At least they've got that controlled today.
"I'm not happy with the way a lot of things have changed, the motor programs and things like that. But I am glad of one thing; the cars are 200 percent safer today than they were then."
Something else changed, in A.J. Foyt.
The first of his 35 Indy 500s was 1958, a race that included the fiery death of Pat O'Connor. O'Connor had been something of a Foyt mentor, and to this day Foyt remembers how "I went by the car two or three times, and I could see him laying outside the car burning. That's when I thought, 'I don't know if I want this or not. Maybe this is a little too tough for ol' A.J., and I'd be better going home and returning to those short tracks. But I got over that.'"
But he also decided the profession he chose argued against close relationships. "I've got a lot of friends, but I've never run with a lot of friends. Through the years, I was kind of a loner."
Another thing. "I never was a person in a lot of debt, because when I hooked the seat belt, I didn't know if I'd be the one unhooking it. I never did want to be in debt when I was in the driver's seat because I didn't want to lose my life and then my family would lose everything. So everything I was buying then, I was mainly paying cash for. I kind of lived my life that way."
Such were the realities of his job. He first began to know them as a youth, but he never understood them better than when the black smoke and orange flames rose from Turn 4, on May 30, 1964. May the Speedway never, ever have another day like it.•
__________
Lopresti is a lifelong resident of Richmond and a graduate of Ball State University. He was a columnist for USA Today and Gannett newspapers for 31 years; he covered 34 Final Fours, 30 Super Bowls, 32 World Series and 16 Olympics. His column appears weekly. He can be reached at mlopresti@ibj.com.
Please enable JavaScript to view this content.