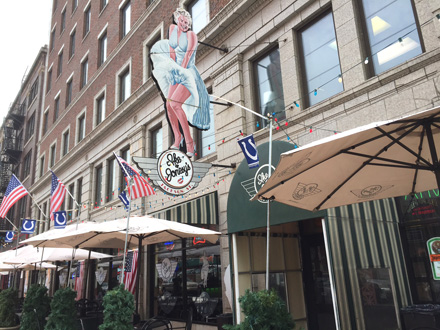 When Rick Eichholtz and his wife, Linda Jones Eichholtz, opened Ike & Jonesy's at 17 W. Jackson Place 35 years ago, downtown was a very different place. The Indianapolis Colts hadn't started playing yet, Circle Centre mall wasn't open and even Union Station was still under renovation.
But Ike & Jonesy's found an audience quickly, in part by focusing on police, media, firefighters and a surprise group—lawmakers and lobbyists, who showed up every January when the legislative session began.
As downtown changed, the bar persevered. But in 2016, an affiliate of Sun Development & Management Corp. bought the building and has plans to turn it into a hotel. As Rick puts it, Ike & Jonesy's doesn't fit into the plans. So Sun and the Eichholtzes reached an agreement that means the bar will close after its New Year's Eve party.
Rick tells podcast host Mason King about how he became a bar owner, what his dad thought about the idea, and how he feels about Ike & Jonesy's closing after more than three decades.
To learn more about Sun's plans—which have changed over the past few years—and about Ike & Jonesy's closing, read this story at IBJ.com.
Click here to find the IBJ Podcast each Monday. You can also subscribe at iTunes, Google Play, Tune In and Spotify. Here are some of our recent podcasts:
IBJ Podcast: The demise of a trucking giant
IBJ Podcast: Butler prez talks university's finances, future as challenges loom
IBJ Podcast: Pat Sullivan makes business case for store's North Pole train
IBJ Podcast: How an Indy group will use $11.6 million to help black students achieve
IBJ Podcast: The new owner of WISH is investing $3 million. He explains why.
Auld Lang Syne by and courtesy of E's Jammy Jams. 
Please enable JavaScript to view this content.