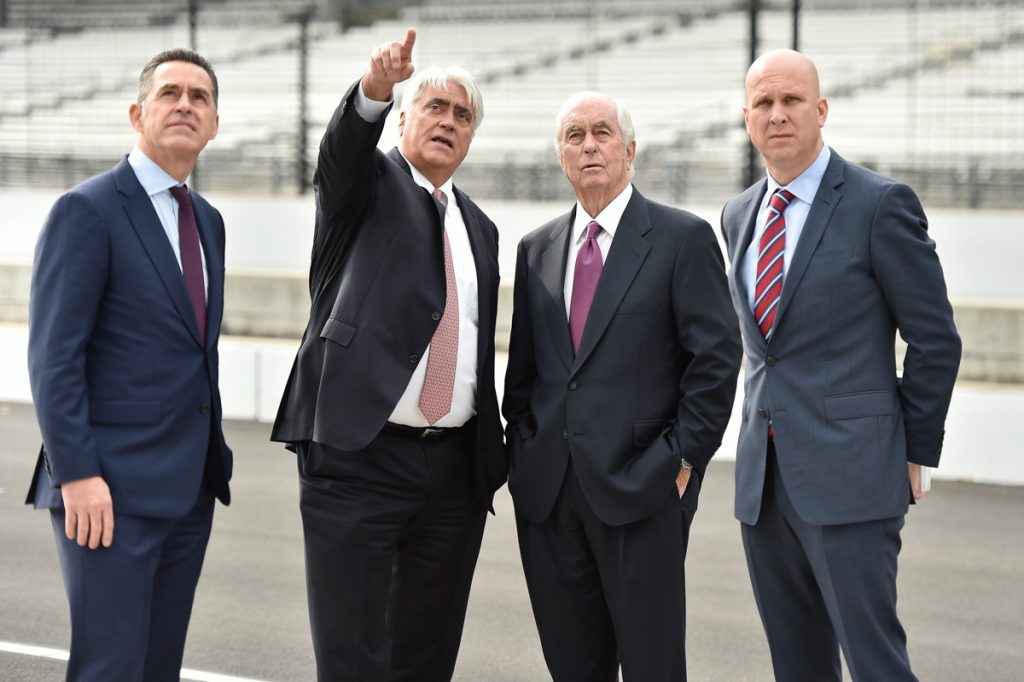 Mark Miles told IBJ this week that he will continue to lead IndyCar and the Indianapolis Motor Speedway after their sale to Detroit-based Penske Corp. early next year.
Since 2012, Miles has been president and CEO of Terre Haute-based Hulman & Co., which owns the racing series, the track and IMS Productions.
Miles, 66, said will be the CEO of Penske Entertainment—a new division of Penske created for the Indianapolis-based properties—and will continue the duties he had with Hulman.
He said he plans to stay "indefinitely" and is "not planning on retiring" or leaving the sports industry anytime soon. He said the same would have been true even without a sale to Penske.
"I've been through seven years of caring deeply about the speedway and IndyCar," Miles told IBJ. "We have the opportunity now to try to take it to a whole other level. I've had no thought of doing anything else."
The sale to Penske is expected to close the first week of January (pending regulatory approval) in a deal worth roughly $300 million, according to industry insiders.
Penske Chairman Roger Penske, who also owns an IndyCar team and dozens of other assets, said Miles was clear and direct when they first spoke about him continuing to oversee IndyCar and IMS as their chief executive.
"I'm in," he told Penske.
"There wasn't any hesitation at all," Penske told IBJ. "I didn't have to wait a day to get a return answer—it was spontaneous, just as I'd hoped would be the case."
The racing tycoon said he hasn't discussed with Miles just how long the longtime sports executive will stick around.
"The only people I have contracts with are my drivers," Penske said. "To me, it's about wanting to work for our company and continuing the leadership. … [Right now it's] business as usual."
Miles said "the whole management team is staying in place" following the sale, including IndyCar President Jay Frye and IMS President Doug Boles.
In addition, Tony George, creator of IndyCar and chairman of Hulman & Co., may be involved in the new company—though it's not clear in what capacity.
Miles himself said after his hire in 2012 he would be at Hulman for "at least three to five years" to turn around the then-struggling business, but didn't commit beyond that.
"I was not planning to leave [pre-Penske] and I plan to stay now indefinitely," he said this week.
"Roger's track record is incredible and he is incredibly passionate about this opportunity. To be part of the senior team and to see what we can do together is thrilling."
Since the sale was announced Nov. 4, extensive meetings have occurred between Penske and his top lieutenants and the Hulman motorsports leadership team to prepare for the change in ownership.
Penske said he was presented hundreds of pages of documents exploring the intricacies of the properties he's buying from the Hulman-George family, which has owned the track since 1945.
Penske spent several days in Indianapolis in recent weeks learning the finer points of the operations of IMS and IndyCar. That included nearly 36 hours of talks Sunday and Monday. He also attended Wednesday's Indiana Pacers game, sitting courtside with Miles and other IndyCar officials,
Miles and Penske declined to go into specifics about the post-sale strategy for IMS and IndyCar, but Miles said it likely will include cost-cutting maneuvers and new capital investment in both IMS and the IndyCar series, with a focus on improving the fan experience.
Penske has said he has big ideas for how to improve IMS, including the possibility of adding lights to the speedway and bringing back Formula One.
He said he hopes to turn the venue into an "entertainment capital," using nearly 1,000 acres of land owned by the speedway—much of which is currently devoted to event parking.
"Everybody's just kind of going to school," Miles said. "We're looking for opportunities to grow (IndyCar), to take advantage of the scale and resources of Penske Corp."
Please enable JavaScript to view this content.