AUG. 31-SEPT. 6, 2015
After much political wrangling, the electric-car service BlueIndy is ready to hit the read. Hayleigh Colombo examines its prospects for success. Also, Scott Olson looks at a snag with the Midtown TIF that has put in peril high-profile projects in the corridor. In addition, Anthony Schoettle looks at a unique partnership that the Indianapolis Monumental Marathon has cut with the media company Gannett.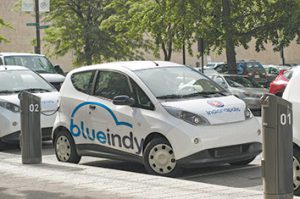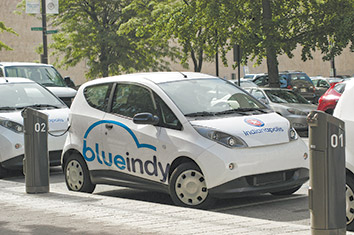 BlueIndy plans to charge past its skeptics as its electric car-sharing program launches in Indianapolis Sept. 2, leaving behind the political consternation about whether Mayor Greg Ballard went rogue in green-lighting the program in the first place.
Read More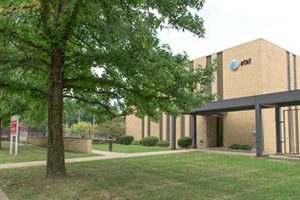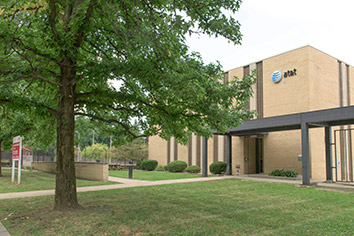 TWG Development LLC has agreed to pay $3 million to buy part of the AT&T property near the busy intersection of College Avenue and Kessler Boulevard to build a $39 million apartment project with an underground parking garage.
Read More
Commercial projects are starting to stake claims on open land along the Zionsville portion of Michigan Road, catching up with the flurry of mostly retail development that's already occurred along the Carmel portion of the roadway.
Read More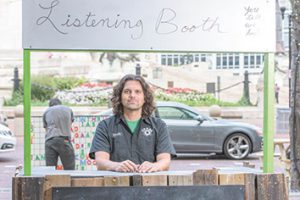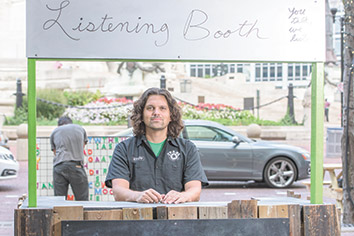 Walker heads Big Car, which he describes as an "art-based, creativity-based not-for-profit that's focused on community development." Put simply, it uses art to jump-start neighborhood involvement and development.
Read More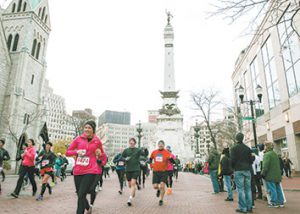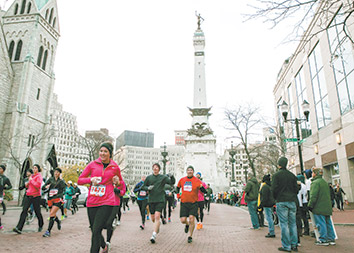 The Indianapolis Monumental Marathon is one of seven U.S. marathons that have teamed with Virginia-based media conglomerate Gannett Co. to form a nationwide marathon series.
Read More
Pendleton-based auto-parts maker Remy International Inc. did squeeze some extra cash out of its acquirer, Auburn Hills, Michigan-based BorgWarner Inc.—but not a lot.
Read More
Just as the residential market regains steam, the number of real estate agents is waning.
Read More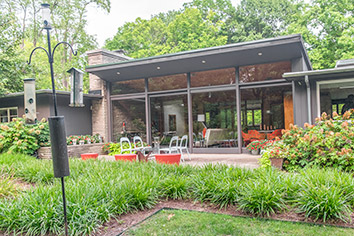 A less-is-more design carried through in a careful remodeling, and now under a new owner who likes the nostalgia.
Read More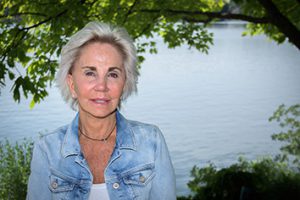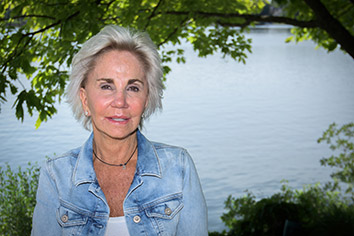 See which real estate agents and which teams rack up the most sales.
Read More
Check out what homes are selling for in your area, as well as which house sold for the most money recently. (It went for more than the asking price.) And see which parts of the Indianapolis area have the greatest incomes.
Read More
Even small-fry public companies like Ameriana Bancorp and Noble Roman's Inc. have caught the attention of investment firms that specialize in stirring the pot in hopes of scoring a quick profit.
Read More
Barriers, barricades, traffic cones—all disrupt traffic on almost every street in town. (I live one mile from 106th and Meridian but must drive three miles and about 20 minutes to get there.)
Read More
The "victim of partisanship" note seems off-key, as it's the Obama Justice Department that's investigating things.
Read More
Strong and effective relationships—with employees, customers and vendors—are the motors that drive business. Too often, managers focus only on the professional aspects and discount what makes us truly unique: our lives outside of work. 
Read More
Americans are understandably upset with years of sluggish U.S. economic performance. We don't blame the political class for trying to blame it on someone else, preferably a foreign someone else. Don't fall for it.
Read More
We're biologically wired to avoid losses at any cost, and the bad memories of 2008 are still fresh. So it is perfectly understandable that investors are having a visceral reaction and feeling a great deal of anxiety. By the same token, we believe investors must overcome these biases in order to succeed.
Read More