Veteran TV journalist Mary Milz has resigned from WTHR-TV Channel 13 to head into retirement after a career that took her across the country covering some of the biggest national stories of the time.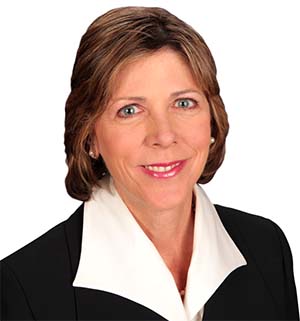 Milz, who began working for WTHR in 2003 and distinguished herself with aggressive reporting on the city government beat, put in her notice at the end of last year but opted to stay through Wednesday.
"I've been doing this for 35 years, and it's just kind of time," Milz, 60, told IBJ. "I'm ready to do some new things.
"Being a journalist is very demanding. I have not read a book or seen a movie or had time for lunch with friends for a long time. I think the pandemic made me refocus and think, 'There are a lot of things I still want to do.'"
Milz plans to stay in Indianapolis and has few immediate plans beyond training for and running the Boston Marathon in October. She said she hopes to do volunteer work in the Indianapolis area and is not considering a return to full-time employment, "but who knows, anything is possible."
Milz grew up in Evanston, Illinois, and earned a broadcast journalism degree from Drake University in Des Moines, Iowa. From 1985 to 1989, she worked at KTPX-TV Channel 9 in Midland, Texas, as an anchor, reporter and producer. The stories she covered included the saga of Baby Jessica, an 18-month-old toddler who fell into a well and was stuck for three days before being rescued.
As a reporter for WHO-TV Channel 13 in Des Moines from 1989 to 2000, she covered the 1989 crash of United Flight 232, the 1993 floods and the Iowa caucuses. At KNTV-TV Channel 11 in the San Francisco Bay Area from 2002 to 2003, she covered the disappearance of Laci Peterson, who was eight months pregnant when last seen alive. Her husband, Scott Peterson, was later convicted of her murder.
WTHR News Director Jeff Rosetti said Milz has been part of a long line of outstanding journalists to cover the city for the station.
"Her focus on this city, its evolution and its people, is something that we're very proud of," Rosetti said. "Personally, I'm going to miss my weekly 'journalistic debates' with Mary about what to cover and how to cover it. I was lucky to have such a worthy adversary the 10 years I've been in Indianapolis."
Milz said she will the intensity of the news-gathering process—"starting with nothing, working a story, seeing it unfold and come together."
"But most of all, I will miss the people—my colleagues, from the on-air folks to the photographers, producers, managers and all the other talented people I worked with on a daily basis.," she said. "I will also miss the many people I've met through my job, people from all walks of life, especially those who trusted me to tell their stories. I feel very fortunate to have had a career I truly loved."
Milz's departure is the latest in a spate of exits from the NBC affiliate.
Reporter Steve Jefferson told IBJ last week that he had been given a job offer he couldn't refuse from highly regarded WFAA-TV Channel 8 in the Dallas-Fort Worth area. His last day on the air with WTHR is Wednesday.
Investigative reporter Sandra Chapman resigned in January after 17 years at the station and 34 years in local news. Matt McCutcheon, a reporter and anchor for WTHR since 2013, also departed in January, saying that he had retired from the news industry and was taking a corporate communications gig with a local life sciences firm.
Alyssa Raymond, a weekend anchor and weekday reporter, left the station in October to take a job in her hometown of Pittsburgh. And Ben Hill, who co-anchored WTHR's morning weekday news since 2016, departed last September for an anchor job in Nashville, Tennessee.
Earlier in 2020, political reporter Kevin Rader retired and traffic reporter Mimi Pierce left as part of a change in the way the station covered commuting.
WTHR is owned by Virginia-based Tegna Inc., which acquired the station in 2019. The previous owner, Dispatch Broadcast Group, held the station for 44 years.
Please enable JavaScript to view this content.