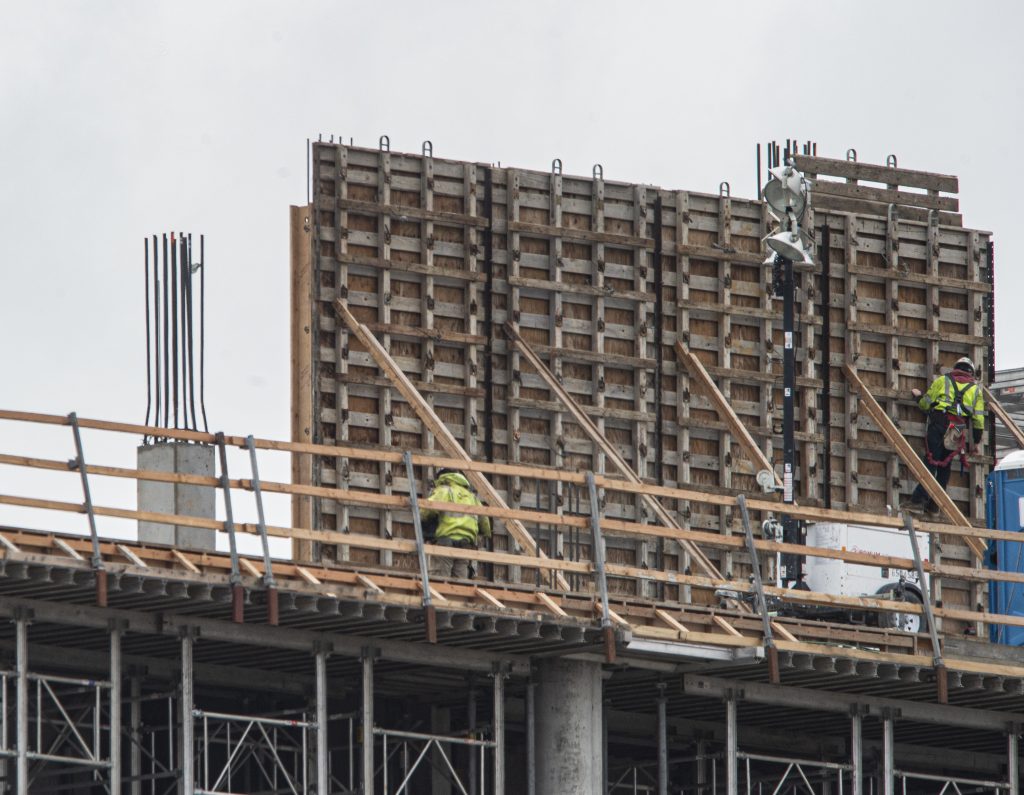 Construction at the city's Community Justice Campus, the Bottleworks District on Massachusetts Avenue and other big projects is progressing, despite the coronavirus pandemic that has halted much of the rest of the economy.
But some projects across the city and state are on hold, as developers assess not only their financial footing and priorities but also the safety of the workers on site.
The decisions about construction are up to developers and construction firms, as the industry is exempt from Gov. Eric Holcomb's orders that non-essential businesses close and Hoosiers stay home, except for essential trips such as getting food or medicine.
The governor's designation of construction firms as "essential" has permitted thousands of builders, welders, plumbers and other tradespeople to continue reporting to their respective job sites across the city and state at a time when workers in other industries have been idled at record rates.
The new Community Justice Campus, the Bottleworks District, and various other developments throughout Indianapolis are still active—albeit with more stringent cleaning, social distancing and illness reporting protocols in place to prevent the spread of the novel coronavirus.
"Projects … are still progressing, based on our conversations with people who are working those jobs," said Demetrius Glover, executive director of the Indiana Construction Roundtable, an industry trade group.
"Crews are doing the best they can to maintain social distancing on their job sites, along with other measures. That's helped keep things move forward with projects and helped keep workers around and health."
Justice complex still on target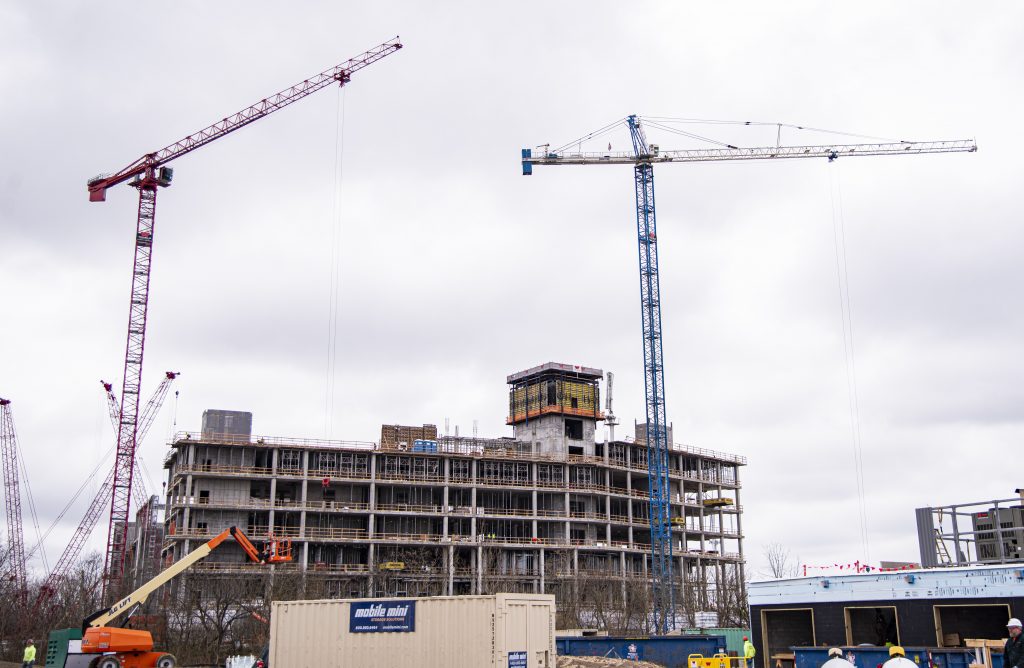 The Community Justice Campus is still expected to debut its first building in late summer—a 37,000-square-foot center for individuals suffering from mental health and addiction problems.
The first phase of the $572 million development features nine buildings, including a new courthouse, sheriff's office, adult detention center and professional offices—all of which are supposed to be finished by 2022.
A spokesperson for Mayor Joe Hogsett told IBJ on Thursday the city does not anticipate the virus will cause any delays to work on the complex.
"We continue to be on schedule with the construction of the Community Justice Campus facilities," Deputy Mayor Taylor Schaffer said in written remarks. "Crews have been asked to take additional precautions in order to ensure workers are adhering to the guidance of county and state health professionals, as well as the CDC."
Kevin Hunt is president and chief operating officer of Shiel Sexton Company Inc., an Indianapolis-based construction firm consulting on the project. He said the virus is a threat the team is "taking seriously," including through efforts to maintain clean work environments, but that it has not caused work to slow down.
He said additional hand washing stations are set up, workers are discouraged from sharing tools, and new wipe-down and cleanup procedures are in place. Shiel Sexton also has on-site administrative staff—who typically work out of trailers—rotate their days between remote and on-site work to minimize contact. The campus's 200 trade workers have also been moved to more staggered shifts, he said.
"We are taking a lot of precautions," said Hunt. "To social distance is tough on a construction site … but we're enforcing [safety and health] as much as we can."
Essential efforts
Hunt said most of Shiel Sexton's other in-progress projects are moving forward uninterrupted, but with similar precautions.
"In general terms, we've only had one of our projects in central Indiana that said slow down or stop," he said. "We've got a couple projects that are delaying new construction starts until we get past this."
Although Hunt declined to identify those projects specifically—citing confidentiality agreements—he said most projects that have funding already in place aren't likely to stop unless construction is no longer considered "essential" by local or state officials.
Having construction work stopped "would have a huge impact on us, no question," he said. "But it would also affect … our subcontractors, too. We want to keep working."
About 360,000 people are employed in construction-related industries in Indiana, according to 2018 data from Hoosiers by the Numbers, the state's labor market and demographics database.
There has been no indication that state officials plan to shelve construction projects. Schaffer said the city is following the state's lead.
"The city has relied on the guidance of county and state health professionals, as well as the orders of Gov. Holcomb to determine the classifications of 'essential' businesses," she said. "While we communicate with these partners regularly, the city has not been involved in lobbying efforts to reclassify certain industries as essential."
Glover, with the construction trade group, said the association has not been involved in those conversations, either, but is generally supportive of the industry maintaining its "essential" classification.
Full steam ahead
Eric Gershman, principal of Gershman Partners Inc., which is co-developing the $45 million Ardmore apartments at the southwest corner of Delaware and New York streets with Deylen Realty Inc., said work is continuing on that project—but he said the matter is in flux.
"As of [this week] things were progressing as scheduled," he said in a text message to IBJ. "It is definitely going to be a fluid situation in my opinion."
He did not elaborate.
Likewise, the first phase of construction of the $300 million Bottleworks District project at 850 Massachusetts Avenue is nearly finished. Work on that project—which counts Shiel Sexton and Fishers-based Hagerman Group Inc. as its general contractors—is proceeding normally.
Gavin Thomas, vice president of development for Hendricks Commercial Properties, the Wisconsin-based firm behind the project, said the virus could eventually lead to some hiccups in the schedule, but what that might look like has yet to be determined.
"With the nature of having a 12-acre site, it's possible to spread people out and stagger crews—which is good in a situation like this," he said. "We've been able to move things forward. It's a little early to say what the full impact of all this will be, but I expect there might be some delay."
Added Thomas: "What we're hearing right now on the job site, though, is we're still pressing forward and we're planning to meet the timelines we've been shooting for here."
The first phase of the development is expected to open later this year.
Crews at Bottleworks have received updated health and safety protocols and all non-trade employees who can are working from home, Thomas said.
"We are following state and local guidance—this thing is dynamic and changing often. As of right now, it permits construction activities," he said.
Hitting some snags
Some projects, particularly in the health care industry, have been put on hold as hospital and health networks themselves confront the outbreak head on.
Terre Haute-based Garmong Construction Service Inc. is seeing delays and outright stops to some of its medical projects, an executive told IBJ.
"Some things that were under construction with some of our health care clients [stalled] after they wanted to direct sources to more urgent matters," said Paul Okeson, executive vice president. "Others, in private industries like manufacturing, have also said they are going to shelve their projects indefinitely just to see what the end of the storm looks like for them."
It's unclear what will happen with work at Bankers Life Fieldhouse, which is at the front of a $360 million, three-year renovation. Work on back-of-house upgrades have already begun, but most of the work for the project's first phase cannot begin until the NBA season—now on an indefinite pause—has concluded.
That first slate of work was expected to be finished in time for the 2021 NBA All-Star game in February, although it's unclear if that's still the plan. A Pacers representative did not return a call requesting comment.
The expansion of the Indiana Convention Center, including a $120 million addition and two new convention center hotels, has also been thrown into question.
Because funding has not yet been finalized for the convention or hotel portions of the project, it's unclear whether they remain feasible in an increasingly fragile economic environment—and whether they can be absorbed by the market as quickly now as they were expected to be, particularly with the hit taken by the tourism industry.
Mike Wells, president of Carmel-based REI Real Estate Services Inc., previously told IBJ he wouldn't be a surprise to see part or all of that development delayed significantly. Wells, himself a critic of the project at Pan Am Plaza, said developer Kite Realty Group Trust is dealing with extreme volatility in the retail sector.
"All of us in the real estate business have our hands full right now," he said.
Wells said his own projects, including a dual-branded Moxy/AC Hotel development along South Meridian Street, are in holding patterns. Other developers—both those that have already secured financing and those that have not—are holding off on starting new construction.
But the Tribute hotel at 141 E. Washington St., which has been under construction for a few months, is moving forward as planned.
IndyCar pauses IMS plans
One major Indianapolis project that has been paused is Penske Entertainment Corp.'s multimillion-dollar plan to make upgrades at the Indianapolis Motor Speedway.
Those improvements—some of which were already well in the works—were expected to be completed in time for the Indianapolis 500 when it was scheduled to run in May (it's been moved to Aug. 23).
Now, officials with IndyCar, IMS and Penske (which officially acquired those properties earlier this year) are trying to prioritize parts of that project to ensure it's done in time for events in June and July, including the IndyCar Grand Prix and NASCAR's Brickyard 400 on Independence Day weekend.
IndyCar president and CEO Mark Miles said track officials are confident that the entire project will be completed on schedule, but they wanted to take some time to assess the situation and ensure IMS was a safe work environment before proceeding.
"At the moment, it is on pause, and now we're just considering which [crews] to bring back on what schedule," he said. "We're really just assessing when we can get which contractors back and continue to work, in order to meet our deadlines."
Miles said plans will be finalized within the next week, but the primary focuses will be on expanding the fence on the west side of the track out to Georgetown Road to create two new lanes for easier ingress and egress, along with other paving projects and updates to the facility's bathrooms.
The Speedway also is expected to add 30 large-screen video boards and a 100-foot-wide video wall facing Pagoda Plaza in the infield area, although Miles did not say whether those remained priorities.
"We think we're in good shape," he said. "We're likely to bring contractors back in an orderly way before long."
Please enable JavaScript to view this content.