Indianapolis Airport Authority CEO John Clark and two key officers spent more than $67,000 last year on travel that included extended business trips to Brazil, Denmark, Greece, Morocco and Switzerland.
Read More
Indiana University Coach Tom Crean and Purdue University Coach Matt Painter cash in big time when their teams perform well, especially in postseason play.
Read More
When Allison Transmission Holdings Inc. a year ago filed plans to go public, it said some of the proceeds would go toward reducing billions of dollars in debt. But, in an updated filing with the SEC, the company reversed course, saying all of the more than $500 million that's expected to be raised would go to its private-equity owners.
Read More
The Indiana Pacers are looking to become one of a handful of NBA teams to scrap their traditional static ticket pricing system for one resembling the fluctuating model employed by airlines.
Read More
Conner Prairie President and CEO Ellen Rosenthal has brought to the Fishers museum her passion for creating great visitor experiences.
Read More
New Southport Mayor Jesse Testruth and Clerk-Treasurer Diana Bossingham are sorting out years of financial woes that plagued the previous administration, including two unsatisfactory state audits that were forwarded to the county prosecutor's office for review.
Read More
If the cost of aircraft fuel continues to approach $3.50 a gallon, 2012 fuel costs for the company's Frontier unit fuel will end up $40 million higher than the business plan.
Read More
The average price Indiana farmers received for a bushel of corn reached a high last August of $7.18, nearly twice as much as the prior year. That kind of windfall tends to benefit farm-equipment sales, but it could also lead to more charitable giving.
Read More
LISC, a not-for-profit lender, says it has not received any payments on its $515,265 construction loan since Jan. 1, 2011, and is owed more than $228,000.
Read More
Community Health Network and Johnson Memorial Hospital plan to spend $14 million to build a medical office building and outpatient center in Bargersville. The 70,000-square-foot facility is scheduled to be completed in mid-2013.
Read More
Deron Kintner has stepped up to fund a string of high-profile real estate projects at a time when private-sector financing is scarce.
Read More
Volume nevertheless is expected to fall short of last year's record numbers
Read More
Demographics, technology will reward winning institutions.
Read More
Protection must be balanced with allowing credit to flow
Read More
Like it or not—and most of the time we like it—technology has changed the world we live in.
Read More
Attitude makes a big difference with staff productivity at work. Happy troops are productive troops.
Read More
Some people go through life like Don Quixote, tilting at windmills. Then there's Rick Santorum. He wants to repeal the Enlightenment.
Read More
In December, The Mind Trust, an education reform not-for-profit, released a report proposing a dramatic overhaul in the way IPS operates.
Read More
Even many lawmakers expected the Major Moves transportation fund would obviate the need to find large amounts of state dollars for critical projects.
Read More
The purpose of gamification is to apply the principles of gaming to another environment, like education or business. And as "gamifiers" admit, this is really old hat in business.
Read More
America has always been a place where we make things. In fact, 2011 was a record year for manufacturing in America, as will be 2012 and 2013 (all in inflation-adjusted terms).
Read More
The symbolic pie charts marketed to investors with multiple colored slices—each representing the percentage investors need in all the various categories of stocks, bonds, commodities, real estate and alternative investments—had suddenly turned into one solid color.
Read More
I read with shock Anita Y. Woudenberg's [March 5 Forefront] column on vaccinations and find it irresponsible for the IBJ to print something so misleading, factually weak and potentially dangerous.
Read More
I take no issue with the premise [March 5 Maurer column] that politics far too often prevail over wisdom, but his argument that "religious right groups are manipulating religion to further their intolerant political agendas" is far too short-sighted for a man of his character and wisdom.
Read More
Hunger-fighting charities hope to tap volunteers and resources for special projects through a new entity, the Indy Hunger Network.
Read More
The project by developer John Watson's Core Redevelopment calls for preserving the stadium's historic façade and shell as part of the 131-unit Stadium Lofts apartments, along with an adjacent 132-unit apartment community called Stadium Flats.
Read More
Eli Lilly and Co.'s board is once again recommending the removal of a provision that makes the company an almost impossible target for hostile takeovers. The same proposal has fallen slightly short at each of the past two annual shareholder meetings.
Read More
Arcadia Resources Inc. is telling shareholders not to buy its stock because it is out of cash and faces a $40 million pile of debt that comes due on April 1.
Read More
Carbon Motors Corp., which hoped to create hundreds of jobs and thousands of high-tech, fuel-efficient police cars in Indiana, said the U.S. Department of Energy is not going to give the company a critical $310 million loan.
Read More
The Indianapolis mall owner is expanding its global profile, agreeing to buy a controlling stake in a French firm with a 271-property European portfolio. Simon also is buying out a partner in its Mills portfolio closer to home.
Read More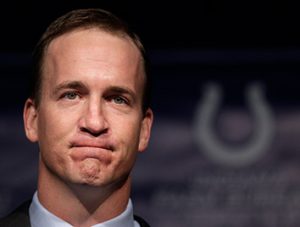 In announcing the release of quarterback Peyton Manning on Wednesday, a tearful Indianapolis Colts owner Jim Irsay explained "circumstances were too difficult to overcome." Beginning his departure from the Colts, the future Hall-of-Famer told Indianapolis, "I truly have enjoyed being your quarterback."
Read More
Social Health Association of Indiana fosters successful lives by encouraging youth to make responsible choices and adopt healthy behaviors.
Read More