OCTOBER 21-27, 2013
In this week's issue, Anthony Schoettle reveals that Indiana University officials are seeking as much as $20 million to upgrade the Natatorium on the IUPUI campus and are in discussions to turn over operations to a third party. (The aquatics venue is in dire need of upgrades and is losing about $1 million per year.) Also, J.K. Wall takes a closer look at the premiums being offered to Indiana residents through Obamacare exchanges, which are among the most expensive in the country. And in A&E, Lou Harry appraises the blockbuster Matisse exhibit at IMA.
Indiana University officials are seeking $17 million to $20 million to upgrade the Natatorium on the IUPUI campus and are considering turning day-to-day operations of the aquatics venue over to a third party.
Read More
The developer who delivered high-end housing to Westfield a decade ago with The Bridgewater Club is working on plans for another upscale golf community near the city's Grand Park Sports Complex.
Read More
An emerging group of software companies focused on serving charities—combined with the fact the city is home to the only philanthropy college in the country—could make the area a hotbed for an often-ignored area of business.
Read More
The premiums offered by health insurers participating in the Obamacare exchanges put Indiana among the 10 most-expensive states in the country, according to data released last month by the U.S. Department of Health and Human Services.
Read More
A digital streaming service that television broadcasters deem so threatening they recently petitioned the U.S. Supreme Court for help plans to enter Indianapolis next year.
Read More
A third securities firm in the region has been slapped with sanctions by federal regulators.
Read More
Indiana is generally water-rich, but advocates of resource planning say the state runs the risk of supply crises that would hamper economic development.
Read More
Plans to redevelop a surface lot adjacent to the historic Athenaeum building have been shelved after proposals failed to meet financial expectations.
Read More
The move has local radio executives wondering if the comedy show might move up the Indianapolis FM dial as well. Meanwhile, conservative commentator Abdul will switch to weekday evenings on WIBC.
Read More
A federal grand jury has returned new charges in a fraud scheme involving the Indy Land Bank, including a wire fraud count against two defendants for allegedly fleecing the victims of a previous real estate scam.
Read More
Simon Property Group now is the largest real estate company in the world and has a stock market value of $59 billion. That's $6 billion more than Eli Lilly and Co., not that Simon's hypercompetitive CEO, David Simon, has noticed.
Read More
Corporate account takeovers are high stakes for heists.
Read More
Most remember well the financial crisis that led to the Great Recession. The problems were complex and big, and there were many villains and many more victims.
Read More
If Eli Lilly and Co. sneezes, Indianapolis catches a cold. The statement has been so oft-repeated that it's become a cliché.
Read More
Political battles aside, there are practical concerns swirling around our health care future.
Read More
I recently overheard two business leaders saying the slow pace of economic recovery would impede their quarterly results. I concur with their assessment, but focusing on the rate of economic recovery is similar to looking at an iceberg; only 10 percent is visible. The other 90 percent is hidden below the surface.
Read More
The "makers and takers" narrative—promoted most prominently by Paul Ryan and eagerly adopted by Tea Party activists—is just the most recent manifestation of a persistent American fable that encourages people who believe they "stand on their own two feet" to aim moral indignation and opprobrium at those they believe are "sucking at the public you-know-what."
Read More
The first slowdown seems to have been at least partially remedied by the Federal Reserve's massive purchase of assets known as quantitative easing, the most recent of which was accompanied by a marked short-term improvement in the economy. That improvement seems to have run its course.
Read More
On occasion, it is interesting to study the stocks of businesses that are outliers on the bell curve of business valuation. For a value investor, that means looking at stocks selling at huge multiples above traditional valuation yardsticks.
Read More
For many years, including my time at Indiana Black Expo, I have worked to bring people together for the betterment of our city. I'm grateful that our City-County Council and mayor put aside partisan differences to pass a budget.
Read More
I am very impressed with Mr. MacAllister's column in the Oct. 7 Forefront.
Read More
I was disheartened to see Zach Adamson's [Sept. 30] Viewpoint that naively believes we can replace the Harding Street Indianapolis Power & Light Co. plant with renewable energy sources.
Read More
Investors on Friday dumped shares of West Lafayette-based Endocyte Inc. after an independent analysis said an experimental lung cancer drug is unlikely to be declared superior to existing chemotherapy. But two analysts say, to the contrary, the analysis shows the prospects for Endocyte's drug are as good as ever.
Read More
Indianapolis-based technology firm Compendium, which was started by ExactTarget Inc. co-founder Chris Baggott, has been acquired by Silicon Valley-based tech giant Oracle Corp., the companies announced Thursday morning.
Read More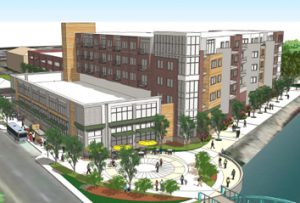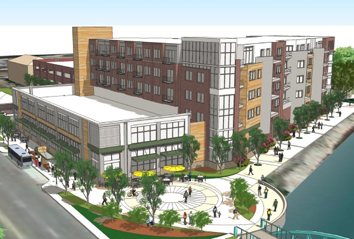 Plans from Browning Investments Inc. call for a 35,000-square-foot grocery—earmarked for a Whole Foods—and 104 apartments on the northeast corner of College Avenue and the Central Canal.
Read More
The $2.7 million agreement will keep the Hoosier State passenger rail service between Indy and Chicago operating for one year.
Read More