AUG. 24-30, 2018
Despite the yellow warning flags flying all around NASCAR, the Indianapolis Motor Speedway has its foot on the gas as it prepares for the Brickyard 400 on Sept. 9. Anthony Schoettle explain the major changes planned for the race and the days leading up to it. Also in this week's issue, Lindsey Erdody has an in-depth examination of the money flowing into Indiana's closely watched U.S. Senate race through joint fundraising committees and Super PACS. And Susan Orr details what's in store for fans of the Golden Arches when McDonald's spends $6 billion nationwide to update its stores.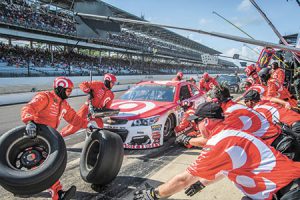 Despite the yellow warning flags flying all around NASCAR, the Indianapolis Motor Speedway has its foot on the gas as it prepares for the Brickyard 400 on Sept. 9.
Read More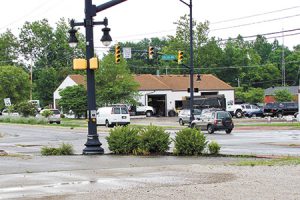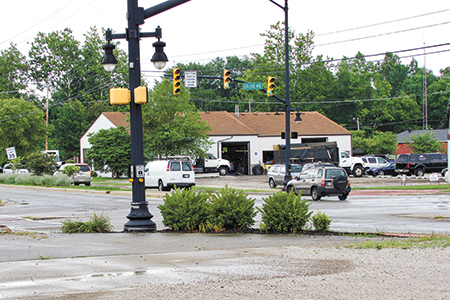 Two square miles of Hamilton County where residents for years resisted becoming part of Carmel, despite being surrounded by it, are soon to become much more Carmel-like.
Read More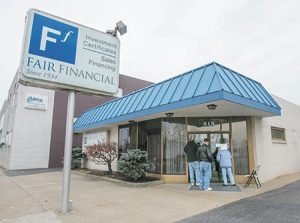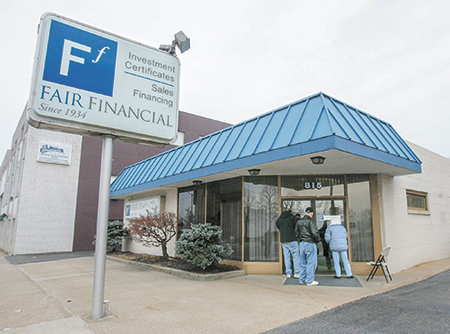 Without a big settlement, or a resounding victory at trial, victims in the fraud would be left with an underwhelming recovery—currently 11 cents on the dollar, based on distributions of $18 million in December 2015 and $5 million last October.
Read More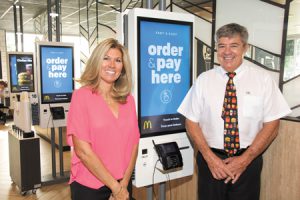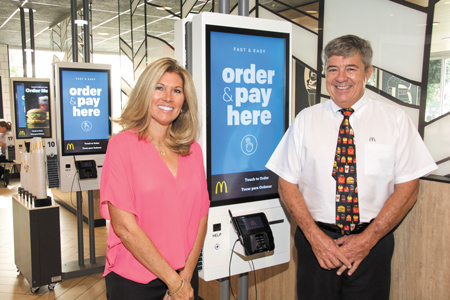 Hoosier franchisees say they're seeing good results from the fast-food chain's overhaul of its U.S. restaurants, an effort that includes self-ordering kiosks and other technology upgrades.
Read More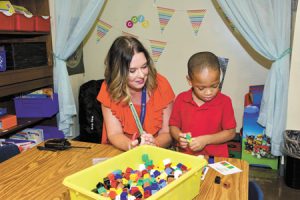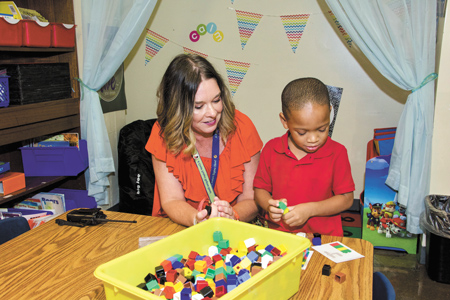 A new not-for-profit launched with funding and support from The Mind Trust aims to help focus the time of charter school leaders on the classroom.
Read More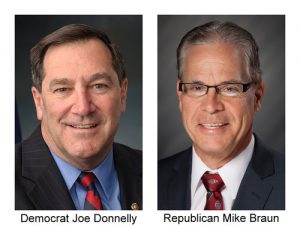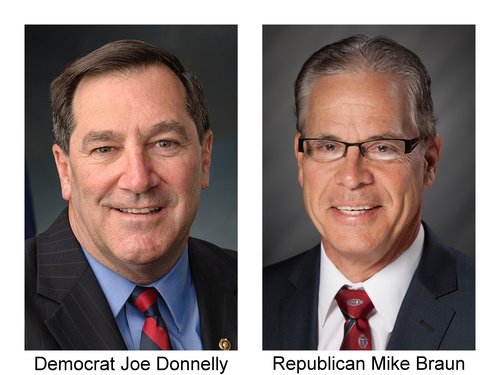 The money flowing into a competitive U.S. Senate race can weave an intricate web of sources.
Read More
Gov. Eric Holcomb established the Office for Career Connection and Talent one year ago and appointed former LaPorte Mayor Blair Milo to head it.
Read More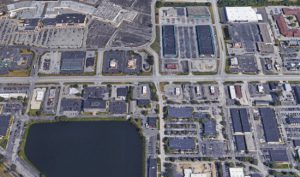 City development officials said the plan should "respond to emerging challenges confronting the Castleton area, including evolving national shifts in commercial retailing and aging commercial, office and multifamily areas."
Read More
Local partners will include the Pacers, Colts and NCAA. But state officials declined to specify the contribution from Indiana's Next Level Fund, a new state-backed venture pool with $250 million to invest.
Read More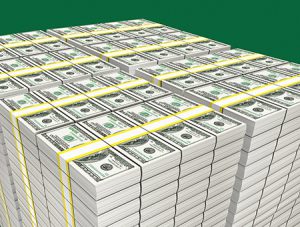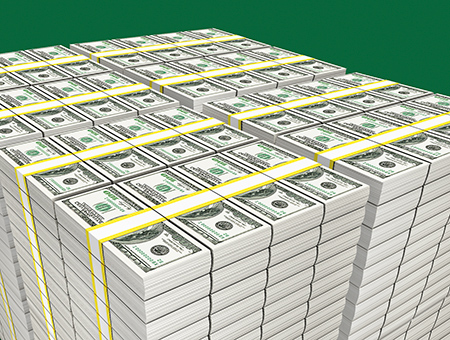 The district says that, to keep its main priority on the table—raising money for salary increases for teachers and staff—it made tradeoffs that could leave it financially vulnerable down the road.
Read More
The Purdue University "Back a Boiler" program, the controversial income-share agreement plan launched by President Mitch Daniels, is the winner of a Boston-based conservative think tank's annual better-government competition. Purdue won a $10,000 prize from The Pioneer Institute, which selected the program after reviewing more than 80 entries from across the nation. The school will […]
Read More
Ball State University's board of trustees has changed its mind about maintaining the name of the John H. Schnatter Institute for Entrepreneurship and Free Enterprise. The board voted 8-1 Aug. 16 to remove Schnatter's name from the institute, almost two weeks after announcing it planned to maintain ties with the controversial founder of the Papa […]
Read More
Butler will have 1,336 freshmen this fall, its largest first-year class ever. Applications have risen 65 percent since 2015. (IBJ file photo) Three local private colleges—Marian University, Butler University and the University of Indianapolis—all experienced enrollment boosts among their freshman classes this fall. Marian told IBJ it is expecting a record freshman class of more than […]
Read More
Thousands of firms across the state struggle to find employees, in part because workers increasingly are deciding where to live based on quality of life, rather than where the jobs are.
Read More
I'll support whatever vehicle you would like to drive. And if I want to drive my 3.5L V6 EcoBoost engine Ford Explorer SUV, then I expect the same support.
Read More
When we lose clients, it means they have become successful enough to pay for legal services on their own.
Read More
Many people in central Indiana might not consider water planning a top priority due to a misperception that we have an unlimited supply. In fact, according to a 2014 Indiana Chamber of Commerce report, Indiana will likely face water shortages in the future.
Read More
I decided I needed to reframe the language I was using in my decision-making: "get to" versus "have to," "want to" instead of "should."
Read More
Is the current GDP growth the beginning of a new period of robust 20th-century-like growth? Or simply a one-time growth spurt that will revert to the anemic growth of recent decades?
Read More
Closed-end funds are often actively managed, tend to have a narrow investment focus, use illiquid or thinly traded investments, and are structured to provide income.
Read More
Paying more attention to, and providing incentives to, those talented foreign students who attend universities in the U.S. seems clearly a good idea
Read More
The company employs numerous alums of ExactTarget, the Indianapolis-based marketing-tech firm acquired by Salesforce.com for $2.5 billion in 2013.
Read More
The business advocacy group is working with city officials and a consultant to develop a strategy for promoting Indianapolis' musical assets—and then writing the next verse in a higher key and more robust tempo.
Read More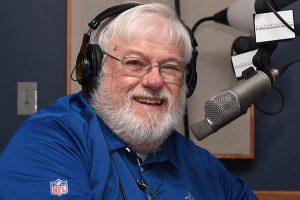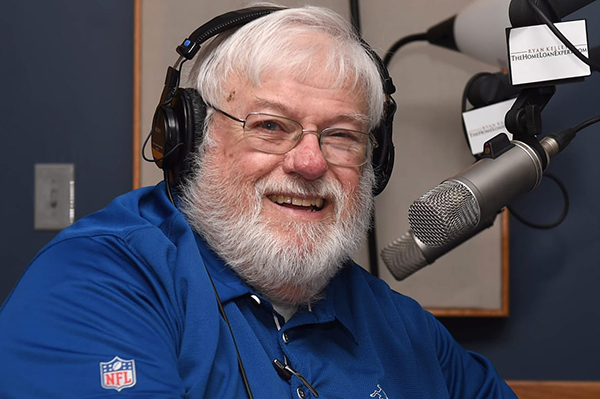 In the week before announcing his retirement as the radio play-by-play announcer for the Indianapolis Colts, broadcaster Bob Lamey used a racial slur while telling a story in the presence of a black radio station employee, according to a media report.
Read More
The letter released Monday was signed by the leaders of institutions including the University of Notre Dame, DePauw University and Franklin, Hanover and Wabash colleges.
Read More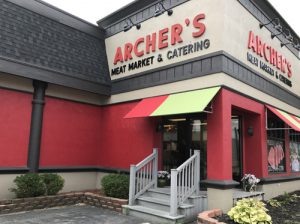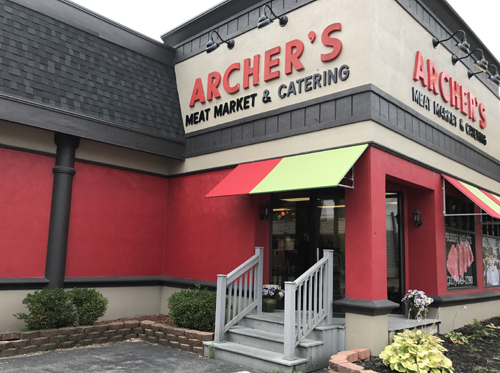 First Internet Bank agreed to acquire 11 parcels on the south side of 116th Street for $10 million, with Fishers agreeing to reimburse the bank for land acquisition costs.
Read More
While it might seem intuitive to simply go to the finals, you could also check out one of the earlier rounds at the Indiana History Center, where tickets are just $15.
Read More