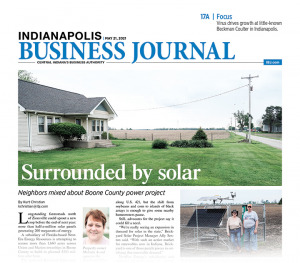 MAY 21-28, 2021
A major provider of renewable energy is planning a 200-megawatt solar farm that would be spread across 1,660 acres in Boone County. Kurt Christian explains why some landowners there have agreed to lease property to the company, while others are concerned about the solar array's impact on property values. Plus, Leslie Bonilla Muñiz writes about the quandary attorneys are facing as the Marion County courts prepare to move to a new Criminal Justice Campus about three miles out of downtown. And Kurt Christian details a Hamilton County plan to coordinate career and technical education offerings among several districts.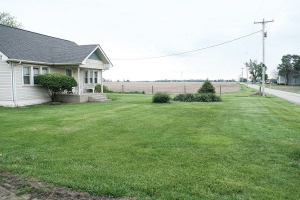 A subsidiary of Florida-based Next-Era Energy Resources is attempting to rezone more than 1,660 acres across Union and Marion townships in Boone County to build its planned $210 million solar farm.
Read More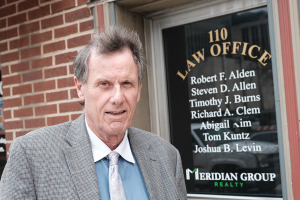 Marion County's courts will move by December 2021 from the City-County Building downtown to the $580 million Community Justice Campus in the Twin Aire neighborhood. Law firms and other businesses are debating whether to follow.
Read More
Since 1972, students from Hamilton County's six high schools have traveled to the J. Everett Light Career Center in Indianapolis and the John Hinds Career Center in Elwood for career and technical education training. A coalition of educators wants the county to create its own vocational education system.
Read More
Scott County, which was the center of a huge outbreak of HIV in 2015, is considering whether to close the syringe exchange program that was widely credited with curtailing the crisis.
Read More
Ireland is interested in attracting fast-growing U.S. companies looking for a European outpost and has turned its attention to Indianapolis.
Read More
Phillip Terry, who led Monarch Beverage Co. for 30 years, is now lending his business expertise to University of Indianapolis students and alumni through the school's new Executive in Residence program.
Read More
The suit challenges a new law that gives the Legislature the power to call itself into a special session whenever the governor declares a state of emergency that "the legislative council determines has a statewide impact."
Read More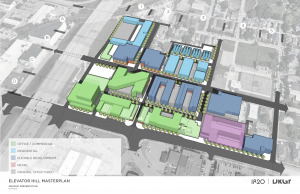 Preliminary plans call for the construction of new office structures, multifamily properties, retail space and parking garages to fill in most of the site, now known as Elevator Hill.
Read More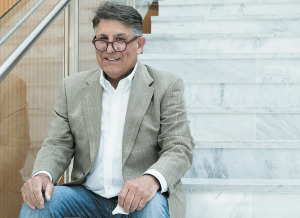 Billy isn't his real name, but his gambling problem was as real as the loans he was taking out to finance his habit and as real as the weekly Gamblers Anonymous meetings he now attends to ward off the demons.
Read More
In the design of our cities, we too often default to the average male as a stand-in for everyone.
Read More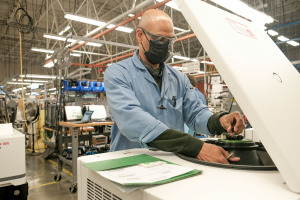 The company, with headquarters and a massive factory on the northwest side, has hired about 100 people in the past year, bringing its workforce to about 550. And it's looking to hire another 100 people this year.
Read More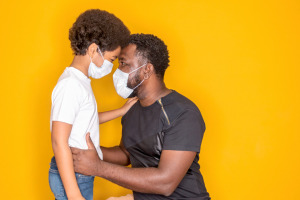 The government's new guidance on masks for vaccinated people has left some Americans confused and sent businesses and local governments scrambling to adjust their rules. Here are answers to some of the most frequently asked questions.
Read More
The U.S. Centers for Disease Control and Prevention reported as of 6 a.m. Monday that 50.3% of Hoosiers aged 18 and older, or about 2.59 million people, had received at least one dose.
Read More
What this means to consumers is a fixture at the end of driveways across the world for more than 160 years is about to get a reboot. The ubiquitous mailbox—not much changed since 1858—is getting an update.
Read More
With Main Street entrepreneurial spirit, Sen. Braun and his peers have rolled up their sleeves and gotten to work.
Read More
Just like most of us don't really understand how a manufacturing process works or how molecules in a lab become medicine, readers generally don't understand how journalists take in information and send it back out for public consumption.
Read More
The CDC said last week that it's safe for vaccinated people to be indoors without masks, prompting a number of communities that have imposed even stricter limits than Indianapolis to eliminate their mandates for face coverings and limits on the number of people who can gather indoors.
Read More
Since the time of the American Revolution, usury rate caps have been used by states to protect consumers from exorbitant interest rates.
Read More
The Treasury and the Federal Reserve are spinning the story that the CPI spike was more a by-product of unique COVID related realities than an underlying indication of a rising rate of inflation.
Read More
Existing debt is often a contentious topic especially if one party has a disproportionate amount. Deciding how to tackle the debt will impact other priorities.
Read More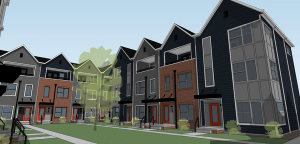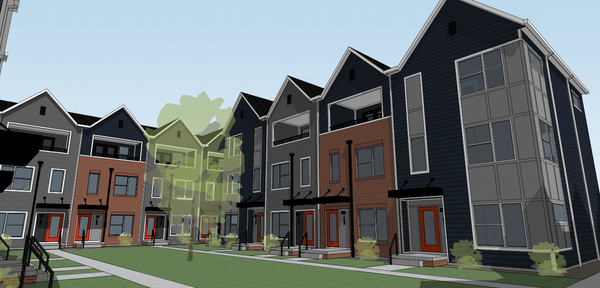 The proposal calls for seven three-story structures, with three buildings facing College Avenue, one facing 22nd Street and four occupying an interior area that surrounds a courtyard.
Read More
The move will also end benefits for people who did not qualify for unemployment benefits before the pandemic, including gig-economy workers, independent contractors and self-employed workers.
Read More
Amy Beard, general counsel at the department since 2017, will succeed Stephen Robertson, who was appointed to the role in 2010 by former Gov. Mitch Daniels.
Read More
James Burkhart, who led American Senior Communities, had argued Barnes & Thornburg failed to disclose a "profound conflict of interest" that compromised its representation of him.
Read More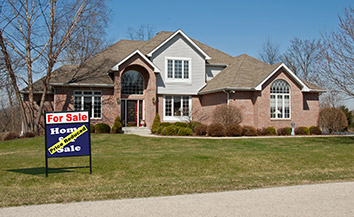 Buyers of existing single-family homes in the 16-county area swooped up available properties at a rapid pace in April, often showing a willingness to pay more than the asking price to secure a purchase.
Read More