OCT. 19-25, 2018
Monument Circle has needed a consistent sense of direction for years, but attempts to spruce it up, organize its programming and make it more pedestrian-friendly have stalled. Hayleigh Colombo reports on two new projects that could spur further upgrades. Also in this issue—and speaking of downtown transformations—Hayleigh has details on plans to create two hotels and an addition to the Indiana Convention Center on Pan Am Plaza. And Susan Orr tracks progress on the $1.5 billion expansion of FedEx's package-handling hub at Indianapolis International Airport.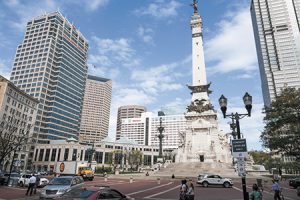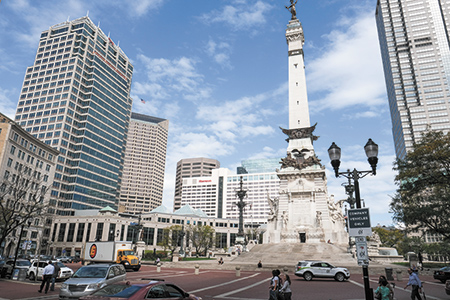 Downtown Indy leaders say the city can't afford to let the Circle fall into disrepair or become a turnoff for visitors.
Read More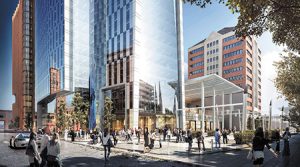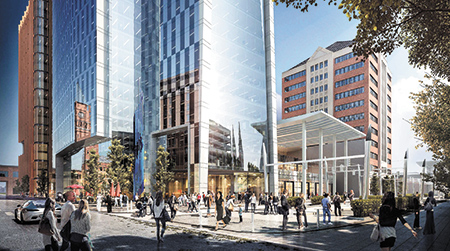 The Capital Improvement Board has selected a Kite Realty Group plan from among three proposals in its effort to expand the city's convention capacity. The CIB is expected to vote Friday to move the project forward.
Read More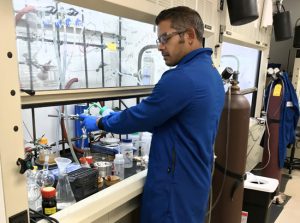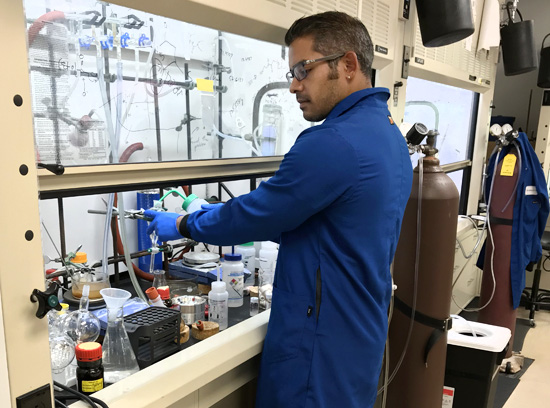 The West Lafayette biotech firm's stock traded as low as $1.41 last fall, following multiple setbacks and restructurings. But the stock had soared to $24 Thursday morning after news that it would be acquired by Novartis.
Read More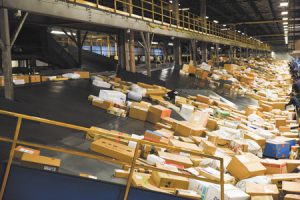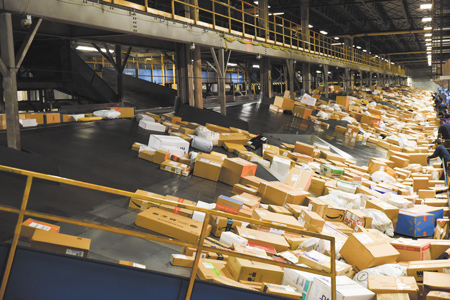 The upgrade and expansion of the giant shipper's 320-acre, 2.5 million-square-foot complex is driven by the need to keep pace with steady growth in e-commerce activity.
Read More
The city is in the process of setting up "redevelopment areas" surrounding North Post Road between 38th and 42nd Streets, the West 38th Street area known as International Marketplace, and a corridor of Brookville Road that contains the former Navistar and Ford Visteon plants.
Read More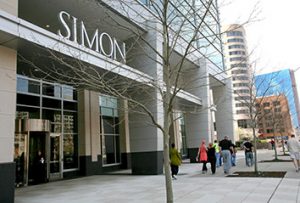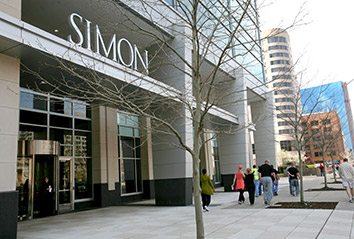 Indianapolis-based Simon Property Group and other mall landlords actually might be looking forward to redeveloping Sears' massive stores with more promising tenants as the once-mighty retailer enters bankruptcy.
Read More
The nation's second-largest health insurer has agreed to pay the government a record amount to settle potential privacy violations in the biggest known health care hack in U.S. history, officials said Monday.
Read More
Indianapolis-based venture studio High Alpha on Tuesday announced the start of a new cloud-based software firm that plans to market business-safety applications to reduce and prevent injuries for maintenance workers.
Read More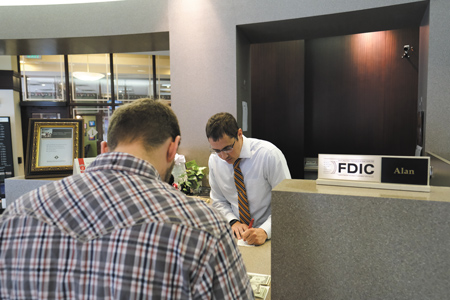 Today—as it was in 1993 when the bank launched—its leaders focus on reaching customers in four categories: small to medium-sized businesses, professionals, not-for-profit organizations and money management. "We haven't changed that strategy in 25 years," said Mickey Maurer, the bank's board chairman.
Read More
Pessimism on the global economy is piling up amid rising trade tensions and expectations the U.S. central bank will carry on tightening despite the tumult in equity markets. Fund managers surveyed by Bank of America Merrill Lynch this month are hoarding cash as they become the most bearish on global activity in a decade, fretting […]
Read More
IBJ urges leaders from Downtown Indy and the city to continue looking for ways to better fund infrastructure improvements both on the Circle and its Meridian Street and Market Street spokes. That must be a funding priority.
Read More
Gleaners Food Bank of Indiana and IBJ partnered this month to share the urgency of hunger and its many side effects.
Read More
The story of our transformation has bipartisan authors, but growth was fueled by an outstanding succession of Republican leaders.
Read More
Hiring a deaf person is inviting someone into your organization who carries a unique perspective on the world, and likely, to your company.
Read More
Sears got started doing exactly what Amazon is doing now: offering low prices and home delivery. But the larger point is this: In free markets, firms have to serve customers better than their rivals.
Read More
Risk tolerance, risk capacity and risk perception are the fundamental elements of your risk profile. The best way to construct your portfolio and ensure you can hang on for the whole ride is when you evaluate and discuss these risk elements individually and not as a composite assessment.
Read More
Effective feedback is imperative to helping a workplace thrive—whether by increasing and maintaining quality performance from employees, improving flaws, helping with new skills, or creating a growth mindset in employees.
Read More
Do we want to be known as a lively urban place … or a place for parking?
Read More
Most people would support a trail that leaves the tracks intact. But they reject a vision of the right of way's "destiny" that involves pop-up shops, drone zones and aromatic gardens.
Read More
Sen. Joe Donnelly's campaign reported a personal record in fundraising in the third quarter, but opponent Mike Braun's campaign said it raised nearly twice as much, thanks to a boost from personal loans.
Read More
The administration plans to spend $126 million on roads and bridges in 2019, about $30 million more than is slated to be spent this year.
Read More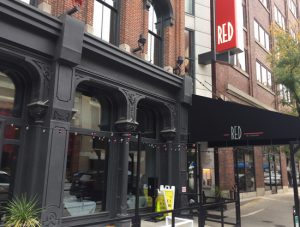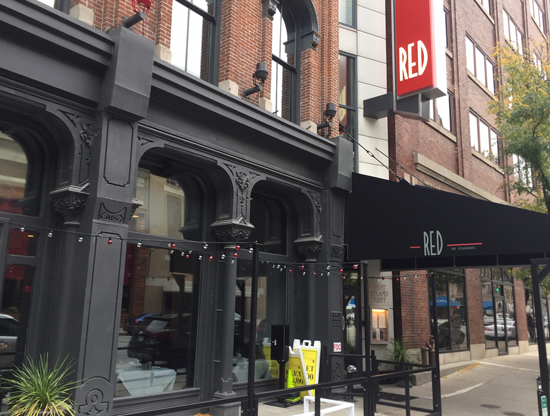 Downtown's jam-packed steakhouse scene has become a little less crowded after the closure of an upscale player that debuted in Indianapolis in 2017.
Read More
The signing means Indiana will have two key players—center Myles Turner and All-Star guard Victor Oladipo—under contract for the next three seasons.
Read More
Both Bird and Lime, which have entered dozens of markets this year, including Indianapolis, are seeking hundreds of millions of dollars in new capital, according to sources.
Read More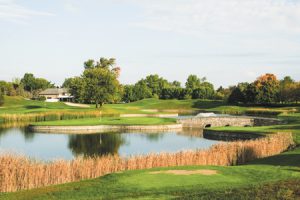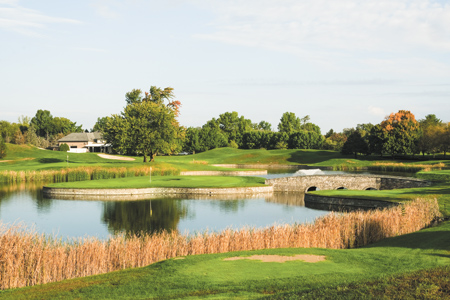 A day on the Asherwood links carries a hefty price tag—starting at $1,500 per foursome—but it also comes with bragging rights.
Read More
The Blue & Gold will be tested, but LeBron's move to LA won't hurt any feelings here.
Read More