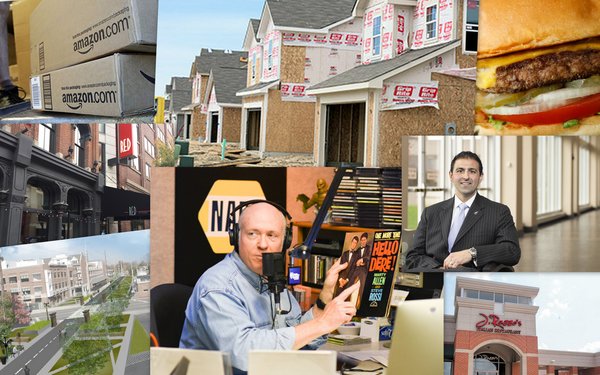 IBJ's online readers like stories about restaurants and broadcast personalities—and several of those made our list of 10 most-read stories at IBJ.com in 2018.
But it was actually an economic development story—a behind-the-scenes look at the region's efforts to convince Amazon to locate its second headquarters in Indy—that topped the list.
Stories about Arbor Homes, bank fraud, Scotty's Brewhouse, and St. Vincent Health rounded out the most-read list.
Emails reveal plans, intense 'war room' effort to lure Amazon's HQ2
This Aug. 3 story by reporter Hayleigh Colombo and former intern Erica Irish detailed the steps officials from the city and Indy Chamber took to try to convince Amazon.com to locate a second headquarters and 50,000 jobs in the city. The story, based on public records obtained by IBJ, revealed that officials referred to the Amazon project by a code name, asked Mayor Joe Hogsett to create a "love letter" to Amazon and discussed creative incentives to attract the retail giant. Amazon later chose New York City and northern Virginia for new HQ locations and added jobs in Nashville, Tennessee, as well.
Area's largest home builder acquired by Berkshire Hathaway division
The July 3 story by former IBJ reporter Scott Olson detailed the sale of locally based Arbor Homes LLC, the region's largest home builder, to a division of Berkshire Hathaway. Arbor, founded in 1994 by President Curtis Rector, filed 972 building permits in 2017, the most of any local home builder, according to IBJ statistics.
Wahlburgers to open first Indianapolis-area restaurant
IBJ's Susan Orr reported Aug. 16 that Wahlburgers, the restaurant chain owned by actors Mark and Donnie Wahlberg and their brother Paul, planned to open its first Indianapolis-area restaurant in 2019 in a yet-to-be-disclosed location. Michigan-based developer Alrig USA is partnering with Wahlburgers on the project. Massachusetts-based Wahlburgers opened its first restaurant in 2011 in a Boston suburb and has 25 restaurants in 14 states.
Carmel eatery to close doors after years of ongoing construction
Reporter Samm Quinn wrote Aug. 6 that J. Razzo's Italian Restaurant & Wine Bar, 12501 Meridian St., would close Sept. 15. John Perazzo, owner of the restaurant that opened in 2011 in Hamilton Crossing, said years of ongoing road construction around his restaurant had taken a toll and he could no longer stay open. Construction to turn U.S. 31 into a freeway, which removed the stoplight at Carmel Drive, began in 2014, and business decreased, Perazzo said.
Still a powerhouse, 'Bob & Tom' changes with times while trying to keep loyal listeners
IBJ reporter Anthony Schoettle profiled the 35-year-old "Bob & Tom Show," finding that while it might have a few gray hairs, the morning radio show's star and owner said it's nowhere near retirement. Instead, Tom Griswold was making substantial changes to the radio show, which has aired mornings on WFBQ-FM 94.7 since 1983, in an effort to broaden its audience, increase the number of affiliate stations that carry it nationwide, and bolster its advertising base.
Sports columnist Kravitz confirms impending departure from WTHR
On Sept. 19, IBJ reported that WTHR-TV Channel 13 had let go of several employees including high-profile sports columnists Bob Kravitz, 58, who joined the city's top-rated station in 2014 after 14 years at The Indianapolis Star. Kravitz said he had been "downsized." Then in late September, Kravitz announced that he had taken a job at The Athletic, a subscription-based online sports media outlet.
Downtown steakhouse closes after parent company's bankruptcy
IBJ reported on Oct. 12 that downtown's jam-packed steakhouse scene had become a little less crowded. Red the Steakhouse, which opened in one of downtown's oldest buildings in May 2017, closed as part of a Chapter 11 bankruptcy reorganization plan by its suburban Cleveland-based parent company, Red Restaurant Group. Red, the owner of four Red the Steakhouse locations and one Moxie the Restaurant, filed for reorganization on Sept. 28.
Three area business owners, former bank employee charged in $8M fraud schemes
IBJ reported May 21 that five central Indiana residents—including the owners of three local companies—had been charged along with a Detroit man with embezzling more than $8 million from a bank and an insurance company, in part to pay for a home, a wedding, cars and more. U.S. Attorney Josh Minkler announced the federal charges after a two-year investigation led by the U.S. Postal Inspection Service with assistance from the FBI and Internal Revenue Service.
St. Vincent rethinks how to deliver care; struggling parent cuts costs
In this April 20 story, IBJ's John Russell detailed the transformations, job cuts and disruptions at St. Vincent Health, which at that time employed 16,000 people. "We are in a constant state of understanding, 'What do our delivery needs look like?,' which include our workforce," said Jonathan Nalli, who became the health system's CEO four years earlier. The changes came as St. Vincent's parent, St. Louis-based Ascension, embarked on its own major restructuring
Scotty's Brewhouse to close four locations as part of bankruptcy
In a story by Susan Orr, IBJ reported Dec. 12 that Indianapolis-based Scotty's Holdings LLC had filed for Chapter 11 bankruptcy protection and planned to close four of its Scotty's Brewhouse locations by the end of the year. Restaurants in downtown Indianapolis, Carmel, Muncie and Waco, Texas, are slated for closure.
Near misses
Several other IBJ stories received wide readership but finished just outside of the top 10, including an Aug. 3 story about a rail operator asking for permission to run freight trains on the Nickel Plate line in Hamilton County; an Aug. 3 profile of "Good Bones" stars Karen Laine and Mina Starsiak; and a Nov. 27 story about WISH-TV losing two morning news personalities.
Please enable JavaScript to view this content.