MAY 4-10, 2015
The $1 billion plan to revamp and recast Methodist Hospital also will have a seismic effect on the surrounding area in downtown's Near North neighborhood. Scott Olson gets a handle on the scope of the projects and what to expect from the next steps. Also in this week's issue, IBJ details the Midwestern expansion plans of the homegrown Yats chain. And in Focus, we look at how office space is changing to fit the tastes of millenials.


With a second massive youth sports complex on the horizon in Hamilton County, is there enough demand to support both? Officials in Fishers and Westfield say they aren't worried about competition, arguing demand is high and their respective sport complexes will offer sufficient variety.
Read More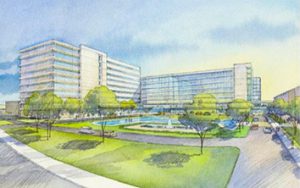 The area surrounding Methodist Hospital at Capitol Avenue and West 16th Street could be ripe for much-needed redevelopment following Indiana University Health's announcement that it will spend $1 billion to expand the campus.
Read More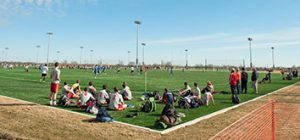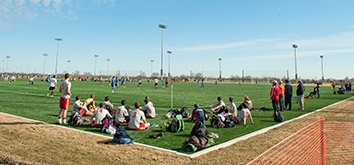 A strong debut for Westfield's Grand Park Sports Campus is driving hotel demand for a town without any rooms of its own and few hotels in the works.
Read More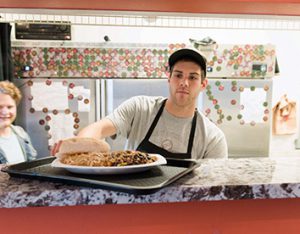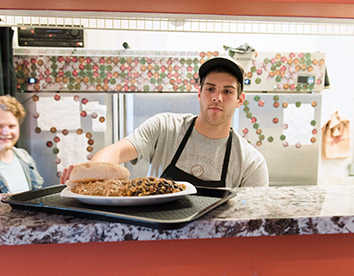 Patrons of the original Yats at East 54th Street and College Avenue probably don't realize they're experiencing one of the hottest concepts in restaurant franchising.
Read More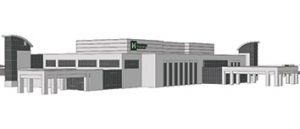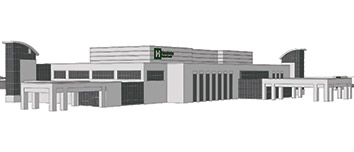 Hendricks Regional Health will construct a 100,000-square-foot emergency room and outpatient center on the north side of Brownsburg by early 2017, hoping to capitalize on an underserved part of the state's second-fastest-growing county.
Read More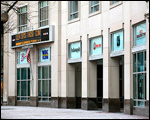 The departure of Kurt "Big Boy" Alexander from Emmis Communications' powerhouse Los Angeles radio station came at what was already a challenging time for the Indianapolis company.
Read More
IBJ won the national general excellence award for weeklies from the Society of American Business Editors and Writers late last month, beating out fellow finalists Advertising Age and the Portland Business Journal.
Read More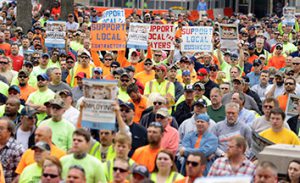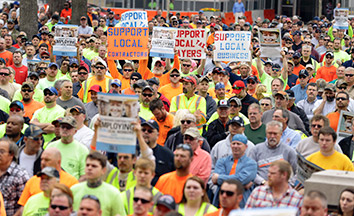 Lawmakers passed bills on topics ranging from ethics reform to "religious freedom." Meanwhile, they shot down legislation that would have helped the Indy Eleven build or renovate a stadium and that would have permitted Sunday alcohol sales.
Read More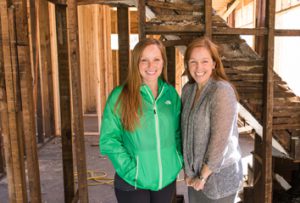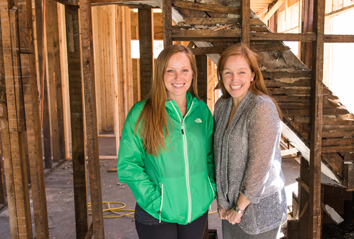 Karen Jensen and Mina Starsiak, owners of Two Chicks and a Hammer, will be featured in a TV pilot airing Monday on the network. They could parlay the appearance into a 12-episode season.
Read More
After 10 years in Carmel's Old Meridian District, Meridian Music Company is moving and downsizing operations.
Read More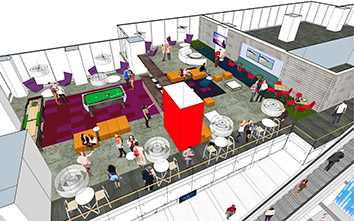 Paltry occupancy rates in downtown Indianapolis office towers have owners remodeling lobbies among other changes to remake their staid images.
Read More
The city of Indianapolis needs to craft a thoughtful strategy for how to spend millions of dollars in anticipated surplus downtown TIF funds over the next three years, and that strategy should include input from stakeholders outside the mayor's circle.
Read More
The upcoming election will determine future of Carmel, Noblesville and Westfield.
Read More
Does Indianapolis want the ban on digital billboards to be lifted? It's hard to tell, since the public has been kept in the dark as billboard companies have been working behind the scenes to win support from city-county councilors for years.
Read More
In the wake of a precipitous decline in his approval ratings, and the subsequent resignation of his communications director, Gov. Pence has reportedly asked the person who served that function on his congressional staff to leave his position with Koch Industries and come to Indiana to help him recover.
Read More
One of the city's diagonal arteries is a study in blending the new with the old.
Read More
Even with the surreal week following gubernatorial signing of the Religious Freedom Restoration Act and enactment of its antidote, legislators managed to plow through their agenda—while even managing to quietly consider new language arising from the ether in the final days.
Read More
"Negative real interest rates are impossible." That's econ-speak for the simple idea that you have to be nuts to pay someone to borrow money from you. Styring would have to be smoking a controlled substance to lend Bohanon $100 on his promise to pay back $99.75 a year from now. He's better off just stashing […]
Read More
Savvy long-term investors understand that, when a company repurchases its stock at prices below intrinsic value, their ownership of the business increases.
Read More
Mark Maddox's take on "golf in the constitution" [April 27 Viewpoint] was very clever and well stated.
Read More
In the [April 13] editorial "Time to tax services," IBJ would reduce the state's sales tax from 7 percent on tangibles—products imported from communist China, Vietnam and North Korea as well as Mexico and India.
Read More
Dr. James Callaghan will replace Bob Brody as CEO of Franciscan's three hospitals in Carmel, Indianapolis and Mooresville. Brody will oversee all ambulatory centers and physician offices in the entire Franciscan health system.
Read More
Chad and Craig Ducey of Fishers and Chris Ducey of North Webster have pleaded guilty to participating in a biofuels scam that federal investigators are calling "one of the largest tax and securities fraud schemes in Indiana history."
Read More
Russell Taylor, 43, is the executive director of the Jared Foundation, a group that aims to raise awareness and funds to support childhood obesity programs. The foundation was started by Jared Fogle, the longtime promoter of Subway restaurants.
Read More