JAN. 22-28, 2021
The number of public announced philanthropic gifts of $1 million or more from individuals to Indiana organizations plummeted in 2020, along with the total value of the big donations. Lindsey Erdody explores potential reasons for the shortfall—some of which suggest that big donors are using other avenues to gift their riches. Also in this week's paper, John Russell pieces together the story of Ossium Health, a secretive Indianapolis-based biotech startup that reportedly raised an eye-popping $60.9 million in funding last fall. And Greg Andrews explains how a nontraditional way of taking companies public is making bucketsful of money for some Indianapolis businesspeople engineering the deals.
While charitable giving increased overall last year, the number of million-dollar-plus gifts from individuals to Indiana organizations appears to have decreased.
Read More
Ossium Health wants to build a huge bank of bone marrow and stem cells from deceased organ donors to treat patient with blood cancers and to improve organ transplantations.
Read More
A nontraditional way to take companies public is booming on Wall Street, leading to an unprecedented explosion of deals.
Read More
Local government, tech and sports leaders predict that the sector is poised to explode and could grow to rival the size of Indiana's other tech sectors.
Read More
Already, one developer—Steve Braun, a former tech entrepreneur, state lawmaker and commissioner of the state's Department of Workforce Development—is taking advantage.
Read More
Schaffer got her start with Hogsett as a volunteer—and eventually a full-time staffer—on his first mayoral campaign and became his communications director when he took office in 2016.
Read More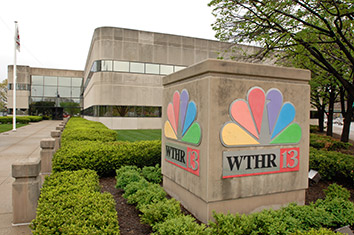 WTHR's website still lists Andrea Morehead as one of its news anchors, but her attorney told IBJ that the station fired her in December.
Read More
He lost his first teaching post when he insisted on teaching geological ages, which some interpreted as contradicting the Bible.
Read More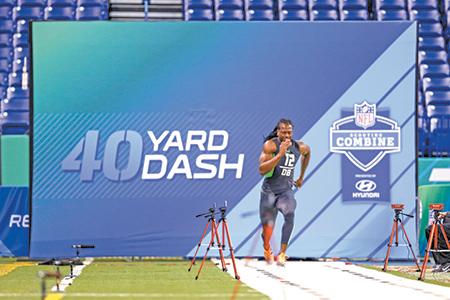 The NFL scouting combine will not be held as usual this year in Indianapolis, where it has taken place every year since 1987, the league told teams in a memo Monday. The city has hosted the event every year since 1987.
Read More
A new IndyCar racing team dedicated to giving women opportunities to work in motorsports has submitted an entry for this year's Indianapolis 500. Simona de Silvestro, the 2010 Indy 500 rookie of the year, will drive the No. 16 car.
Read More
During his presidential campaign, Biden detailed a multi-pronged plan to address climate change by, among other things, tightening fuel economy standards and moving the United States to 100% clean-energy sources by 2050.
Read More
China eked out 2.3% economic growth in 2020, likely becoming the only major economy to expand as shops and factories reopened relatively early from a shutdown to fight the coronavirus while the United States, Japan and Europe struggled with rising infections.
Read More
We'd like to see the governor be more specific about his proposal. He didn't say, for example, how much money he wants to put behind it.
Read More
Hoosiers fortunately have great examples of elected leaders who understood that, with great power comes great responsibility. The responsibility to tell the truth, inspire and implement reforms that bring about positive results.
Read More
To enable physicians to quickly, efficiently and accurately select the most appropriate course of action for their patients, health care leaders need to more widely embrace precision health care. Tailoring
Read More
But we'd like to see the governor be more specific about his proposal. He didn't say, for example, how much money he wants to put behind it.
Read More
We've made it across the threshold of 2021, and the hindsight of 2020 is revealed. How do you feel? A few of you had your best year yet, while many others among us still have a steep climb out of the depths of 2020. A Bain & Co. study recently revealed companies that were already […]
Read More
Those very close to you—even well-adjusted adult children raised by you—will struggle to contextualize your balance sheet, which often becomes a detriment to their financial existence.
Read More
The prosperity of the United States of America flows from our freedom coupled with our adherence to a rule of law. And make no mistake, the rule of law was under threat that day.
Read More
Columnist Brad Rateike discusses the need to make a good impression when you leave a job, but ignores that his former employer, Donald Trump, didn't do so.
Read More
I don't agree with columnist Riley Parr's comment that "it is the height of hypocrisy for those on the left to (rightfully) decry the absurdity that took place at the Capitol on Jan. 6 when they turned a blind eye six months ago when cities burned."
Read More
Most famously, anyone recall, "If you like your doctor, you can keep your doctor"?
Read More
The seven vendors, which include restaurants, a space for food entrepreneurs and a barber shop, will occupy 16 Tech's 40,000-square-foot food and retail hall.
Read More
Merus N.V. specializes is so-called CD3 engaging T-cell therapies, a growing area of cancer research, based on immunotherapy, or using the immune system's T cells to find and shrink tumors
Read More
Jones Development Co. plans to spend five years transforming a 121.7-acre agricultural site into the six-building East Indy Exchange.
Read More
The much-anticipated opening Thursday of March Madness this year will belong to the play-in teams, part of a scrambled and modestly condensed schedule for the 2021 tournament released Tuesday.
Read More
When Indy last hosted the Final Four in 2015, five state teams were invited to the tournament. When the RCA Dome was the site in 2000, there were six.
Read More