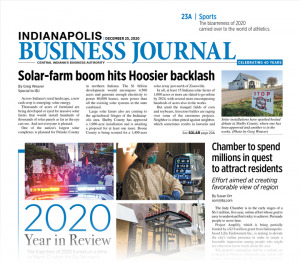 DEC. 25-31, 2020
The year was barely two months old when things went topsy-turvy. A microscopic virus hit the economy like a freight train, and public health concerns disrupted nearly every element of our lives. And that was just the beginning of a year rife with social crises and political reckonings. IBJ's "2020 Year in Review" package provides a recap of how central Indiana was affected. Also in this week's issue, Susan Orr delves into the Indy Chamber's $6.1 million effort to elevate central Indiana's reputation and persuade people to move here. And Greg Weaver details the backlash against solar farms in Indiana's rural communities.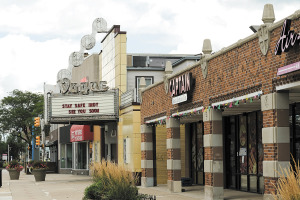 The virus already has cost the region hundreds of millions of dollars, tens of thousands of jobs and more than 1,800 lives. Those losses are all but certain to grow as the calendar turns to 2021, amid an international effort to roll out an effective vaccine.
Read More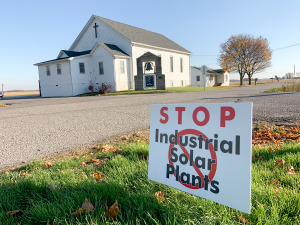 Thousands of acres of farmland are being developed or eyed for massive solar farms that would install hundreds of thousands of solar panels as far as the eye can see. And not everyone is pleased.
Read More
The Indy Chamber is in the early stages of a $6.1 million, five-year, online effort whose goal is easy to understand but tricky to achieve: Persuade people to move here.
Read More
More than 35 million meals served by Gleaners Food Bank to Hoosiers in need. More than 464,000 people diagnosed with COVID-19. An unemployment rate that spiked at 17.5% in April. These are just a few of the numbers that help tell the story of 2020, a year in which the pandemic disrupted almost everything—including where we worked and shopped.
Read More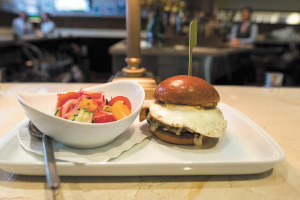 Dozens of central Indiana restaurants have closed since the pandemic hit in March—some almost right away, unable to weather the forced closure of their dining rooms. Others gave up the ghost later, after takeout or restricted indoor dining failed to keep them afloat.
Read More
The violence, which many Hoosiers watched live on TV news, served as another body blow to downtown, which already was reeling from the loss of conventions and the shutdown of many offices during the pandemic.
Read More
The hospital system plans to expand its footprint by eight blocks and build a $1.6 billion hospital just south of its century-old Methodist Hospital.
Read More
The Indianapolis-based company closed the year by negotiating a lower price for its purchase of Michigan-based mall rival Taubman Centers Inc.
Read More
Former state Sen. Brent Waltz and casino executive and former state lawmaker John Keeler were indicted in September on federal charges related to violating federal campaign finance laws.
Read More
This will be the trail's first expansion since it opened in 2013.
Read More
The deal is the latest in a string of acquisitions for Reyes Beer Division, which has rapidly expanded its footprint in 2020.
Read More
The 102-year-old Diamond Chain plant at 402 Kentucky Ave. will close in two to three years, ending local employment for 240 people at the facility, the company's new owner said in February.
Read More
Michael McRobbie came to IU in 1997 from his native Australia as the school's first vice president for information technology and chief information officer.
Read More
Voters on Nov. 3 dashed Democrats' hopes of finally making big inroads in Hamilton County, where the GOP has long held a tight grip.
Read More
After spending the last four years as the president's most loyal soldier and the past year doggedly campaigning on his behalf, the vice president is contending with an uncertain future.
Read More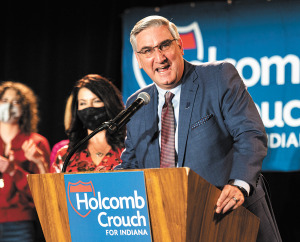 Myers was the state's first Black gubernatorial nominee from either major political party—a significant milestone in an election year where race was a top issue. But that did not translate into the support needed to topple an incumbent.
Read More
Months of controversy over allegations that Attorney General Curtis Hill drunkenly groped four women at a party in 2019 ultimately cost him the opportunity to run for reelection.
Read More
The Indianapolis Indians didn't throw a single pitch in 2020.
Read More
In June, the IMS said it planned to run the race at 50% capacity. It lowered that figure to 25% later that month before announcing the zero-fan plan on Aug. 4.
Read More
The city of Indianapolis in September decided not to exercise its option to purchase BlueIndy's electric-charging stations, kiosks and other assets after concluding they are too old to be valuable.
Read More
District 5 City-County Councilor Ali Brown has launched the Indy Autism Project, with the goal of making Indianapolis the "safest city in the country" for those with autism spectrum disorder, which causes impairments in behavior and social interactions.
Read More
We see qualified immunity—with an emphasis on qualified—as an important part of the nation's economic recovery.
Read More
Demonizing our largest metros isn't a winning long-term strategy for the GOP.
Read More
Throughout the pandemic, artists have found new ways to communicate and express themselves. Similarly, residents have become increasingly receptive to public art.
Read More
Civilization, in its diversity, is the ability to allow the past not to define us, but to teach, sensitize, challenge and inspire us to shine a new light.
Read More
An unprecedented number of households are facing economic distress this holiday season. While Congress dithered, local charitable organizations have risen to the challenge.
Read More
Our year-end household financial meeting has become something we look forward to as late December ticks on.
Read More
In a 360-degree assessment, in which we compare leaders' self-ratings to how their colleagues rate their performance across several categories, 70% of executives rated themselves lower at specific skills than did their colleagues.
Read More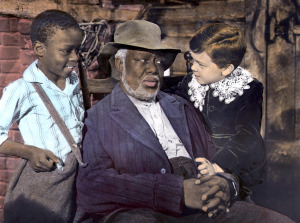 Baskett is best known as Uncle Remus in Disney's 1946 film "Song of the South."
Read More
The federal government created an expedited pathway that lowered the cost of development to the pharmaceutical companies, guaranteed them a market to sell their product, and therefore it was a team effort.
Read More
Recipients of the federal grants including Beech Grove, Lapel, Thorntown and Edinburgh in the Indianapolis metropolitan area.
Read More
Less than 20% of the monoclonal antibody doses shipped by two companies, Indianapolis-based Lilly and New York-based Regeneron, have have used, officials say, even though they can reduce hospitalizations by up to 70%.
Read More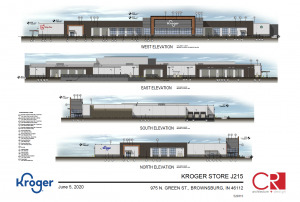 Kroger, which anchors one end of the Brownsburg Square shopping center, will tear down the former Kmart at the other end of the plaza and build a new grocery store there. Plans call for several small retailers to backfill the existing Kroger store once the grocer moves to the new spot.
Read More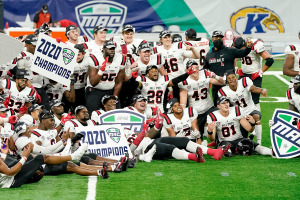 For some, the bar is surprisingly high, but most of us are ready to move on.
Read More