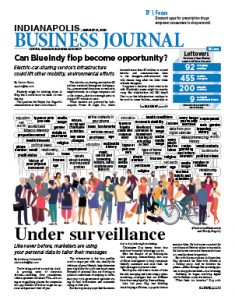 JAN. 31-FEB. 6, 2020
If you suspect your smartphone, tablet or digital personal assist is keeping tabs on you and sharing information with marketers, you're not being paranoid. Anthony Schoettle explains how the digital eavesdropping ecosystem works. Also in this week's issue, Susan Orr reports on Gary Brackett's latest underdog pursuit: producing a movie about his life in football. And Samm Quinn investigates the potential for Indianapolis to reuse the massive electric-car-charging infrastructure that Blue Indy is leaving behind.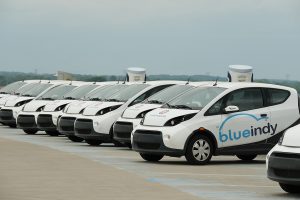 Stakeholders tell IBJ they'd like to see the electric-car-sharing service's infrastructure continue to be used in some fashion.
Read More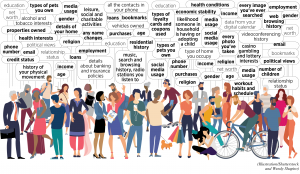 Your smartphone, tablets, speakers and smart TVs are all acting as magnifying glasses for companies that pay billions of dollars to get an up-close and personal view of you.
Read More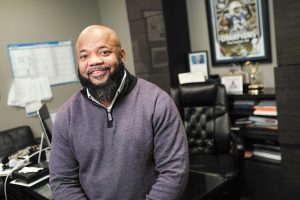 The Indianapolis restaurateur, who owns the Stacked Pickle chain, has been working since 2017 to bring his story to the big screen; this month, he launched a crowdfunding campaign to help raise part of the cost.
Read More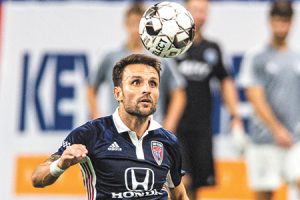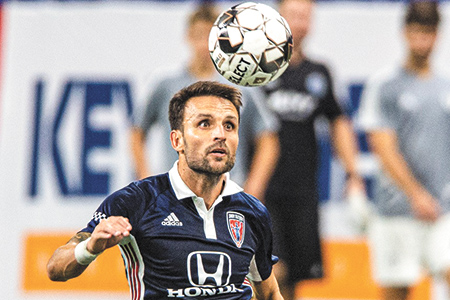 With its chances of joining Major League Soccer in question, Indy Eleven is considering significantly cutting the number of seats with which its new stadium would debut.
Read More
Industry veteran Jeff Smulyan is pairing with a low-profile New York hedge fund manager once described as "the most important, least known man in TV."
Read More
Pattern Indy Editor-in-Chief Polina Osherov sat down with IBJ to talk about the third season of St'artUp 317, a program by the magazine and Indy Chamber that pairs underused first-floor commercial spaces in commercial corridors with artists, creators and producers looking for retail space.
Read More
The donation came from the family foundation of Brian Jellison, an Indiana University native who went on to become one of the country's highest-paid CEOs.
Read More
Indiana Gov. Eric Holcomb on Monday said he backs the Indiana Gaming Commission's probe into casino executives who have been implicated in a federal campaign finance scheme. The investigation has delayed action on a proposed new Indiana casino.
Read More
Amrou Awaysheh, an IU Kelley School of Business assistant professor of operations management, is building an IoT-based system he says can save factories $100 million annually in verified energy savings.
Read More
In recent years, a host of online websites and smartphone apps—such as GoodRx, Blink Health and Script Saver—have popped up to help people find the lowest price for prescription medicines. By using them, consumers can save thousands of dollars a year on their prescriptions if they don't mind shopping around and buying some of their drugs outside their insurance plans.
Read More
The House and Senate will need to reach agreement on a single version in the coming weeks of the legislative session.
Read More
The allegations in question—which involve a scheme to illegally funnel campaign contributions to an Indiana congressional campaign—are the type that should be especially concerning to a regulatory agency. If true, they demonstrate no respect for the law, government structure and regulation.
Read More
A steady rain couldn't dampen the enthusiasm of Colts fans, but here's hoping the Chiefs and 49ers will enjoy better weather this weekend in Miami.
Read More
Working with more than 50 community partners around the state, we've compiled trustworthy, relevant information about this crisis, providing an entryway into this topic that many are hesitant to discuss.
Read More
The Indiana Supreme Court Disciplinary Commission's recommendation of a two-year law license suspension without automatic reinstatement for Attorney General Curtis Hill, who is black, stands in stark contrast to the professional disciplinary actions recently recommended and carried out against two white Clark Circuit judges involved in a downtown Indianapolis shooting with two other men after a night of drinking.
Read More
The goal of diversification isn't just to spread your market risk across different companies, but to make sure the companies themselves are significantly different from one another, and even more important, complementary.
Read More
Beige walls and fluorescent lights might have been phased out of most workplaces, but they're still standard for the bathrooms. And if you think about your bathroom at home, in restaurants or even the Murat, they've become part of the overall experience.
Read More
Perhaps it is no surprise that Bosma decided to step down as speaker soon, then resign his House seat yet this spring.
Read More
Good economic policies are predictable. Often, the predictability is more important than the particulars of the policy itself.
Read More
I own a small construction company. In the past five years our health care costs have increased $1.43 per hour; a 30% increase since 2015. For 2020, we were hit with another 10% increase. A company simply cannot absorb those increases and remain competitive.
Read More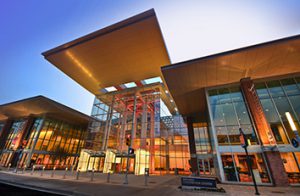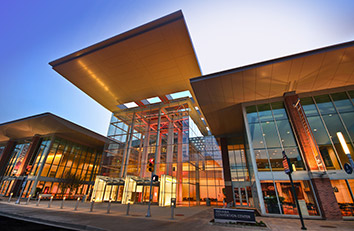 Officials for tourism bureau Visit Indy have been trying to lure the nation's largest dental association to Indianapolis for its annual meeting since 1999.
Read More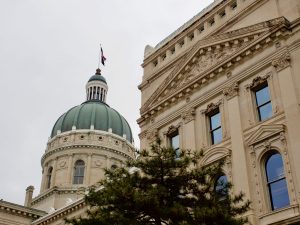 Pat Bauer, 75, announced Monday he wouldn't seek re-election this year in the South Bend district that he's represented since 1970. He'll retire as the longest-serving member in the Indiana Legislature's history.
Read More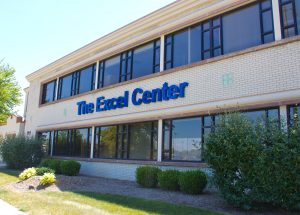 Longtime commercial real estate executive Gene Zink has donated a 20,298-square-foot building at 3919 Meadows Drive to Goodwill. The Excel Center program has been leasing the 59-year-old former Bible college building near Rural and 38th streets since July 2011.
Read More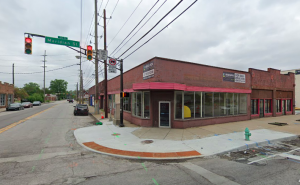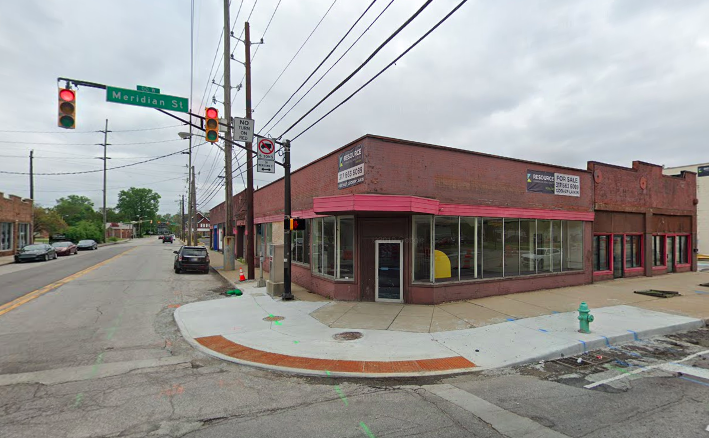 The Indianapolis Neighborhood Housing Partnership bought the property on Meridian Street last year in hopes of finding a developer that would create affordable housing. Indianapolis-based Crestline fit the bill.
Read More
Gastropub chain Bar Louie Restaurants filed for Chapter 11 bankruptcy on Monday and closed 38 corporate-owned restaurants across the country. But the Addison, Texas-based chain's two Indianapolis-area locations are franchises and remain open.
Read More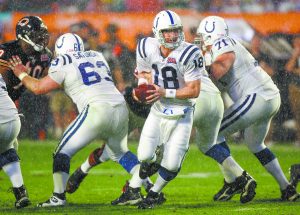 The game's oldest player, for example, wore the horseshoe—and it wasn't Adam Vinatieri.
Read More