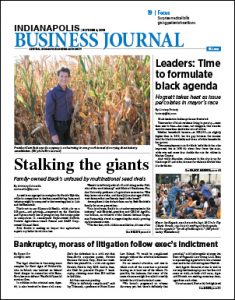 OCT. 4-10, 2019
Indiana-based Beck's Hybrids is the third-largest supplier of corn seed and fourth-largest supplier of soybean seed in the United States. A rare family-owned firm duking it out with corporate megastars, Beck's hits well above its weight, Anthony Schoettle reports. Also in this week's issue, Sam Stall brings us up to speed on the aggressive Nashville-based firm behind the Big Woods family of restaurants, Quaff ON! Brewing Co., Hard Truth Distilling Co. and the 325-acre culinary tourism complex Hard Truth Hills. And Lindsey Erdody reports that Indianapolis black leaders are pressing the mayoral candidates for specific details on how they would address the challenges facing the African American community. They're asking explicitly for a black agenda, and were disappointed when Mayor Joe Hogsett said their concerns would be covered by his wider economic plan.
The legal situation is increasingly complex for Kerri Agee, who in March was indicted on federal fraud charges in connection with her now-defunct Westfield financial services firm.
Read More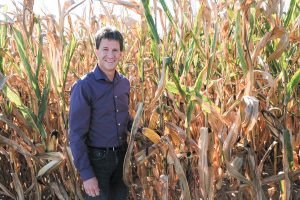 A seed is an appropriate metaphor for Beck's Hybrids, while its competitors in the fast-consolidating farm-seed industry might be compared to the towering plant in Jack and the Beanstalk.
Read More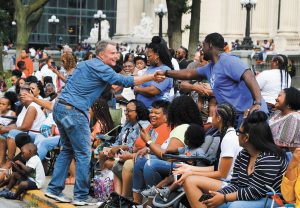 A broad coalition of faith-based groups, black elected officials and civic leaders are turning to this year's mayoral race as an avenue for bold discussions about racial problems.
Read More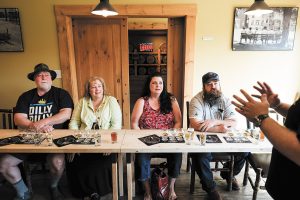 One of Brown County's newest tourist draws is also perhaps its most unusual. And it's an integral part of the fast-growing family of local culinary/adult-beverage brands including Big Woods, Quaff ON and Hard Truth Distillery.
Read More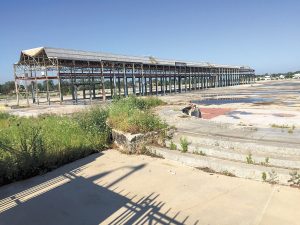 Ambrose's withdrawal from Waterside follows other changes at the firm, including the May defection of three senior executives to start Westfield-based Patch Development.
Read More
Indianapolis resident Fabian Rodriguez started the fast-growing Drink Culture podcast with Jared Byczko as an escape from his boring job selling cars.
Read More
Investors in Angie's List Inc. appeared to have hit the jackpot two years ago after the company merged with rival HomeAdvisor. Unfortunately, that love affair is officially over.
Read More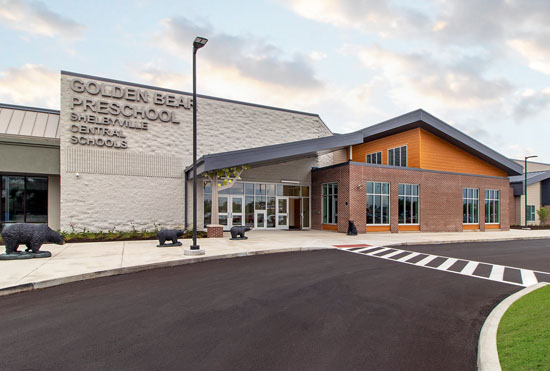 Shelbyville Central Schools bought the property and spent $13 million on a wholesale renovation and redesign to accommodate hundreds of children.
Read More
Former Butler University basketball player Brent Rockwood is set to become vice president and chief of staff at his alma mater, the university said Wednesday.
Read More
California will let college athletes hire agents and make money from endorsements, defying the Indianapolis-based NCAA and setting up a likely legal challenge that could reshape amateur sports in the United States.
Read More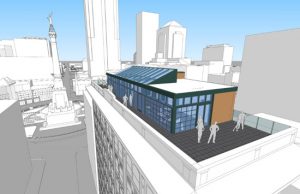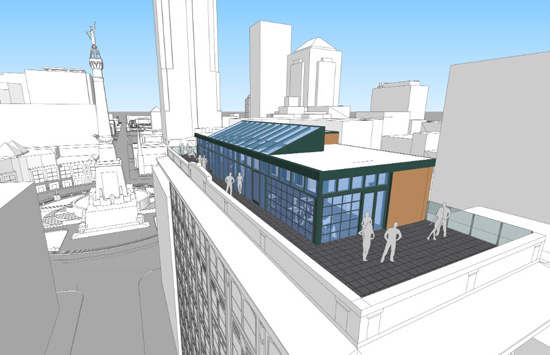 Indy Propco LLC, which has owned the 11-story building at 1 N. Meridian St. since January, wants to turn the property into a Motto by Hilton that would have at least 116 rooms, according to plans recently filed with the Indianapolis Historic Preservation Commission.
Read More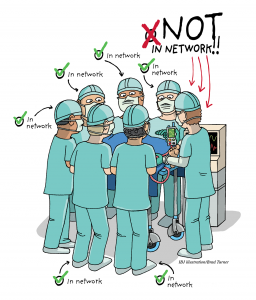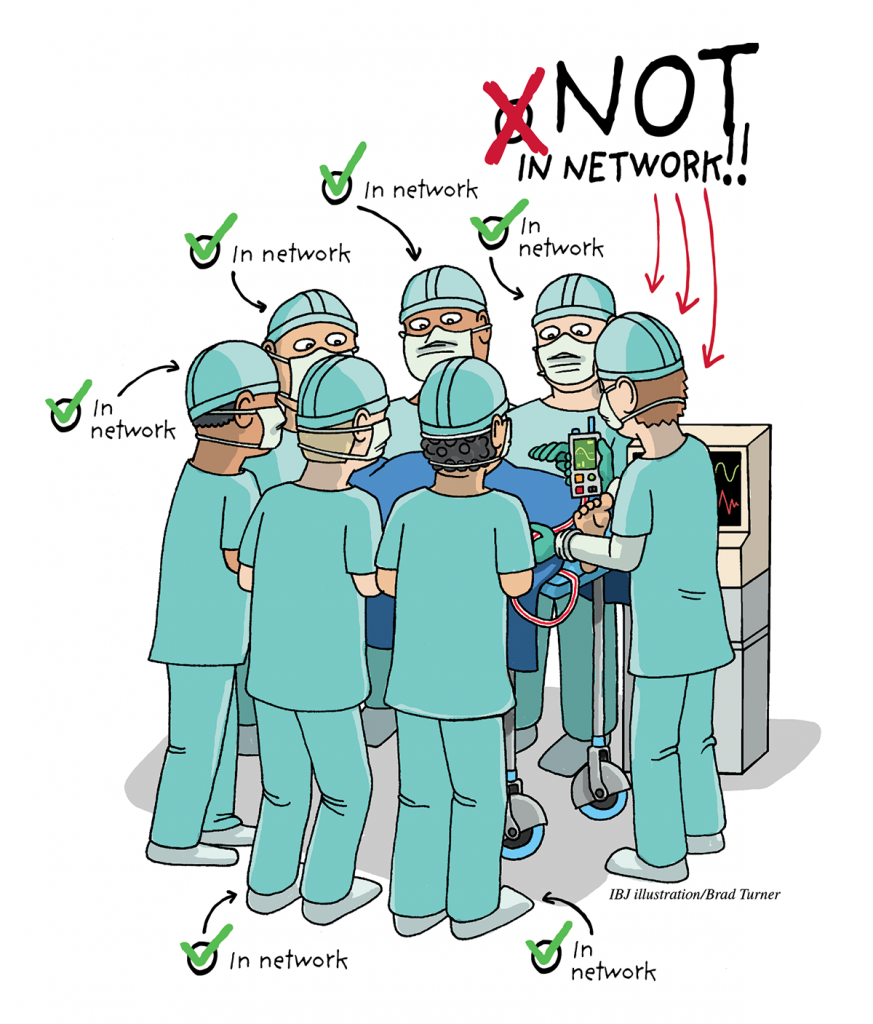 Every day, thousands of Americans get a surprise bill in the mail from a health provider, asking for thousands of dollars for medical services that weren't covered by the patient's insurance.
Read More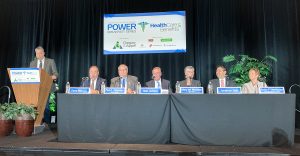 Vaping has grown into full-blown health crisis in Indiana, panelists said at an IBJ health care event.
Read More
The recent lawsuits against manufacturers of opioids (including Purdue Pharma, Johnson & Johnson, Mallinckrodt and others) bear a striking similarity to lawsuits against the tobacco companies a few years ago.
Read More
The Indianapolis medical-software firm recently raised $10 million in venture funding and is launching two major products in one month.
Read More
The Red Line has so far proven fairly popular, averaging some 7,000 riders a day. But there have been frustrations—especially in the consistency and timeliness of the buses' arrivals and departures.
Read More
World-class space science center would be stratospheric leap for all of central Indiana.
Read More
Around the globe, cities are actually having a dramatic impact on climate change. In the absence of federal leadership, what cities do—from recycling to energy sources—becomes critically important.
Read More
We certainly didn't need the recent announcement of the merger between Gatehouse and IndyStar parent Gannett to be apprehensive about the future.
Read More
The practice of hiring people with criminal convictions is not a new concept, but it is gaining steam.
Read More
Holding onto an older car and driving it until it dies can be a practical approach to mitigating transportation costs. Until it isn't.
Read More
What if Bohanon had been allowed to invest his Social Security payments in common stocks?
Read More
In a crowded venue like a Las Vegas concert, how many people could a guy kill using his fists and feet? Quit insulting the intelligence of Hoosiers.
Read More
As a central Indiana resident and chairman of the board of Indiana Trails, I am appalled to learn there were no satisfactory bids to do a complete job of removing the Nickel Plate Railroad tracks, ties and rail spikes, and then rebuild the railroad crossings impacted. Yet, the Hoosier Heritage Port Authority still voted to move forward.
Read More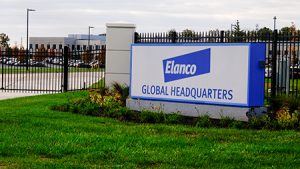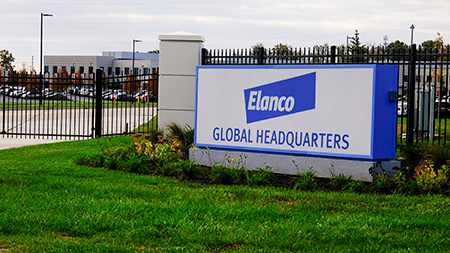 The company is eliminating 250 jobs as part of a restructuring that's expected to result in at least $12 million in savings in 2020.
Read More
Cleveland-based Everstream Solutions LLC announced Tuesday that it has agreed to buy a 200-plus-mile Indianapolis-based fiber network from Dallas-based DataBank Ltd. and quadruple the network's size. The service area will expand to cover Indianapolis and parts of Hamilton County.
Read More
The Indy Chamber has endorsed Democractic incumbent Joe Hogsett in this year's mayoral election, but also praised Republican challenger Jim Merritt for his work in the Indiana General Assembly.
Read More
Edify Labs Inc., a contact-center software firm founded in Carmel a year ago, announced Tuesday that it has raised $10 million in seed funding in one of the largest funding rounds of its type this year.
Read More
Founded in 1993, Orchard has grown to become the seventh-largest software development firm in the Indianapolis area, with 275 employees and $40 million in revenue for 2018.
Read More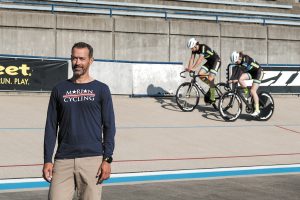 Marian's cycling program flies under the radar, but it's a national powerhouse thanks to Dean Peterson.
Read More