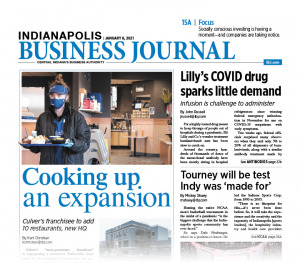 JAN. 8-14, 2021
The push to stage all of March Madness in the Indy area will be a herculean effort involving city and state officials, tourism and civic leaders, national broadcasters and likely thousands of volunteers. Mickey Shuey has the highlights and fine details from the still-evolving to-do list on the (likely) giant whiteboard at the effort's headquarters. Also in this week's issue, John Russell examines the lukewarm reception for Eli Lilly and Co.'s revolutionary antibody treatment for COVID-19. And Kurt Christian outlines the aggressive plans of Culver's super-franchisee Jeff Meyer of Noblesville as he stakes out his new company headquarters and readies for 10 more locations.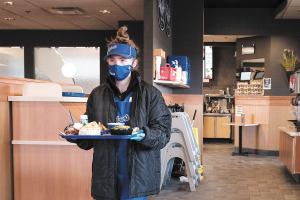 Jeff Meyer is turning the former Boys & Girls Club at 1700 Conner St. into his company's headquarters. And he plans to keep things rolling by opening another eight to 10 stores by the end of 2023.
Read More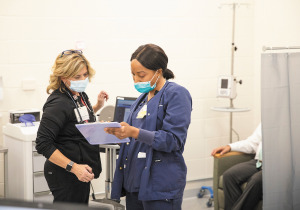 For a highly touted drug meant to keep throngs of people out of hospitals during a pandemic, Eli Lilly and Co.'s wonder treatment bamlanivimab sure has been slow to catch on.
Read More
The herculean effort over the next 2-1/2 months will involve city and state officials, tourism and civic leaders, and likely thousands of volunteers.
Read More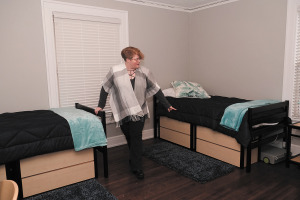 The state's first dedicated homeless shelter for young adults who identify as LGBTQ will open its doors this year in Indianapolis, providing services that advocates say are desperately needed.
Read More
Private equity firms are simply head over heels for service firms such as plumbing and heating and air-conditioning companies.
Read More
Samson and his wife, Abbie, took over the business nine years ago and have diversified from repairing shoes and making leather mugs to reproducing Colonial-era apparel and accessories.
Read More
Senate Enrolled Act 148 would have prevented all local governments from regulating any aspect of landlord-tenant relationships and would have blocked tenant protections that the city of Indianapolis had put in place last spring.
Read More
Carl Fisher joined with other businessmen to create the Indianapolis Motor Speedway in 1909.
Read More
Managing Editor Lesley Weidenbener has been elevated to the top spot in the newsroom, while Editor Greg Andrews transitions to a role focusing on investigative reporting for IBJ while continuing to write a column.
Read More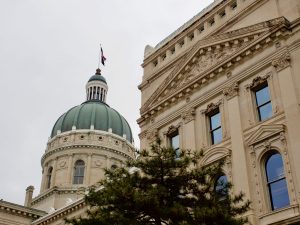 Senate Bill 168, authored by Republican Sen. Jack Sandlin, would create a five-member board that would oversee and govern the police department.
Read More
The approach now known as ESG investing has been around for decades, but it started to take off in Europe and the United States in late 2018 and early 2019.
Read More
If anything, 2020 should have proven once and for all the futility of trying to make accurate market predictions.
Read More
It's disappointing that a Republican-controlled Legislature passed a bill that would preempt local control of something as community based as landlord/tenant regulations. But lawmakers did it and we don't think they should override the governor's veto of the bill.
Read More
Naming 40 influential people proved to be interesting, inspiring and incredibly difficult.
Read More
The Indiana Black Heritage Trail would literally "rise above" Indianapolis and be a tangible symbol of institutional memory in support of Indiana's Black leaders.
Read More
Giving these students the support they need to thrive—social workers, social and emotional supports, and more—requires resources.
Read More
Context is everything, and there's no way you'll ever have enough context to understand another person's financial life, especially in casual, social settings.
Read More
Unlike a verbal conversation, emails create perpetual, written records of business messaging. If executed well, email is an effective and expedient form of business communication, but confusing messaging can leave a lasting bad impression.
Read More
Playing Monopoly can be a lot of fun, but don't confuse it for a free market.
Read More
From first grade to 12th grade, law enforcement officers came to our schools and stated: "Never take law enforcement into your own hands." That's what homeowner groups are doing with license plate cameras.
Read More
The opportunity for bold leadership has never been greater.
Read More
Square Cat Vinyl at 1054 Virginia Ave. is expanding into a 2,400-square-foot space previously occupied by Vintage Vogue, a Goodwill store for fashionable second-hand clothing that closed in March 2020.
Read More
Dinsmore, a national firm with more than 700 attorneys in 29 cities, will add Wooden's 47 attorneys and offices in Indianapolis, Evansville and Bloomington.
Read More
Dickinson has about 1,000 employees overall, including 200 in Indianapolis. It operates 18 nationwide service centers and a fleet of more than 700 mobile repair units.
Read More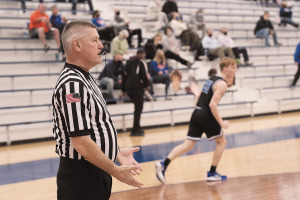 The body of officials in Indiana is aging and dwindling, with not enough young replacements. The problem has been growing for years, but COVID made it worse.
Read More