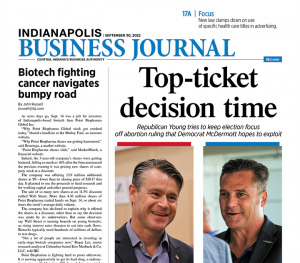 SEPT. 30-OCT. 6, 2022
Indianapolis-based Point BioPharma Global is in an uncomfortable spot. While it has raised hundreds of millions of dollars to develop its pipeline of specialty drugs that target cancer, it's still spending tens of millions of dollars a year trying to get its lead drug through trials and approved by the FDA. John Russell explains why another share offering recently spooked investors. Also in this week's issue, Peter Blanchard takes a close look at Indiana's U.S. Senate race between Republican incumbent Todd Young and Democrat Tom McDermott. And Susan Orr explains how Indianapolis is playing a key role in a Mexican company's plans to disrupt the shrimp farming industry.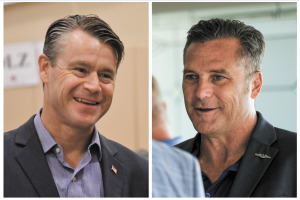 In less than five weeks, voters can let Republicans keep their grip on Indiana's Senate presence by re-electing Sen. Todd Young, who emphasizes his bipartisan accomplishments, or hand his seat to Tom McDermott, the hard-charging, plainspoken Democratic mayor of Hammond.
Read More
Point Biopharma is moving aggressively to get its lead drug, a radioactive isotope called lutetium 177, through late-stage trials for prostate cancer.
Read More
Atarraya Inc. is working to create a showroom and training facility in the city for its new signature product, the Shrimpbox.
Read More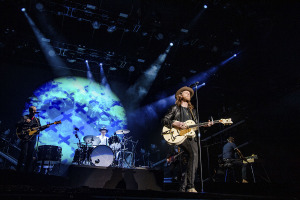 Thanks to online analytics, musicians and their management teams aren't clueless about what listeners take or leave.
Read More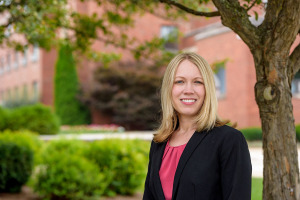 Tracy Weyand organized a student chapter of the American Association for Women in Mathematics at the Terre Haute university and hosts a day on campus for high school students.
Read More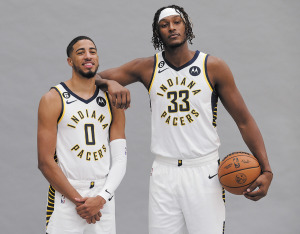 While NBA trade rumors are cheap, there was enough smoke surrounding Turner's name over the summer to justify a fire in his belly.
Read More
Planned Parenthood, historically the largest abortion provider in Indiana, made the procedure available again on Thursday, immediately following the injunction from an Owen Country judge.
Read More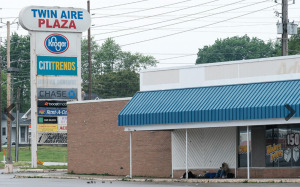 The city's "request for information" is likely to garner suggestions from developers for mixed-use developments, apartments, community spaces and facilities for not-for-profits.
Read More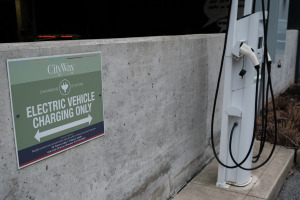 The approval paves the way for the Indiana Department of Transportation to begin the process of installing more than 100 charging stations across the state.
Read More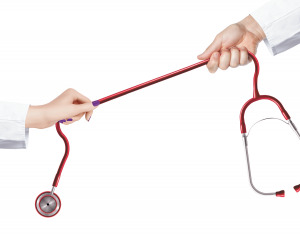 Some say doctors are raising the issue just to protect their turf and status.
Read More
Only four candidates are running for three open sets. Only one race—to represent District 3—is contested.
Read More
The American Pianists Association is on a mission of sorts to spread the word locally about the competitions, which already are well-respected internationally within the music community.
Read More
Providing needs-based financial assistance to families to assist with paying for this high-quality care will help reverse trends of generational poverty.
Read More
Imagine what taxpayers would save by avoiding all of Congress' long-distance back-and-forth travel, Fort Knox-like security, and any other cushy Washington stuff.
Read More
In order to account for both inflation and increased consumerism, I've decided to track my spending by actually tracking my savings. In other words, I took a look at what percentage of my income I was actively saving.
Read More
What can Indiana do to compete and win on an international level?
Read More
Developers like the higher density, which increases profits, and homeowners like the increased amenities, like community clubhouses and playgrounds and control over the neighborhood
Read More