IBJ's Women of Influence program recognizes women who have risen to the highest levels of business, the arts, and community and public service in central Indiana. This year's list includes company executives, entrepreneurs, not-for-profit leaders and the state health commissioner.
Maven Space provides backdrop for shoot
IBJ hosted its Women of Influence photo and video shoot at Maven Space downtown.
Located in the historic Gibson building at 433 N. Capitol Ave., Maven Space is a 15,000-square-foot coworking space, event venue and social club. Maven Space was founded by Indy Maven CEO Leslie Bailey so that "mavens" in the Indianapolis area had a safe and welcoming place to gather. It opened in summer 2022.
IBJ photographer Eric Learned, Lead Designer Audrey Pelsor and Special Publications Editor Samm Quinn took advantage of the space's bright colors and unique art to bring this year's publication to life.
Artwork and installations throughout the space are by local creatives, including Faith Blackwell, Mary Mindiola, Barbara Peterson, Kierra Ready and Mirvia Sol Eckert.
Special thanks to the women who served as our cover models for this year's publication: Lauren James, Wendy Noe, Shiv O'Neill, Salena Scardina and Kim Thomas.
—Samm Quinn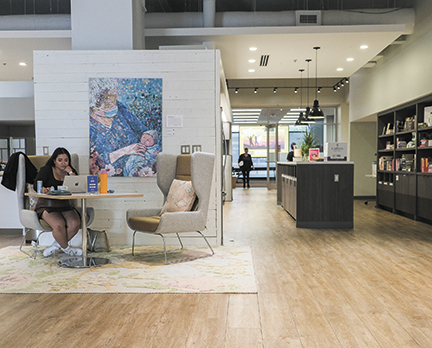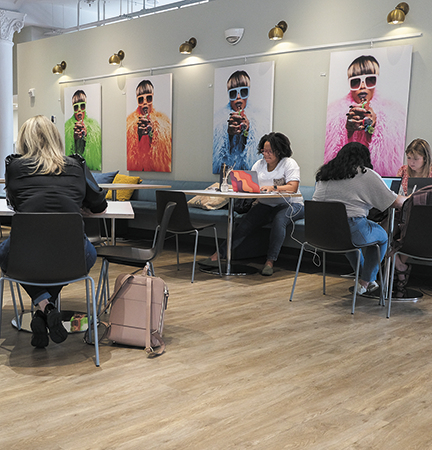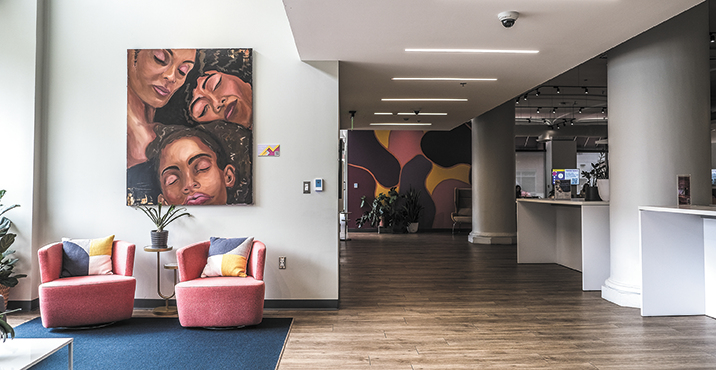 IBJ asked,
'What advice do you have for young women?'
"Be your authentic self and know you always have something to offer. All you can give is your best, if your best is not good enough it may be time to make a move."
—Holli Harrington
"What has served me well throughout my adult life is cultivating professional relationships. Everyone can use a coffee or tea break and many people enjoy going to lunch. Do this when things are going great and do this when you are struggling."
—Anne Valentine
"My advice for young women is to always advocate for the things most important to you and the entities you're aligned with. Having a seat at the table is no good if you're not contributing in a meaningful way."
—Shannon Williams
"Take the first step, and the second step will follow. It may sound scary but if I can do it, you can do it."
—Rupal Thanawala
"You can do anything you set your mind to. Don't be afraid to set lofty goals and own them. But then take the time to set small, achievable stair-step goals to lead you down that path."
—Lucy Dollens
"1. Don't lose sight of who you are and what's most important to you. 2. Learn from your experiences, particularly those that didn't go well. 3. Get comfortable being uncomfortable. That's when you'll grow the most. 4. Practice visualization. If you can see it, you can achieve it."
—Kim Thomas
"To never stop learning and to not be intimidated by people who are smarter than you. Listen and learn. They make you stronger and a better leader. Step up and take advantage of opportunities that are presented to you. Show up in the spaces that you are invited to and actively participate—it creates self-confidence, respect from your peers, and solidifies your place at the table."
—Laura Berry
"As an immigrant and a Latina, I encourage young women to pursue their dreams, attain an education, engage in community service, and always uphold integrity, even when it goes unnoticed."
—Marlene Dotson
"Push yourself outside your comfort zone and don't be afraid of big challenges, that's where you will find the most learning and opportunity."
—Donna Wilkinson