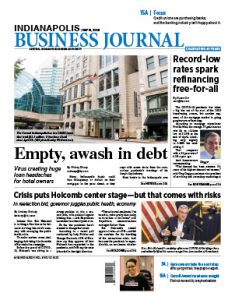 May 15-21, 2020
In this week's issue, Mickey Shuey takes a deep dive into the debt problems facing Indianapolis-area hotels in the wake of the COVID-19 devastation. The issue also explores the refinancing boom spurred by low interest rates and the outlook for gyms as they prepare to reopen. With sporting events still shutdown, columnist Mike Lopresti looks back at some classic games involving Indiana teams and imagines new endings.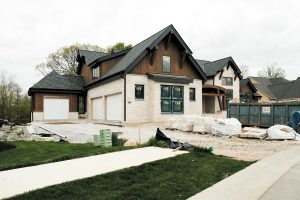 A borrower who took out a 30-year, $200,000 mortgage in 2018 at an interest rate of 4.55% would have a monthly payment of $1,019. By refinancing into a 30-year mortgage with a 3.46% interest rate, the monthly payment would drop to $865.
Read More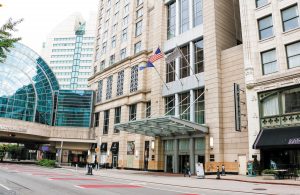 Experts say hotels of all sizes are under tremendous stress as revenue for many falls below the levels needed for debt payments.
Read More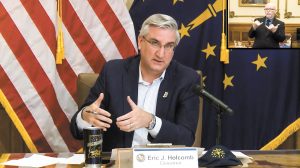 According to a recent poll conducted by Indy Politics and Change Research, 63% of Hoosiers say they approve of how Holcomb has responded to the pandemic, and 54% say the state is headed in the right direction. But Holcomb's overall approval rate—at 47%—trailed the numbers for his handling of the coronavirus crisis.
Read More
The business—formerly Baldwin & Lyons Insurance—is one of central Indiana's oldest public companies.
Read More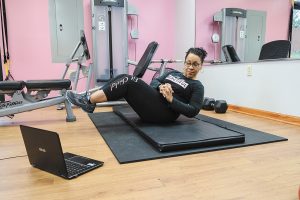 The fitness industry faces lingering uncertainty about the health risks of the traditional gym, with its shared treadmills and sweaty saunas, as well as the ongoing disruption to a business model that values routine and repetition above all else.
Read More
Real estate sources told IBJ the land likely would sell for at least $1 million per acre because of its proximity to the heart of downtown, where sizable redevelopment opportunities are scarce.
Read More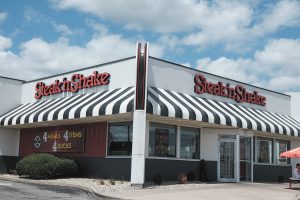 With its restaurants limited to drive-thru, takeout or delivery for much of March because of the virus outbreak, the burger chain saw quarterly revenue plummet by $59 million.
Read More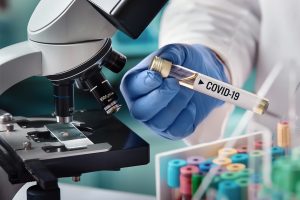 Study results released Wednesday by the Fairbanks School of Public Health at IUPUI also indicate that 44% of people who get COVID-19 show no symptoms.
Read More
The company has received an anonymous $500,000 donation that it will spend to expand its Learning Commons tutoring program to 10 more schools in Indiana.
Read More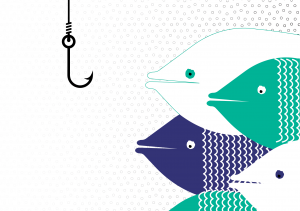 The banking industry, which argues that credit unions' tax-exempt status gives them an unfair edge, objects to the trend.
Read More
Now, as President Donald Trump and many Republicans press to reopen the economy, some experts see an ominous risk: That a too-hasty relaxation of social distancing could ignite a resurgence of COVID-19 cases by fall, sending the economy back into lockdown.
Read More
James Li, a public relations account director, would rather spend an hour sitting in Beijing traffic than risk 30 minutes exposed to crowds on a train. "Traffic is as bad as it could be" but the subway is still too dicey, he said. In Frankfurt, real estate assistant Anna Pawliczek is driving to work for […]
Read More
Budget officials predicted Indiana would collect nearly $2.2 billion in revenue in April, but it only received $1.23 billion, for a difference of $964 million.
Read More
Indianapolis-based private equity firm Hammond Kennedy Whitney & Co. Inc. has acquired a majority interest in Infab LLC, a California-based maker of personal protective equipment for health care.
Read More
The federal Paycheck Protection Program, which offers COVID-19 relief to small businesses, was criticized for allowing larger companies to secure multimillion-dollar loans early on.
Read More
The Indianapolis International Airport's journey back from the coronavirus crisis won't be complete—and the city and state won't be made whole—without the return of nonstop service overseas.
Read More
How can we improve our businesses in the aftermath of the pandemic.
Read More
We must provide as many people as possible access to health and safety information in their primary language. Failure to do so threatens the health of every one of us.
Read More
Reality seems to echo Warren Buffett, who famously stated, "Diversification is protection against ignorance. It makes little sense if you know what you are doing."
Read More
At Hancock Health, we believe the key to unlocking patients' reluctance to seek treatment lies in implementing a robust safety plan.
Read More
The state law that requires IndyGo to raise private funds is a poison pill promulgated to punish a successful vote.
Read More
Perhaps the biggest key to making effective plans in all this is flexibility.
Read More
It's time to try new things, like turning over some of the public right-of-way for restaurant seating.
Read More
I'm worried about preventing a sickness, one we've been through before—much more recently than the last pandemic flu.
Read More
In economics, there are only three ways to produce income—land, labor and capital. If you want to stop laboring [retire, reach financial independence, whatever], you need to acquire the other two.
Read More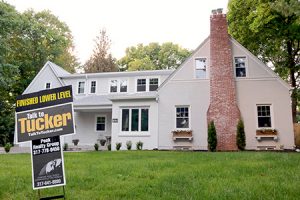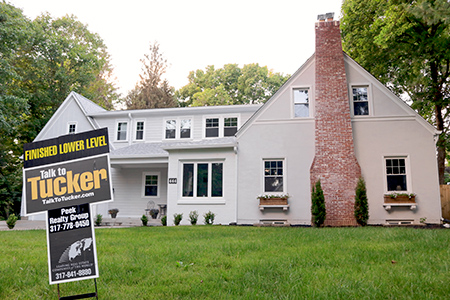 Amid the big decline in sales, prices hit record highs in central Indiana, according to the MIBOR Realtor Association.
Read More
Altogether, more than 300 nursing homes across the state are now using Olio Health's software in conjunction with the hospitals.
Read More
Former U.S. Rep. Todd Rokita said Indiana Attorney General Curtis Hill is "very badly wounded" because of the 30-day suspension of his law license.
Read More
According to the revenue report released Monday morning by the Indiana Gaming Commission, Hoosiers wagered $26.3 million on sports in April.
Read More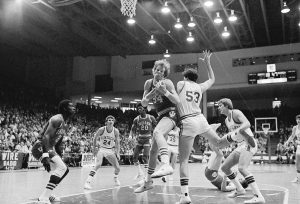 Our college and pro teams would like do-overs of some of their most heart-breaking defeats.
Read More