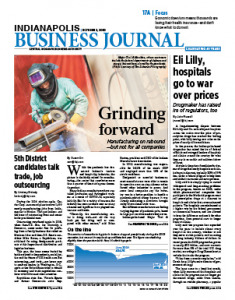 OCT. 2-8, 2020
While much of Indiana's hospitality sector has struggled during the pandemic, another pillar of the state's economy has been able to remain on its feet. Designated as essential businesses, most manufacturers have been able to remain in operation throughout the pandemic. Susan Orr explains why some local companies say the industry already was in a good position to handle the crisis. Also in this week's issue, John Russell explores why the long-simmering dispute between Eli Lilly and Co. and safety-net hospitals across the nation over the price of prescription drugs has reached a boiling point. And Samm Quinn brings us up to date on the celebrations for Indianapolis' bicentennial, which are under way with plenty of opportunities for residents to safely engage.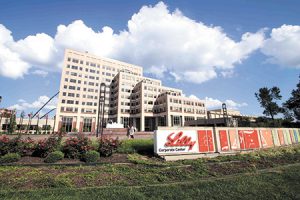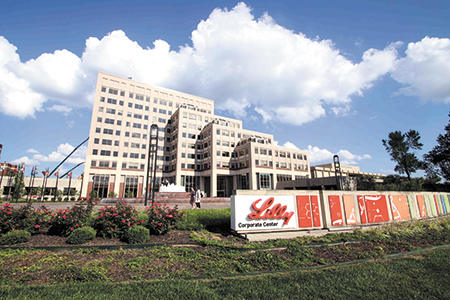 A long-simmering dispute between Eli Lilly and Co. and safety-net hospitals across the nation over the price of prescription drugs has reached the boiling point.
Read More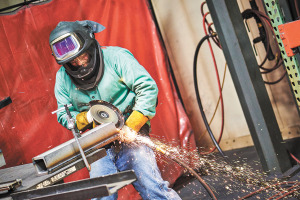 While the pandemic has devastated Indiana's tourism and hospitality industries, the picture is decidedly mixed for manufacturing—which constitutes more than a quarter of the state's gross domestic product.
Read More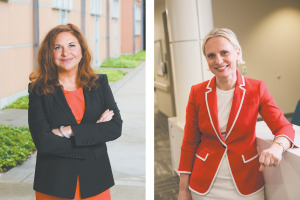 Republican state Sen. Victoria Spartz and former Democratic state Rep. Christina Hale have each raised concerns about outsourcing U.S. jobs, but the candidates say they would take different approaches to curbing the problem.
Read More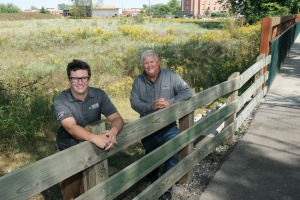 The company is slowing its rollout of ambitious commercial projects while turning to residential development as a way to support those signature endeavors.
Read More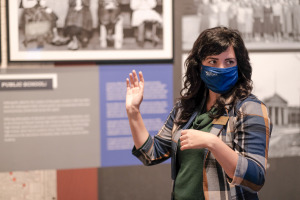 The city of Indianapolis is turning 200 and, although the pandemic has altered some plans, celebrations are underway and residents have plenty of opportunities to engage.
Read More
Allison Bantz joined Pattern89 as chief customer officer just eight weeks ago, but she's already got an inside line on one of the hottest commodities in 2020: predictability.
Read More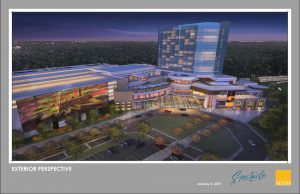 The Indiana Gaming Commission announced Tuesday that it had revoked the gaming license for Spectacle Entertainment Vice President John Keeler, who was recently indicted on several federal campaign finance charges and is on administrative leave from Spectacle, and that the ability for Spectacle to keep its gaming license in the state "is in question."
Read More
Novus and AppHarvest, a developer of large-scale and high-tech indoor farms, announced a deal on Tuesday will result in AppHarvest becoming a public company.
Read More
The injunction approved by Judge Sarah Evans Barker means that all mail-in ballots postmarked on or before Nov. 3 and received on or before Nov. 13—10 days after the election—must be counted, if otherwise valid.
Read More
More than 10 million Americans will lose their employer-sponsored health insurance this year as a result of a pandemic-related job loss in their household.
Read More
The tests will go out to states based on their population and can be used as governors see fit, but the administration encourages states to place a priority on schools.
Read More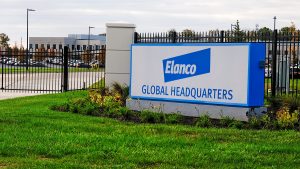 The layoff is the first step in what is expected to be a major restructuring following Greenfield-based Elanco's $6.9 billion acquisition of German conglomerate Bayer AG's animal-health division.
Read More
It would be good for downtown, good for the hospitality industry and certainly good for our collective psyche.
Read More
Grover Cleveland and Benjamin Harrison, like all other presidents up until now, knew the importance of a peaceful transfer of power.
Read More
Political science research tells us that people affiliate with a political party for one of two reasons: They agree with the party's basic approach to issues of governance, or they identify with the other people in that party.
Read More
The CDC and the World Health Organization have warned that the upcoming influenza season could be severe, and that its arrival during the COVID-19 pandemic could lead to increased sickness and death.
Read More
Hunkering down and grinding through challenges has always worked for me. Until now.
Read More
Whether or not a constitutional crisis–and all the economic and market chaos it would bring–is nigh, it's impossible to time our exit and re-entry into the markets,
Read More
Academic research finds that selective tax incentives do not increase overall employment or business investment.
Read More
A Sept. 4 IBJ letter to the editor from Messrs. Kleiman, Pelizzari, Smith and Thompson defending the leadership of Matt Gutwein of Indianapolis Health & Hospital Corp. in relation to its nursing centers deserves scrutiny. Firstly, I want to acknowledge the authors for their non-profit volunteer service in making Indianapolis a better community. Nonetheless, they […]
Read More
While differing opinions exist regarding how to manage the COVID pandemic, some facts are indisputable. This illness is serious, has major societal consequences, and should not be minimized. A recent IBJ column argued otherwise, triggering this rebuttal. Let's start where we agree. It is likely that, with significant intervention, schools can operate safely. This still […]
Read More
I wish I were a Republican so that my views about Mr. Trump would not be dismissed as resulting from blind partisanship. Potential perceived partisanship is the weight on my shoulders which cannot be removed. I wonder if my Republican, pro-McCarthy grandmother thought my Republican mother was a Democrat partisan when my mother argued that […]
Read More
Lucas White's Viewpoint column [Credit unions have unfair advantage over banks, Sept. 4] complained about instances where community banks have chosen to sell their assets to credit unions. It is nothing new for banks to want to limit options in the marketplace regarding credit unions because constraining credit union growth would reduce competition, and increase […]
Read More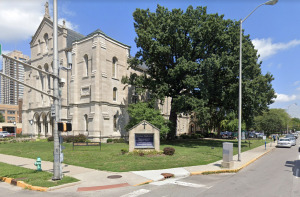 Roberts Park United Methodist Church, 401 N. Delaware St., has planned for more than a year to build a five-story building with a day-care facility, parking, health clinic and office space atop the parking lot directly east of the church.
Read More
The election office said absentee voters should verify that the precinct on their ballot matches the precinct on their ballot envelope and that two sets of initials—belonging to election officials—are there.
Read More
Ed Sahm, the restaurant group's founder and owner, said the pandemic-related exodus of downtown office workers meant the two locations are no longer financially viable.
Read More
The American Hotel & Lodging Association report is meant to underscore what the lobbying group says is a critical need for additional stimulus ahead of Congress breaking for its October recess.
Read More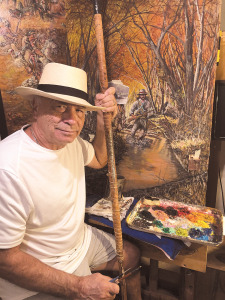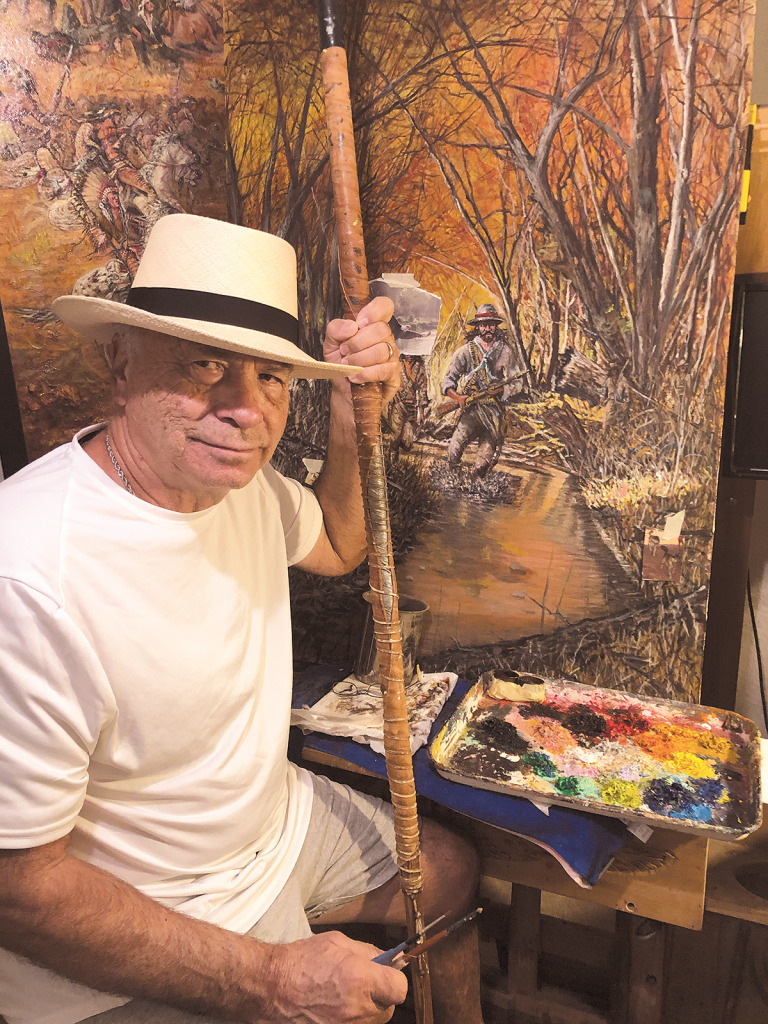 The only Native American to have played for the team thinks the franchise should keep the name and use it to educate the public.
Read More