APRIL 2-8, 2021
More than 1 million Hoosiers have been fully vaccinated for COVID-19, with another 1.6 million on their way with the first dose. John Russell explores how the rollout in Indiana compares with those in other states—both in terms of approach and percentage of people inoculated. Also in this week's issue, Mickey Shuey looks past March Madness to see what's on the books for downtown's hotels as they try to capitalize on the momentum from the tournament. And Greg Andrews has the inside story on the epic legal brawl between the partners who opened Pier 48 Fish House & Oyster Bar in the Hyatt Place hotel.
While the state's rollout of eligibility for the vaccine has come under some fire, many Hoosiers have begun planning for a summer and fall free from worry, ready to resume their normal lives.
Read More
The latest salvo was fired by Keith Stucker, an Indianapolis investment adviser who started Pier 48 with Fred Knipscheer, a former hockey player who entered the restaurant business more than a decade ago.
Read More
DeMario Vitalis, a descendant of cotton-plantation slaves and sharecroppers, sees ironic ties between his family's past and his farm ownership.
Read More
Hospitality leaders say no, although it will be some time before occupancy rates are back to normal.
Read More
With most liquidation efforts complete, Celadon has raised only $75 million—$45 million short of the $120 million it needed to satisfy a loan from its secured creditors.
Read More
Blevins, who expects to graduate in May with a degree in human connection and organizational leadership, helped launch Butler's student food pantry, which began distributing food in early March.
Read More
Basketball games in Visit Indy's suite have a strong influence on convention planners because they accentuate a potential client's experience in the city.
Read More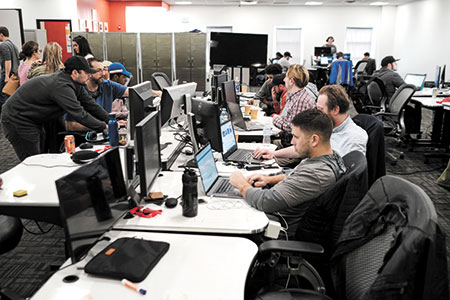 The grants, which range from $180,000 to more than $8 million each, will be awarded to 28 Indianapolis-based organizations to fund new programs aimed at financial security or expand existing programs that address poverty-related challenges.
Read More
He's not just an IU guy; he's a state of Indiana guy, an Indianapolis native and a Broad Ripple High School graduate who never lost contact with his homeland.
Read More
Accommodating new members whose wants and needs have been changed by the pandemic means those co-working spaces must adjust their offerings.
Read More
Not everyone had the luxury of working from home during the time known to most of us as "quarantine" or "lockdown." It was heartwarming to see how many businesses continued to find ways to pay and support their hourly employees despite mandatory closures.
Read More
The organization seems to be taking gender equity issues seriously. But there appears to be a long way to go toward building a culture of equity, toward making sure it is part of the NCAA's DNA in all matters.
Read More
I recently experienced the loss of my best friend and business partner, David A. Hartley Jr., and through his experience, learned the importance of being an organ donor.
Read More
Democratic senators represent about 40 million more voters than do Republican senators—a disproportion not reflected in the Senate's 50/50 split, a split that depends upon Vice President Kamala Harris to wield a tie-breaking vote. And it is likely to get worse.
Read More
As Gov. Eric Holcomb looks to fill the shoes of departing Secretary of Commerce Jim Schellinger, he can forge a path for the Indiana Economic Development Corp. that focuses on fostering an entrepreneurial ecosystem that makes Indiana the best place to start a business in America.
Read More
Currently, the U.S. national debt is over $28 trillion—that's $85,000 per person and $224,000 per taxpayer.
Read More
The use of customer preference in selection—whether based on gender, race, age or any other protected characteristic—is one of a number of examples of possible systemic discrimination outlined by the Equal Employment Opportunity Commission recently.
Read More
The way I figured, as long as I didn't have a storage unit, or even a garage I couldn't pull my car into, I was doing just fine.
Read More
We are at a "red flag" moment in the evolution of transportation in greater Indianapolis. Either we give our young professionals the transportation options that they expect before they move away or we have an official ceremony and declare ourselves officially married, for better or for worse, to the automobile and massive highway construction expense.
Read More
There's real irony in comments made by Republican Rep. Ben Smaltz about his bill increasing pull-tab gambling limits.
Read More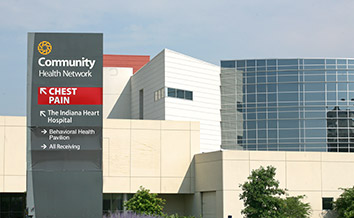 Since July, however, the hospital system has seen an "upward positive trend in all its services," it said in a debt filing, the latest signal that the worst of the pandemic's financial affects on hospitals might be over.
Read More
The Indiana Senate has passed legislation that would give lawmakers the power to convene at any time during a statewide public emergency and more oversight over federal stimulus dollars.
Read More
The Anthem Foundation and LISC Indianapolis on Tuesday announced a major initiative to provide more equitable food access, starting with one Indianapolis neighborhood.
Read More
A small-but-growing brewpub chain based in Louisville plans to take over the former Ram Restaurant & Brewery location in downtown Indianapolis, making its first foray outside Kentucky.
Read More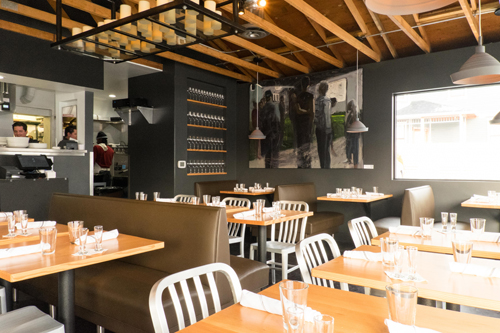 Owner Tom Main said he's shooting for an April reopening for Tinker Street, a fine-dining restaurant that's been closed for dine-in service for more than a year and was on the selling block in late 2020.
Read More