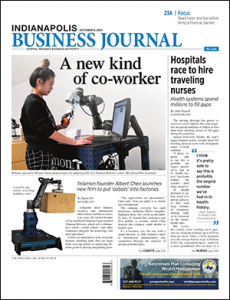 OCT. 8-14, 2021
The nursing shortage has grown so severe in central Indiana that some hospitals are paying millions of dollars to hire short-term traveling nurses at fill gaps during the pandemic. John Russell explains how the expense of hiring traveling nurses has grown during the pandemic. Also in this week's issue, Susan Orr reports on a startup from Telamon Corp. founder Albert Chen that sells collaborative robots, also known as "cobots," that can work alongside humans. And Emily Ketterer explores charges from an ultra-conservative Indiana lawmaker that GOP leaders essentially have pushed him out of office by redrawing his district in a way that would deny him reelection.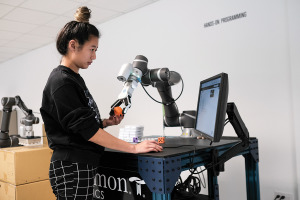 Retired from Telamon Corp., Chen founded Telamon Robotics, which sells collaborative robots and helps companies integrate the technology into their operations.
Read More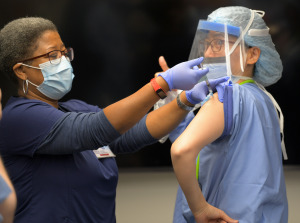 Indiana University Health, the state's largest hospital system, recently hired 700 traveling nurses to work in its 16 hospitals under 13-week contracts.
Read More

The NCAA's efforts to address equity imbalances could lead to a joint championship site later this decade, with Indianapolis believed to be a likely contender for hosting such a spectacle.
Read More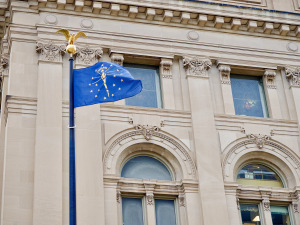 Freshman Rep. John Jacob, himself a Republican, says Republican leaders "butchered" his legislative district and redrew it in a way that is designed to deny him re-election.
Read More
Prather became acting president in January 2020, shortly after the board of trustees terminated the employment of the college's previous president, Thomas Minar. In March, the board announced that Prather will continue to lead the institution until at least July 2024.
Read More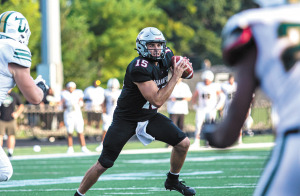 If you think Stancombe has the playbook down backward and forward by now, just think how well he must know campus. "Like the back of my hand," Stancombe said.
Read More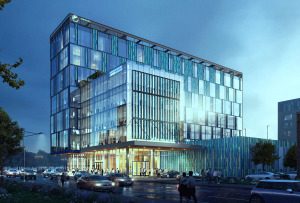 Featuring an exterior of clear and light-colored glass, the building would replace the current headquarters of the American College of Sports Medicine while giving the group a new home.
Read More
Exelead Inc., with headquarters at 6925 Guion Road on the northwest side, said it has manufactured and shipped tens of millions of doses of the Pfizer-BioNTech vaccine in recent months and is expanding its facilities.
Read More
Takuma Sato has raced in IndyCar since 2010 following seven seasons in Formula One. The Tokyo native has driven for Rahal the last four years, winning four races including the Indy 500 in 2020.
Read More
Gov. Eric Holcomb joined the governors of Illinois, Michigan, Minnesota and Wisconsin to sign a compact that focuses on making it easier for drivers to find charging stations for their electric vehicles along key corridors in the five-state region.
Read More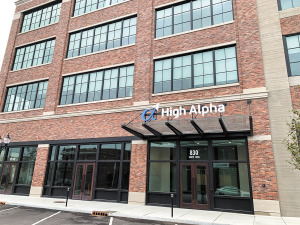 The announcement comes six months after that investment division—High Alpha Capital—announced it had closed a $110 million venture fund that is likely to provide growth capital for its newest startups.
Read More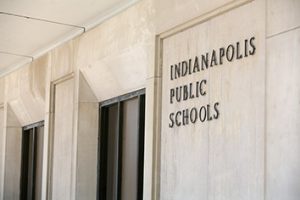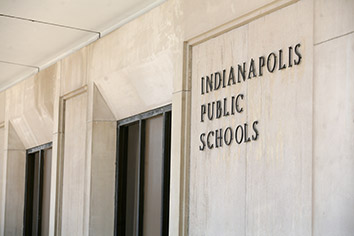 The school board also approved a separate agreement that will award support staff a 2% raise this year. Both agreements are retroactive to July and signal an end to two years of more significant pay increases intended to make up for years of frozen salaries.
Read More
There are people in this world who supposedly enjoy personally planning and overseeing their own retirement programs, investment strategies and children's college funds. For the rest of us, there are financial planners.
Read More
A tax increase might apply retroactively, potentially eliminating the tax benefit of getting a deal done by year-end.
Read More
We commend Gov. Eric Holcomb and the governors of Illinois, Michigan, Minnesota and Wisconsin, who signed a memorandum of understanding to create REV Midwest—the Regional Electric Vehicle Coalition.
Read More
The food organization is proposing an agri-hub solutions center that would serve as an incubator where new ideas for assisting hungry Hoosiers are tested and refined.
Read More
By not adequately addressing the cause of disparities, we perpetuate a never-ending cycle of poverty and ensure that we always will be dedicating public and private resources toward it.
Read More
Anyone who works in construction knows that labor is not what drives costs. Factors like materials, fuel, equipment and land costs do.
Read More
While you might be one of the fortunate ones to have family, friends, mentors and spirituals leaders who can guide you through tough times, a psychotherapist will help you better understand yourself and those around you so you can be a better person, business owner, leader, partner, manager, team member, friend, parent and community member.
Read More
Before we get too cocky, we'll be the first to admit that some of our predictions haven't quite worked out.
Read More
There are at least four common uses for an annual net worth calculation. And depending on the purpose of your calculation, you might or might not decide you want to include your home equity.
Read More
We at Teachers' Treasures happily find homes for all sorts of things folks don't think have value.
Read More
Indianapolis taxpayers have subsidized Jim Irsay's lavish lifestyle for far too long.
Read More
We keep wanting to lower taxes but then never get done what is needed.
Read More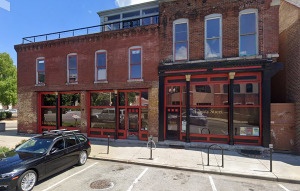 The Mass Ave bar known for its vast selection of bourbons and whiskeys has closed after seven years in business.
Read More
The school said the funds raised through the "Invest IN Ivy Tech" effort will benefit its 19 campuses across Indiana and add much-needed "human capital."
Read More
Johnson Memorial Health said it has backup processes in place that allow its continued operation and that most services are unaffected.
Read More
Gov. Eric Holcomb's signature was the final step in the redistricting for Indiana's nine congressional seats and 150 seats in the state Legislature.
Read More
The public wants this. Our legislators are afraid to listen.
Read More
For my entire life, I have listened to the debate about legalizing marijuana in America, or in whatever state I was living at whatever time. Good talks, each one. But those talks are no longer hypothetical.
Read More
It's a myth that vaping is safe. More correctly, e-cigarettes have the potential of being less toxic than combusted tobacco.
Read More
To be clear, the education of our children is at stake.
Read More
The jobs that fuel central Indiana's economy will increasingly require a workforce with some form of postsecondary education.
Read More
The result of that inflexible approach was a lot of forced bad small talk and Internet surfing by my colleagues to kill time.
Read More
A partisan redistricting process allows the Republican supermajority to systemically craft elections that are no longer competitive.
Read More
In the current maps, Republicans didn't really have to do much gerrymandering because of the political demographics of Indiana.
Read More
Keepers of The Remnant Trust … are diametrically opposed to the idea that the documents must never be touched by the public.
Read More
Ultimately, policies might matter more than pictures. But the images are not only hard to forget, they are the foundation for campaign ads.
Read More
They have shown that they can do a great deal with very little.
Read More
I was appalled at the hubris and ignorance of the agent, as well as his complete lack of any apparent concern for the victims of Nassar's ongoing criminality.
Read More
Democrats are happy to talk about Georgians' future and actual concerns while Republicans wallow in conspiracy theories about the past.
Read More