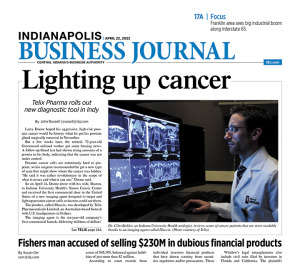 APRIL 22-28, 2022
The global market for nuclear medicine is expected to quintuple in about a decade, and a large slice of that growth is expected to occur in the Indianapolis area. John Russell reports that Telix Pharmaceuticals, which has developed an imaging agent that makes cancer cells light up in scans, is having a breakout moment. Also in this week's issue, Susan Orr unravels the story of a Fishers man facing a tangle of legal issues related to accusations he was involved in the nationwide sale of more than $230 million in questionable financial products. And Daniel Bradley reports that interest is accelerating in the slow-to-develop Zionsville's Creekside Corporate Park now that construction of the new Rahal Letterman Lanigan Racing team headquarters is well under way.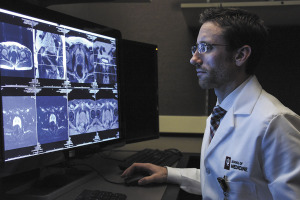 The imaging agent is the six-year-old company's first commercial launch, following millions of dollars' worth of research and clinical tests. It was approved by the U.S. Food and Drug Administration in December.
Read More

The depth of the situation came to light after Robyn Dale "Rob" Whitlow, 51, filed for Chapter 7 bankruptcy protection late last month, declaring personal assets of $45,305, balanced against liabilities of just more than $2 million.
Read More
Construction on the $20 million Rahal Letterman Lanigan Racing team headquarters in Creekside Corporate Park in Zionsville is still a couple of months away from completion.
Read More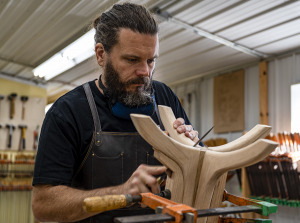 The Marc Adams School of Woodworking annually offers more than 200 courses—in some years, many more—focused on helping amateurs and professionals hone their skills primarily in woodworking but increasingly in other creative pursuits, including glass blowing, quilting, metalsmithing, upholstery, calligraphy and more.
Read More
Today, GoldLeaf—1901 E. 46th St.—serves what it labels "snacks" (Wasabi Grilled Cheese, a Croissant with Gruyere and Ham, for example); offers an espresso bar (cappuccinos, cold brews, mochas, etc.) and serves beer and wine in an eclectic café filled with plants and art.
Read More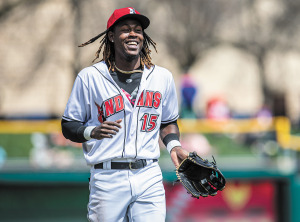 You could go down the lineup the other night and find all manners of unique journeys to Victory Field.
Read More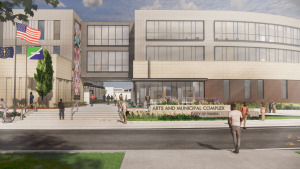 Construction on the three-story Fishers Arts & Municipal Complex is expected to begin this fall after the 31-year-old Fishers City Hall is demolished.
Read More
Prevounce Health, which launched in 2019 in Los Angeles, relocated its operations to Indianapolis last fall and just landed $4.5 million in investment funding which the company says will help it expand and double its workforce in coming months.
Read More
The Chapter 7 bankruptcy filing lists 359 unsecured claims from customers with unfulfilled orders, including many for thousands of dollars.
Read More
The Wulsin Building at 222 E. Ohio St. is expected to be acquired by an investment group later this spring. The buyers plan to spend up to $6 million to convert the eight-story structure to market-rate apartments.
Read More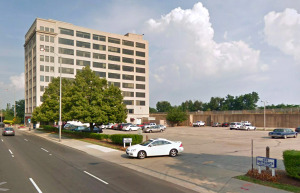 The 10-story, 66,220-square-foot building and its 216-space parking lot are adjacent to the site of the Indianapolis Downtown Heliport, which is slated for eventual redevelopment.
Read More
Former casino executive and state lawmaker John Keeler pleaded guilty in federal court Monday morning to filing a false tax return in connection to a scheme to funnel illegal casino cash into a congressional campaign in 2016.
Read More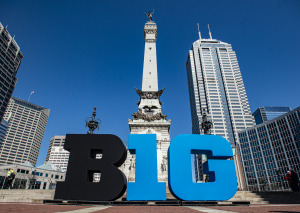 The Big Ten Conference is sticking with Indianapolis for its football title game through 2024, but is shaking up its sites for two other marquee championships.
Read More
More warehouses and distribution centers have begun popping up near the Interstate 65 exit in Franklin, as central Indiana's industrial boom continues to fan farther out from Indianapolis.
Read More
The pandemic has affected commercial real estate but owners of property in Marion County have not yet seen changes on their property tax bill that reflect those impacts.
Read More
The aim is for Elanco's new headquarters to serve as a catalyst for research, development and the creation of new businesses focused on animal health.
Read More
Where was the civility, Sen. Young, when members of your party viciously attacked the character of this nominee? Their behavior was only a slight improvement over that of the Democrats during the Brett Kavanaugh confirmation proceedings.
Read More
According to 2021 Prosperity Indiana data, there are only 37 affordable and available rental homes for every 100 households with extremely low incomes (those with incomes at or below the poverty level or 30% of their area median income), tied for the second-lowest rate among 12 Midwest states.
Read More
Under this new system, the state, a county, a city, or a town, is empowered to create districts which capture new property taxes, including TIF, but also capture incremental sales and income taxes. This ability creates the potential to generate the most lucrative economic value of any state or local incentive program in Indiana.
Read More
Rotation can't be used as an excuse to shuffle mediocre performers around just because it's easier than exiting them, or as a tactic to keep truly unhappy or poor culture fit employees from quitting for a few more months.
Read More
I've always likened financially weaning adult children to the moment you taught the same children to ride their bikes without training wheels.
Read More
In our opinion, the only reason inflation expectations aren't higher is that the Fed hasn't lost all credibility in its commitment to lowering inflation.
Read More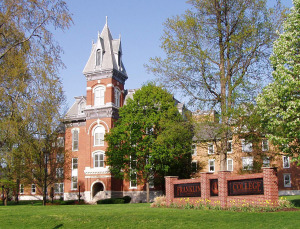 The donation came from a business leader who earned her bachelor's degree from Franklin College in 1971, majoring in political science and history.
Read More
WesBanco, a mid-sized bank based in Wheeling, West Virginia, said it has hired two people so far to staff a new loan production office in Indianapolis that will focus on both commercial and mortgage lending.
Read More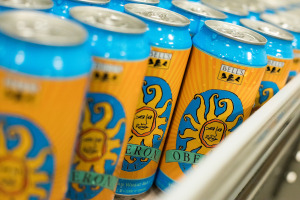 Bell's Brewery Inc., founded in Comstock, Michigan in 1985, was the largest independently owned brewery in Michigan until being sold at the end of last year. It is known for its Two Hearted Ale, Hopslam Ale and Oberon Ale.
Read More
Acacia Pharma Group employees are waiting to see what will happen to their jobs and whether the company will remain in Indianapolis in any form, now that it is being acquired by New Jersey-based specialty drugmaker Eagle Pharmaceuticals Inc. for $103.9 million.
Read More
Currently, immigration cases from Indiana are sent to the Chicago Immigration Court in Illinois. The new court will serve the state of Indiana and have about 40 employees, the U.S. Department of Justice confirmed.
Read More
The bar opened on the first floor of the Forte apartment building, 1140 Shelby St., in September 2019.
Read More