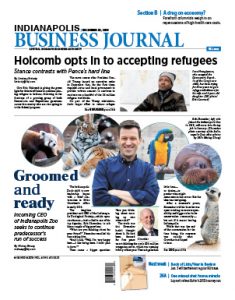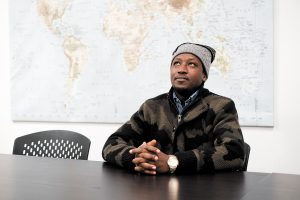 Gov. Eric Holcomb is giving the green light for federal officials to continue placing refugees in Indiana, following in the footsteps of a growing group of governors.
Read More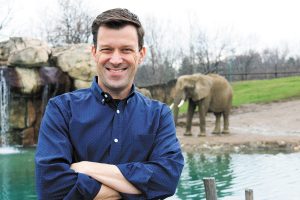 Rob Shumaker, now president of the zoo, will take over as CEO for the retiring Michael Crowther in early January.
Read More
For the Lilly Endowment, a good year means it's time to cash in.
Read More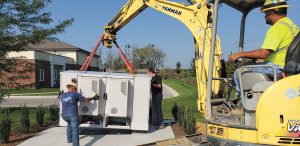 Intelligent Fiber Network has spent the last 18 months rebranding—including a name change that telegraphs its growth plans—and ramping up its marketing.
Read More
It's been more than two years since the city and state chose four developers to build 500 affordable housing units—including some reserved for people experiencing homelessness.
Read More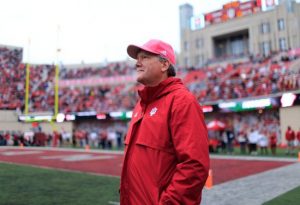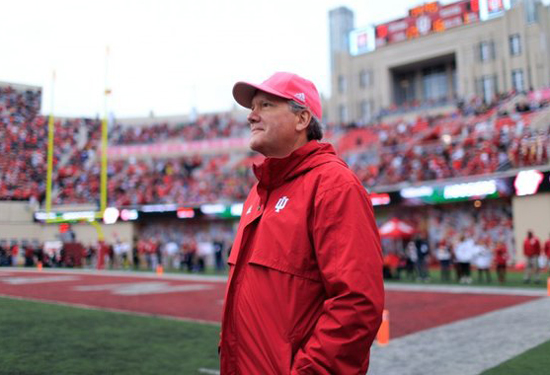 Fred Glass, who has led the IU athletic department since 2009, said "it's time" for him to step down and spend more time with his family. His successor will be chosen by IU President Michael McRobbie.
Read More
The combined firm, Faegre Drinker Biddle & Reath LLP, will have 1,300 attorneys and consultants in 22 offices, making it one of the nation's 50 largest law firms. The merger does away with the names of Baker and Daniels, which had been part of the firm's moniker for 130 years.
Read More
Boynton, an IUPUI computer science student and entrepreneur, was asked to go to Mongolia this fall as part of the U.S. Speaker Program.
Read More
In its campaign to win back control of three schools, IPS implied that all three buildings would continue to serve Indianapolis families. We hope that was more than lip service.
Read More
The sale of the iconic racing facility was among several big deals with major implications for sports and business in the city.
Read More
Fifteen major manufacturing companies and industrial associations are urging Indiana's 21st Century Energy Policy Development Task Force to consider policy measures that would increase deployment of efficient energy technologies in the state.
Read More
Indiana's med-tech industry generates $13.8 billion in economic output annually. While we should appreciate this impressive economic boon, we can't take it for granted.
Read More
I'm not a fan of new year's resolutions, but I am a big fan of examining my life and what's working and what could be improved.
Read More
For hundreds of years, African Bushmen have greeted each other with this refrain. When one of them becomes aware of another coming through the brush, he/she exclaims, "I see you!" and the one approaching triumphs, "I am here!"
Read More
Unlike government by despot or militia, institutions of collective choice prize discussion, deliberation, transparency, predictable process, compromise and accommodation.
Read More
I am so appreciative of your support of equal opportunities for all, your straight talk on racism and discrimination, for your sensible approach to issues of gay marriage and abortion and all those sticky, scary topics which divide us, especially in Indiana.
Read More
Hoosiers can't afford to allow utilities to drag their feet on transitioning to a clean energy economy. Thankfully
Read More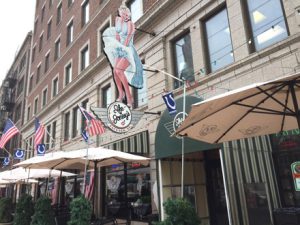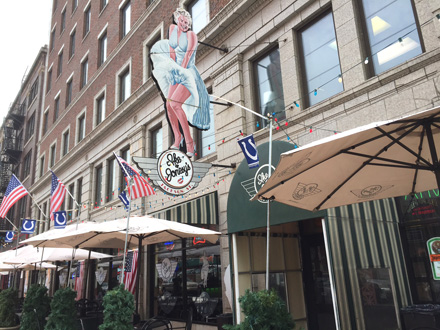 After a 36-year run, the owners of the downtown nightlife institution say it will close after its New Year's Eve party and a "Last Hurrah Celebration."
Read More
The facility would have 220 bus parking spaces with protective canopies, a visitor and staff parking lot with 88 spaces, a 231-vehicle parking lot for bus drivers, a fuel island, a six- to 10-bay maintenance facility, a training center and staff offices.
Read More
Hammond-based 18th Street Brewery—which was voted the best brewpub in America this year by readers of USA Today—has officially announced plans to open an Indianapolis location.
Read More
Bill Simpson, a pioneer in motorsports safety credited with creating equipment that saved too many drivers to count from death or serious injury, died Monday. He was 79.
Read More
Sigstr, which sells software that enables companies to leverage employee emails for marketing purposes, is expected to maintain—and grow—its Indianapolis presence under the Terminus name, company officials said. 
Read More
Employers are running out of ways to hold premiums down, provide good health coverage and give salary increases.
Read More
According to national data, health insurance premiums in Indiana are below the national average and almost all states in our region. We can build on the strength of Indiana's existing health care system while reducing costs, but we must do so without blaming one segment like hospitals.
Read More
Daily, plenty of legitimate international and national stories are ignored or given fractional attention in favor of a good/bad story about the president and Russia or the president and impeachment. Snooze.
Read More
Consider that, of the organizations in central Indiana with budgets exceeding $60 million in revenue, only one has a leader of color.
Read More
#GivingTuesday was created in 2012 to inspire people "to give, collaborate, and celebrate generosity." This year, #GivingTuesday raised $511 million online alone, a 28% increase over 2018.
Read More
Portrayals of Buttigieg's short, wonky, unglamorous stint as a management consultant are irresponsible.
Read More
If Trump had the evidence to exculpate him, it would have been produced, either before the House Judiciary Committee or to the court of public opinion.
Read More
Todd Young, our state's senior senator, seems to understand his role as a juror, withholding judgment until weighing all arguments and evidence. Steve Braun, elected little over a year ago, is enthusiastically embracing the role of defense counsel for the president.
Read More
Where does self-satisfaction lead? It leads to a governor who sees mandates on the age of smoking and the use of cell phones as bold agenda items. It
Read More
With Gov. Holcomb leading, our state has long recognized that to succeed we need every part of our community—businesses, workers, schools, not-for-profits, and community organizations—working together to make an economy that's built on a foundation of the dignity of families and workers.
Read More
You can't just talk about Indiana being a quality place. You must make it a quality place.
Read More
I believe the reason this cartoon is a Christmas classic today is specifically because of this scene with Linus.
Read More
We must come together as a community and have an open dialogue about gun violence, however uncomfortable this might make us.
Read More
Rules carry the same weight as statutes, but that is where the similarities end.
Read More
It's clearer than ever that autonomous vehicles and things like IoT-enabled delivery solutions would be viable solutions to the increasing demand for delivery services.
Read More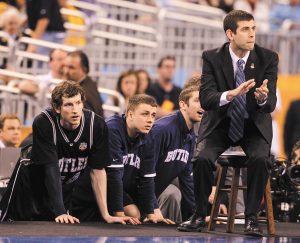 From Boeheim to Krzyzewski, the opponents weigh in on what made that Bulldog team special.
Read More