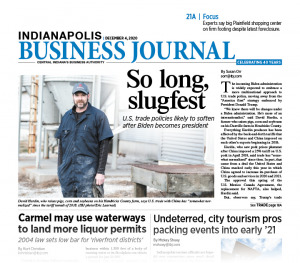 DEC. 4-10, 2020
The city of Carmel is the latest Indiana community trying to leverage its waterways to offer businesses cheap and plentiful liquor licenses. Kurt Christian has more on Carmel's plans to establish four riverfront districts and checks in with other communities to see how the strategy has played out around the state. Also in this week's issue, Mickey Shuey explores how city tourism officials could juggle the conventions and events set for 2021 in order to make room for hosting the entire NCAA men's basketball tournament this spring. And Samm Quinn outlines how the Indianapolis City-County Council hopes to move the needle on food insecurity by taking a more aggressive approach to tackling food access and equity issues.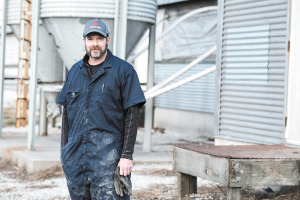 The incoming administration is widely expected to embrace a more multinational approach to U.S. trade policy, moving away from the "America first" strategy embraced by President Trump.
Read More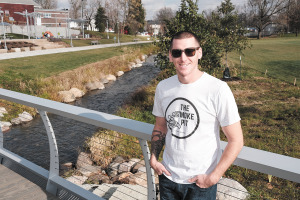 Carmel is the latest Indiana community seeking to use its waterways as a means to offer businesses cheap and plentiful liquor licenses.
Read More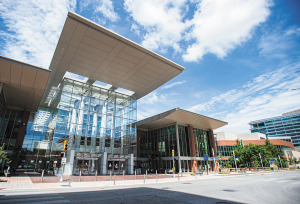 Officials are hopeful new virus cases won't ruin plans to host two dozen events in the first quarter of 2021—including efforts to bring the full NCAA men's basketball tournament here.
Read More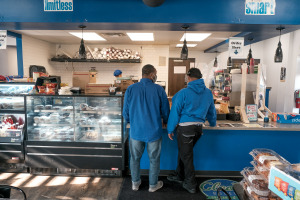 Proposal 337 could move the needle forward on food insecurity and access problems by creating a structure that brings together and guides stakeholders already working on solutions.
Read More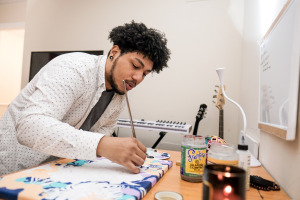 The marketplace it says is open to all artists, regardless of their affiliation with the center or where their wares are displayed.
Read More
Bill Heidenreich is a fifth-generation owner of Heidenreich Greenhouses on the city's south side and the small business is having the best year he can remember.
Read More
The state will review more than 100 schools under a new law that aims to stem the tide of students who leave without diplomas but are not counted as dropping out.
Read More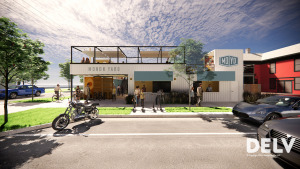 A local entrepreneur plans to redevelop the former Broad Ripple Steakhouse restaurant site and an adjacent property into a multi-tenant dining concept and outdoor recreation area. The development would utilize numerous shipping containers in its design.
Read More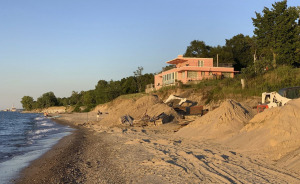 When the National Park Services launched Indiana Dunes National Lakeshore, as it was known then, in the 1960s, it inherited a number of historic structures, including the World's Fair homes.
Read More
At least 1,755 schools across the state have reported at least one positive case of COVID-19, according to the Indiana State Department of Health, involving more than 15,000 students, teachers and staff.
Read More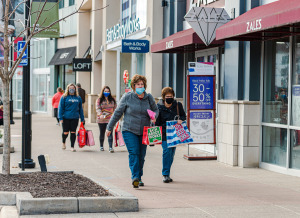 The shopping center—the 10th-largest in the Indianapolis area, at 600,200 square feet—was repossessed by its lender in October, after Memphis-based owner Poag Shopping Centers LLC defaulted on a $29.9 million loan balance in June. It's the second foreclosure for the property, which used to be called Metropolis.
Read More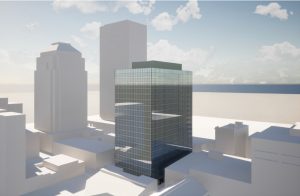 The Gold Building's exterior overhaul is expected to completely replace the iconic gold panels with "crystal gray" panels from the third floor through the 20th.
Read More
Inspired by the protests against racial inequality this summer, the Bloomington-based Cook Medical team began looking for a way to diversify and realized the company could help itself while helping others. And Cook officials want to share their playbook with others.
Read More
We embrace and support smart, hard-working people who want to engage civically no matter where they are from.
Read More
Outgoing Indiana Attorney General Curtis Hill wants states to be able to deny married same-sex couples the right to be recognized as parents of their children.
Read More
Homeownership is one of the most valuable opportunities to build wealth, but that opportunity is dependent on access and affordability. Everyone must have equal access to affordable housing and financing in order to participate in the American dream of homeownership.
Read More
Poorly performing teams can't hide in this environment. Their performance gaps are exposed.
Read More
The stress of 2020 could really mess with your decision-making and good financial intentions.
Read More
While there are numerous arguments for college loan forgiveness, the one we find the least convincing and most curious is that it is a matter of social justice.
Read More
Support Indy JazzFest and The Cabaret! We lost a Great One with David's passing.
Read More
There needs to be a complete understanding by all citizens that the moment you take the step from peaceful protesting to damaging property or assaulting others that you are now a criminal and will be arrested, regardless of what your cause may be.
Read More
Orangeburg, New York-based Nice-Pak said it will add 90 more jobs than originally planned and increase the size of a new facility to 1.2 million square feet. The $165 million project is slated to open in 2022.
Read More
The Indy Chamber said the effort will create a digital first step for potential residents to "see themselves" in the Indianapolis region.
Read More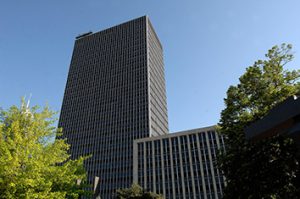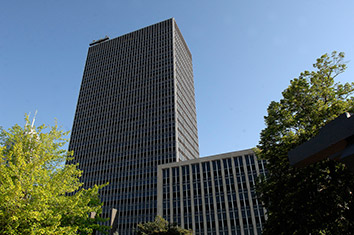 A City-County Council committee on Monday advanced a proposed tax abatement for a pharmaceutical company that plans to spend $72 million to build a new facility near the Indianapolis International Airport.
Read More
The Indianapolis area's most active home builder is bringing one of its frequent collaborators in-house to help develop more lots.
Read More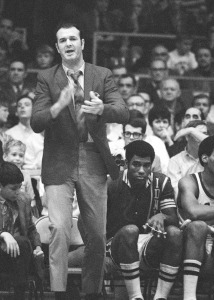 By injecting a first-year coach into the mold of an established roster, Kevin Pritchard has hit on the formula that has worked eerily well for the Pacers throughout their history.
Read More