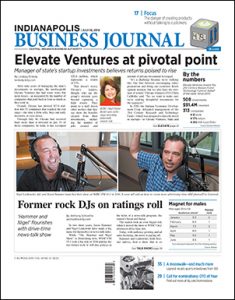 JULY 19-25, 2019
In this week's issue, Lindsey Erdody examines the track record of Elevate Ventures, which acts as the venture capital arm of the Indiana Economic Development Corp. and has invested $91 million in 313 companies. The returns so far have been modest, but Elevate isn't necessarily all about the bottom line. Anthony Schoettle profiles Jason Hammer and Nigel Laskowski, the hosts of "The Hammer and Nigel Show" on WIBC. The station's risk in 2016 of installing two rock n roll DJ as hosts of a news talk show appears to have paid off. And Greg Andrews asks Emmis Communications CEO Jeff Smulyan how he plans to remake the company now that he sees diminishing opportunity for growth in the radio business.
After nine years of managing the state's investments in startups, the not-for-profit Elevate Ventures has had some wins, but more losses—as measured by the number of companies that paid back at least as much as they took in.
Read More


While "The Hammer and Nigel Show" is flourishing now, WIBC-FM 93.1 took a big risk in 2016 putting the two former rock 'n' roll disc jockeys at the helm of a news-talk program, the station's bread and butter.
Read More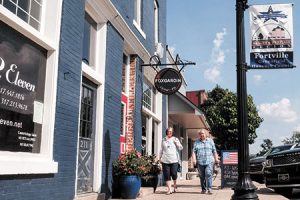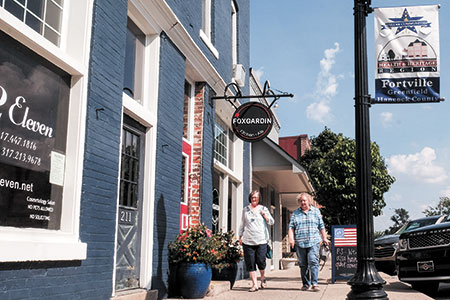 The next few years will be big for Fortville as it launches several projects near downtown that aim to make the area more pedestrian-friendly and draw in more businesses.
Read More
CEO Jeff Smulyan says he still loves radio, but the 72-year-old pines to own businesses that have real growth potential, rather than fighting over nickels and dimes in a stagnant industry.
Read More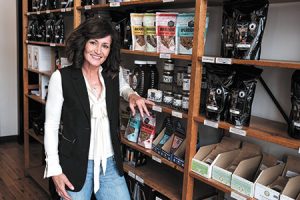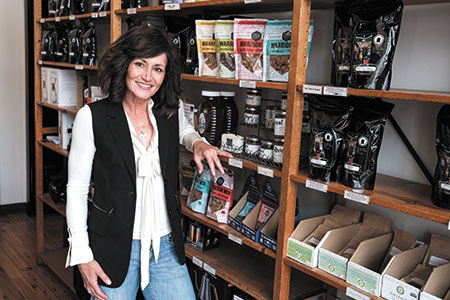 Jennifer Wiese's gluten- and dairy-free bakery Bee Free makes Warrior Mix, which can be found in 4,000 stores across the country, now including Walmart.
Read More
Morgan's specialty is to identify how artists and museums create narratives about American culture that belittle, deemphasize or oppress black populations and other ethnicities.
Read More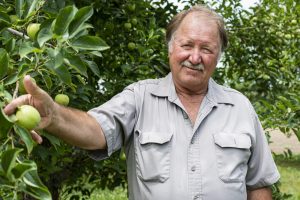 The south-side institution debuted in 1925 and has remained in the same family for three generations. But its owners don't have any obvious successors.
Read More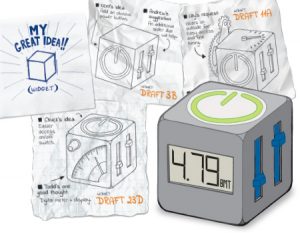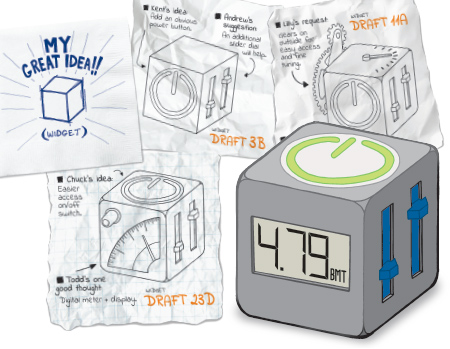 Entrepreneur Max Yoder failed out of the gate when he launched his first company. No, not Lessonly, the training software firm that is still growing seven years after he co-founded it with the folks who created the High Alpha venture studio. Yoder's first company was Quipol, which offered a social polling product that he worked on […]
Read More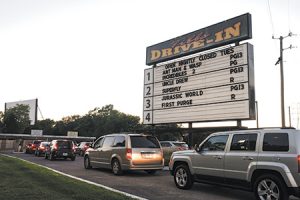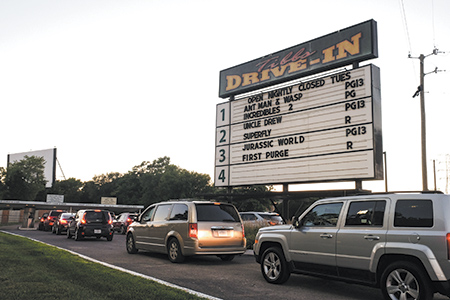 The new owners, who recently acquired the 24-acre property, say they've already made some improvements to the four-screen outdoor theater, which has been in operation on the west side of Indianapolis since 1967.
Read More
The Kelley School of Business at Indiana University has established the Institute for Entrepreneurship and Competitive Enterprise within the Johnson Center for Entrepreneurship and Innovation.
Read More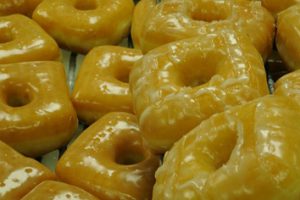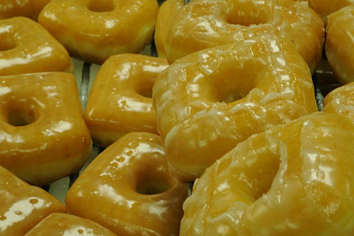 More than half of the Square Donuts shops in Indiana—including two locations in Indianapolis and one in Carmel—have closed because of contract issues, the owner of the parent company confirmed Monday.
Read More
In a few days, some of the nation's most important African American leaders—in business, politics, entertainment and philanthropy—will descend on Indianapolis for the National Urban League Conference.
Read More
Eva Kor not only forgave the despicable perpetrators of the Holocaust but touched hundreds of thousands of people with her lesson of forgiveness.
Read More
Recently, 12,000 people signed a petition requesting that the Nickel Plate Railroad in Hamilton County and Indianapolis be kept intact for future transit use. Many are also fans of bike/hike trails. Until now, their signatures have been ignored by some local political leaders.
Read More
Cummins, Allison Transmission and General Motors are part of an expanding list of advanced manufacturers operating in Indiana that are embracing the new industrial revolution, also known as Industry 4.0.
Read More
Remember that effective executive presence is not alluring charm or likeableness. Rather, it's the product of temperament, competencies and skills.
Read More
The distinctive geometric grid of streets and avenues that define Washington, D.C., heavily influenced the original plat of Indianapolis. As we consider our city's future, it may once again be time to look to the nation's capital for inspiration.
Read More
Investors now predict a 100% chance that the Federal Reserve will lower its interest rate target at its next meeting on July 31. The impending interest rate cut is a reversal of the Fed's recent policy stance.
Read More
While history suggests the road is likely to get increasingly bumpy over the next four months, it will be important (as always) to try to remain unemotional and stick with the plan.
Read More
In 2017, leaders from Fishers, Noblesville and Hamilton County, owners of the roughly 40-mile railroad running from downtown Indianapolis to Tipton, announced they were going to turn the railroad into a multi-use trail. Nearly 12,000 residents opposed the trail-only solution, suggesting a rail-with-trail instead. Those residents formed "Save the Nickel Plate," met with local leaders […]
Read More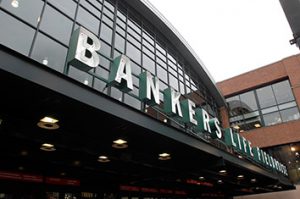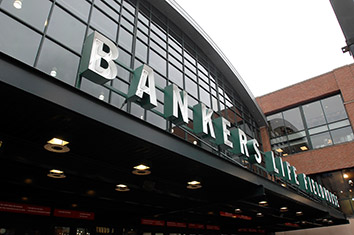 The move pushes forward the Capital Improvement Board's deal with the Pacers, which calls for more than $360 million in renovations to Bankers Life Fieldhouse.
Read More
Mayor Andy Cook announced Tuesday that he has appointed a new leader for the department of community development, which includes the building department and the planning and zoning department. The hiring follows the departure of Matt Skelton.
Read More
Violators could be charged up to $50 for their first violation and up to $500 for more violations in the same year.
Read More
Maxxis International has several original-equipment supply contracts with Midwest auto assemblers, including Subaru of Indiana.
Read More
The five infrastructure projects along State Roads 32 and 38, plus other road improvements, will cost $16 million and take place in two phases.
Read More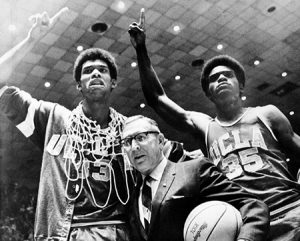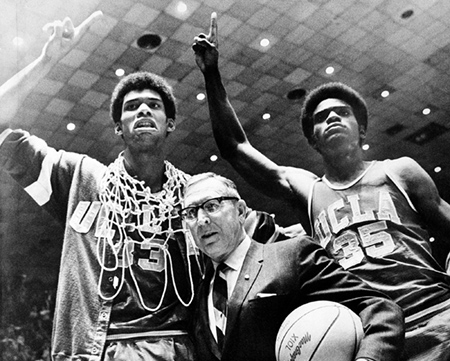 Something else was taking a giant leap in 1969 while NASA was leaving footprints on the moon. Sports. It was a monstrously landmark year, amid the glory of Apollo 11, and what's remarkable is how many Indiana guys had their fingerprints on all the history being made.
Read More