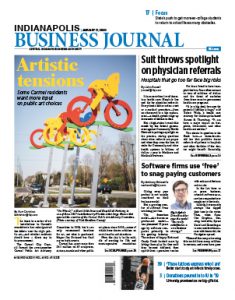 JAN. 17-23, 2020
The latest in a series of art installations in Carmel's roundabouts has reinvigorated debate over how the city buys and locates works for public places. Kurt Christian reports that once city councilor wants to create a community commission that includes residents who would review and make recommendations for pieces. Also in this week's issue, Samm Quinn examines efforts by Indianapolis officials to address the potential effects of climate change on the city, as well as reduce the city's impact on the environment. And Lindsey Erdody has our latest annual tally of philanthropic giving in Indiana and analysis of the big gifts. The winner this year was Indiana University, with three of 10 largest donations, and Lindsey has a deep dive into how IU and President Michael McRobbie made it happen.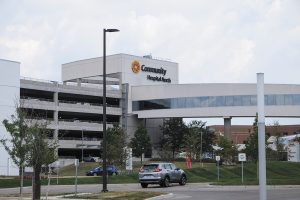 A high-stakes suit this month by the federal government against Community Health Network is raising questions about when they are proper and when they cross the line.
Read More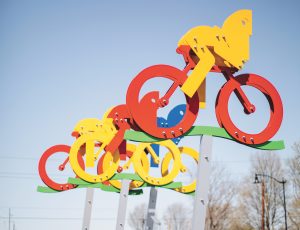 The latest in a series of art installations in Carmel's roundabouts has reinvigorated the debate over the city's public art—and whether residents should have a direct say in its procurement.
Read More
Giving away your product is not usually considered an ideal business model. But a growing number of software firms are doing just that.
Read More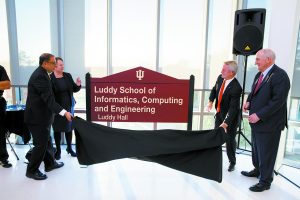 Indiana University last year received some of its largest donations ever as it began to wind down its eight-year, $3 billion capital campaign.
Read More
Most of the biggest gifts of 2019 went to higher education institutions outside the Circle City, but not-for-profits in the Indianapolis area did snag a few seven-figure donations. Here are the top four local gifts. $5 million Recipient: Butler University Donors: Craig Fenneman and Mary Stover-Fenneman For: Several projects, including the upcoming expansion and renovation […]
Read More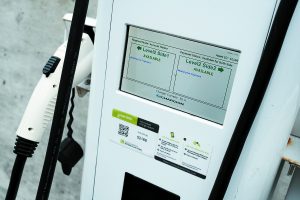 A plan drafted by the city's Office of Sustainability—and a commission the City-County Council is forming—aim to mitigate the effects of climate change on the Circle City.
Read More
The caucus has crafted a 2020 agenda that includes bills that mandate lead testing of water in schools; reducing insulin prices; cutting the number of people facing misdemeanor charges that must wait in jail for hearings; and university reporting on efforts to hire black-, women- and veteran-owned businesses.
Read More
According to a criminal complaint, after exchanging messages with an undercover police officer he thought to be a minor named Tyler, Thomas Minar sent multiple pornographic pictures and other sexual messages through the Grindr app.
Read More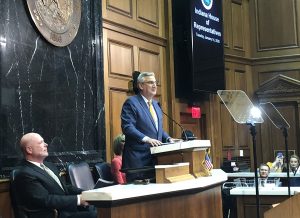 According to Gov. Eric Holcomb's prepared remarks, Fiat-Chrysler will invest $400 million in its Kokomo facility and hinted that an announcement will be made on Friday from Toyota in Princeton.
Read More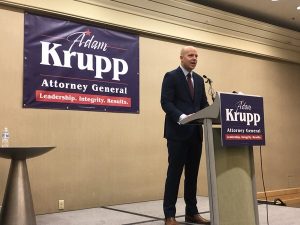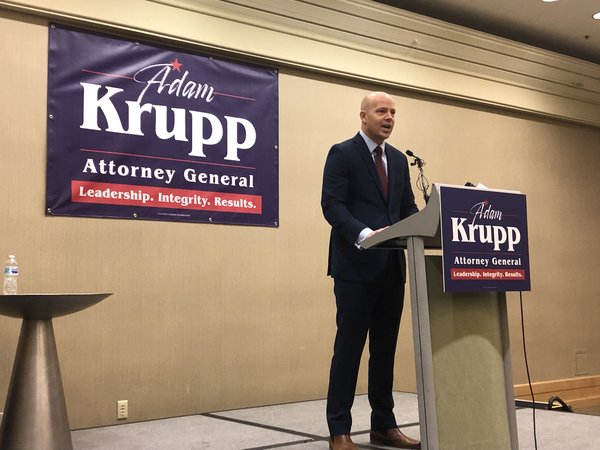 Department of Revenue Commissioner Adam Krupp said he would bring "leadership, integrity and results" to the job as Indiana's top lawyer. Incumbent and fellow Republican Curtis Hill has been accused of unethical conduct.
Read More
The graduation rate at Emmerich Manual High School plummeted to 57% last year after a state audit found the school did not have the proper documentation for many of the students designated as leaving to be home-schooled.
Read More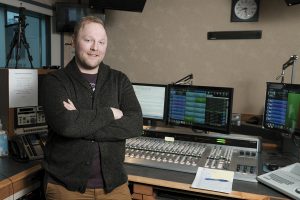 The state's "You can. Go back." campaign aims to shore up the number of Hoosier adults with either a college degree or a high-quality training certificate. In 2015, the commission set a lofty goal for the campaign: It wanted to see 200,000 adults with some post-secondary education go back to school and earn a degree by 2020.
Read More
Federal officials are worried that Indiana hasn't built up a big enough surplus to weather the next recession.
Read More
We should join states that are giving terminally ill patients more control over how they die.
Read More
It's all about eyes off the road, cognitive distraction and the inability to process everything necessary on the road.
Read More
We are living through a political climate that legitimizes a language of racial, ethnic and religious bigotry. Social media and the internet facilitate the proliferation of hateful ideologies that feed into antisemitism.
Read More
Finding out why people leave is important. Finding out before they leave why they might be disengaged does a lot more for your workforce and your business.
Read More
Indy needs to pay more attention to the role aesthetics play in drawing people and investment.
Read More
I don't know how many scenes are left and what plot twists are ahead, but I do know how this movie ends.
Read More
We economists do our best to measure changes in the cost-of-living over time. Yet we suspect that many components are difficult to capture in statistics.
Read More
As the first two weeks of the session pass, expect a transition in legislative focus to health care concerns—raised in loud choruses to lawmakers in conversations back home. Unlike
Read More
Indiana always leans Republican, but Bernie Sanders is powerful because of his populist message. Who knows? Indiana is a tossup for 2020.
Read More
Every year payday loan companies take $70 million out of the Indiana economy in fees and make huge profits off the backs of the poor, mostly affecting those in our urban areas and predominantly people of color.
Read More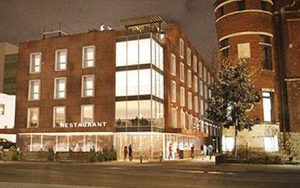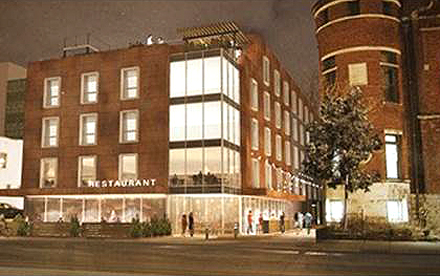 The apartments-and-retail project slated next to the Athenaeum has been in the works since 2016 but encountered hurdles including a lengthy legal battle that reached the Indiana Supreme Court.
Read More
The move is the latest of numerous staff changes Nexstar Media Group has made since acquiring the Indianapolis television station less than four months ago.
Read More
Scott Baldwin, president and owner of Indianapolis-based Envoy Inc., announced Monday that he is seeking election in Indiana Senate District 20 to replace Sen. Victoria Spartz, who is considering a run for U.S. Congress.
Read More
The restaurant, 653 E. 52nd St., opened just off North College Avenue in November 2011. Its last day of business was Saturday.
Read More
The flights are set to depart Indianapolis twice daily Sunday though Friday and once on Saturdays starting May 7. Tickets will begin going on sale this weekend.
Read More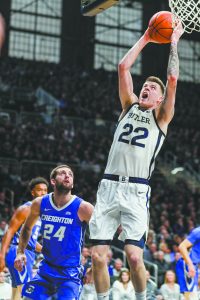 Heading into his senior season, Sean McDermott suddenly lost one of his biggest fans.
Read More