NOV. 22-28, 2019
Mickey Shuey has the latest in the dispute between the city of Indianapolis and developer Ambrose Property Group, which last week filed a lawsuit to prevent the city from seizing the old GM stamping plant site on the southwestern outskirts of downtown. This fight could take years to play out in court, delaying any development at the site. Also in this week's issue, Lindsey Erdody reports on the progress toward building a permanent music venue in White River State Park. And Samm Quinn explores the ramifications of the Democrats' near sweep in the Indianapolis city elections. In addition to the mayor's office, they now have a supermajority on the city-county council.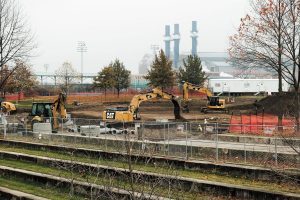 The project's $15.75 million second phase is under construction now and will bring a permanent concert venue to the 250-acre park when it's finished in June.
Read More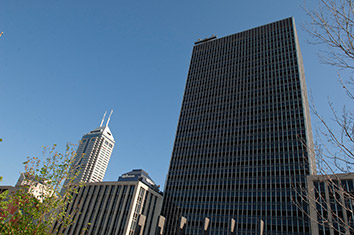 Republicans will be forced to work with Democrats to see any GOP proposals take flight. And new, young Republican councilors say they're eager to work across the aisle.
Read More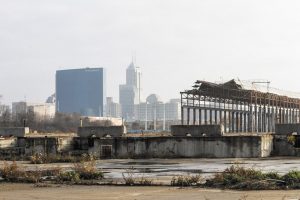 Negotiations could be difficult, given that both sides have strong arguments, legal experts say.
Read More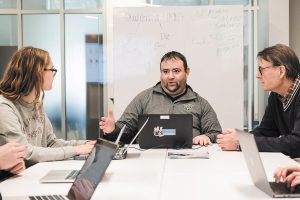 The company the school launched in 2017 insures a range of campus activities and assets, from its fine art collection and pianos to its living bulldog mascot.
Read More
Auto auction giant KAR Global's acquisition of a Florida-based locksmithing company has blown up in spectacular fashion, a meltdown it blames squarely on the man who founded the business.
Read More
Janet Easley and some 200 volunteers spend Thanksgiving serving nearly 10,000 others.
Read More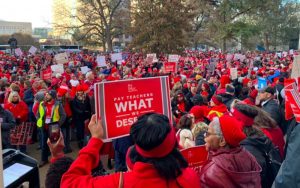 Teachers say they are rallying for better working conditions, higher pay, increased funding for public school classrooms, less emphasis on standardized testing and more respect.
Read More
The project—part of a $70 million master plan for the park approved last year—is expected to feature a 40,000-square-foot building in place of the existing park center.
Read More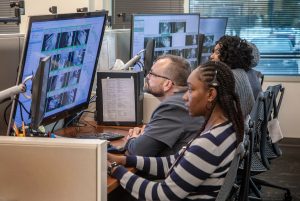 Three years after Indiana passed a law allowing doctors to prescribe drugs for patients without an in-person visit—using a computer, smartphone, video camera and similar technology—some health systems around the state are reporting higher use of virtual visits. St. Vincent, for example, sees hundreds of patients a month remotely for ailments ranging from minor rashes and sprains to follow-up visits for strokes.
Read More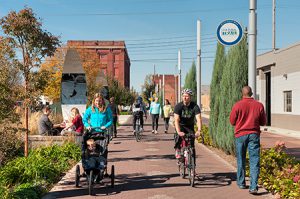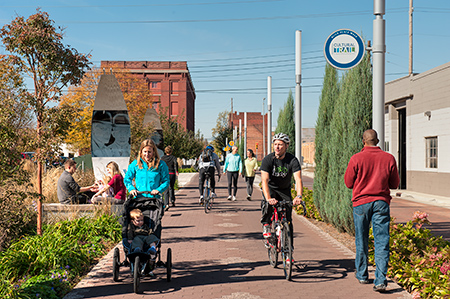 The money will be used for programs, maintenance and new counters that will keep track of how many people are using the trail.
Read More
The Indianapolis-based health system said it has chosen four programs for the first round of grants after reviewing 47 proposals over a wide spectrum of needs.
Read More
House Speaker Brian Bosma and Senate President Pro Tem Rodric Bray said at a Nov. 18 panel discussion convened by the Indiana Chamber of Commerce that they will support legislation raising the smoking age.
That's welcome news in the face of estimates that more than 90% of adult smokers start as teenagers.
Read More
We're surrounded by them in politics and business, and we can't thank them enough for protecting our freedom.
Read More
I recently visited London for 16 days. It had been 39 years since my last visit, so I was prepared for some changes. What surprised me the most were ways in which the daily lives of Londoners and Americans have diverged since 1980, particularly in the last two decades.
Read More
The days of viewing urban neighborhoods as places people drive through to get from the suburbs to downtown are over.
Read More
A Gallup poll showed the number of men who view sexual harassment in the workplace as a major problem is declining.
Read More
Between all the holiday parties and batches of eggnog, there are some financial tasks to check off your list before Dec. 31.
Read More
Under private property, if you sow and reap 100 bushels of corn—you keep 100 bushels. Under common property, it goes to communal warehouses and you're lucky to get one bushel.
Read More
With all the social needs in the city I am upset that Lilly Endowment has wasted at least $7 million on something in such poor taste.
Read More
The president argues that he will be denied due process if he cannot "confront" this whistle-blower. This is a real attempt at a diversion, akin to his claiming a denial of due process if he could not "confront" jurors while they deliberate a criminal case against him.
Read More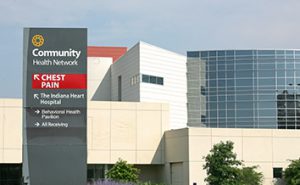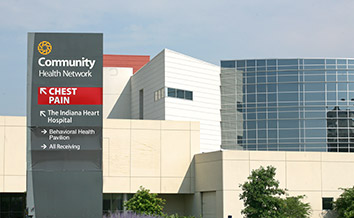 The merger, announced Wednesday, is designed to give patients a more comprehensive approach to addiction and behavioral health services," including treatment for serious mental illness and a psychiatric intensive care unit.
Read More
The Indianapolis-based Center for Leadership Development, which promotes personal development and educational attainment for minority youth, said the grant announced Tuesday morning is expected to be "transformational."
Read More
Indiana House Speaker Brian Bosma announced Tuesday that he will retire from his position at the end of the 2020 legislative session after serving his 12th year as speaker and 34th year in the Indiana General Assembly. He is the longest-serving speaker in state history.
Read More
Riverside Golf Course's assets will be auctioned off in early December prior to the 119-year-old course's closure. Meanwhile, with Coffin Golf Course going under new management, some of its assets will be sold.
Read More
The northern Indiana tourist site is set to close at the end of the year after 50 years in business, according to an economic development official in Nappanee.
Read More
Thoughtfulness takes time. Listening takes time. Reading more than the headline and beyond the 120 characters takes time.
Read More
The concern about confused voters or poll workers lacking the proper training should be addressed by the Marion County Election Board for 2020.
Read More
Why not strengthen fraying relationships by developing solutions in areas where we agree?
Read More
Thoughtfulness takes time. Listening takes time. Reading more than the headline and beyond the 120 characters takes time.
Read More
It is time for candidates to earn votes and let their policies stand or fall as they are presented to constituents."
Read More
We can raise voter turnout and hold inspiring and engaging elections while moving our city forward.
Read More
Sex discrimination was widely accepted when the Fourteenth Amendment was adopted in 1868.
Read More
When I hear Rep. Alexandria Ocasio-Cortez promote the Green New Deal and say we only have 12 years left, my eyes roll.
Read More
There always will be pay differences between school districts. But the growing reliance on referendums to increase pay presents a novel threat.
Read More
We must make a commitment to helping animals, who are the weakest members of our society.
Read More
The public transportation industry is moving toward self-driving and autonomous capabilities at a rapid pace."
Read More
I've grown a new appreciation for exposure to diverse, new and different people and activities outside my comfort zone.
Read More
We are able to justify and accept almost anything on a full stomach, warm home and secure employment."
Read More
Many Republican members of the legislative branch are acting as if their job is to protect the leader of the executive branch.
Read More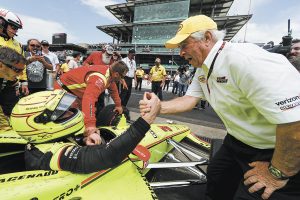 The legendary race-team owner who is about to buy Indianapolis Motor Speedway leaves little to chance. He's even been known to oversee the placement of a sponsor decal on a racecar.
Read More