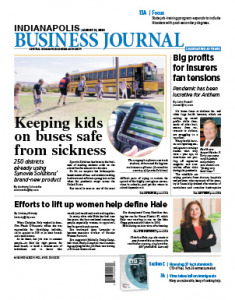 AUG. 21-27, 2020
In this week's issue, Anthony Schoettle explains how some school districts are trying to make bus travel safer. Indianapolis-based tech firm Synovia Solutions began working this spring on a new platform that helps with contact tracing and hygiene verification on school buses. It has already signed on more than 250 districts. Meanwhile, John Russell explores why health insurers such as Indianapolis-based Anthem are reporting huge boosts in earnings in the second quarter. The windfalls are raising protests from doctors, hospitals and patients. And Samm Quinn details how the 350,000 immigrants in Indiana have become especially vulnerable to COVID-19—not just for health reason but also economic.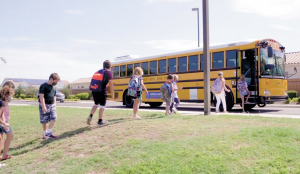 Indianapolis-based Synovia Solutions' latest platform—Bus Guardian—helps with contact tracing and hygiene verification for school buses.
Read More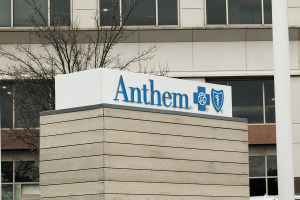 Many health insurers are reporting second-quarter earnings double what they were a year ago, as Americans are putting off expensive surgeries and even routine office visits during the pandemic.
Read More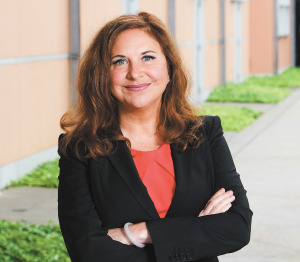 In every role Hale has held in her career, she has connected people, especially women, to opportunities for growth and success.
Read More
Immigrants disproportionately represent the state's essential workforce and are simultaneously concentrated in industries that are especially vulnerable to the economic recession caused by COVID-19.
Read More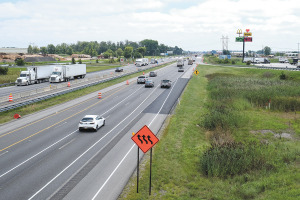 The launch of a $63 million project to add an interchange and rework another is likely to fuel a new blitz of commercial development in the state's fastest-growing town.
Read More
James Mladucky oversees some of the biggest building projects in Indiana. As vice president of design and construction at Indiana University Health, he is supervising the building of replacement hospitals in Bloomington and Frankfort, a hospital expansion in Avon and the recent construction of a cancer center in Carmel. Earlier this month, IU Health announced […]
Read More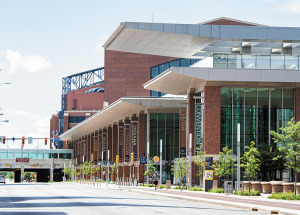 The Capital Improvement Board of Marion County approved a $132.3 million budget for 2021 during its Friday board meeting—a reduction of 26.4% from this year's budget.
Read More
The NCAA's insurance payout for March Madness is perhaps the largest for a pandemic-related event cancellation thus far.
Read More
Jones, the groundbreaking co-founder of Black Hatch Fund—a venture capital fund and accelerator that supports Black tech entrepreneurs—has been hired by one of the biggest and best-known venture capital firms in Indiana.
Read More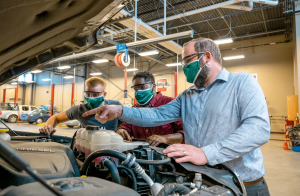 Through the end of the year, Hoosiers with an associate's or bachelor's degree can also receive free training in high-growth, in-demand jobs. In addition, the state has expanded the money companies can receive to train workers.
Read More
The University of Notre Dame has reported 58 confirmed cases since students returned to the South Bend campus in early August.
Read More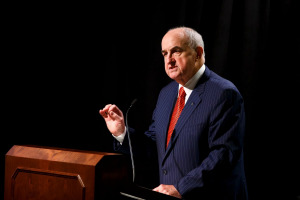 Michael A. McRobbie will continue leading Indiana University through the upcoming academic year, in which the school must contend with the unknowns presented by the coronavirus pandemic.
Read More
Several Indianapolis not-for-profits are creating a multi-site community child care network that will provide free e-learning supervision for students whose schools are operating remotely this year.
Read More
Indiana Gov. Eric Holcomb on Wednesday announced a plan to avoid a situation in which school systems that choose not conduct in-person classes due to pandemic concerns receive less than 100% of expected funding.
Read More
Gov. Eric Holcomb and Indianapolis Mayor Joe Hogsett this week each made crucial announcements—the first about racial-equality efforts and the second about downtown safety—that we wholeheartedly welcome, even as we're disappointed they didn't come sooner.
Read More
You can do your part to save these important businesses by dining out and ordering carry out.
Read More
We don't often think of Unigov this way today, but in 1970, it was an early response to the challenge of regionalism. It created a regional government covering Marion County. At the time, this included most of the suburban development in the region.
Read More
Social scientists have long noticed that Americans' attitudes about the environment divide along party lines. Republicans and Democrats turn to different sources for news, carry unique values, and follow cues from their own party's leadership.
Read More
One of our many discoveries has been how a person's at-home set up affects his or her overall satisfaction. The most satisfied people were those who had a dedicated office space within their home.
Read More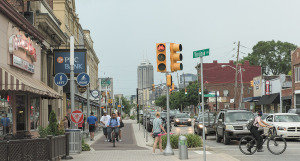 Healthy city centers have enough people living in them to keep businesses alive in good times and bad.
Read More
It's easy to dismiss financial mistakes with the old, "It made sense at the time." But here's the thing; a lot of times, those decisions didn't actually make sense at the time.
Read More
Our classes will combine in-classroom student interaction with major online components.
Read More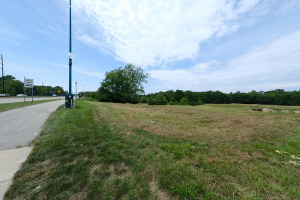 In the 2000s, Centre Properties envisioned building a $500 million project called RiverPlace near 96th Street and Allisonville Road. Another developer just acquired the land but says its plans aren't clear yet.
Read More
Indianapolis Department of Development Director Emily Mack is leaving her position after four years, Mayor Joe Hogsett announced Tuesday.
Read More
The Indianapolis Public Library plans to acquire land from the Washington Township school district as part of a years-long effort to build a new Glendale-area branch to replace the one in Glendale Town Center.
Read More
The NCAA and the Indiana Sports Corp. both said they're still planning for the Final Four on its original dates. Some sports business experts wonder whether the college basketball tournament could benefit from a "bubble" strategy like the NBA or NHL.
Read More
More than a year before the pandemic struck, Braden led the development of best-in-class remote connectivity infrastructure that allowed his team to easily shift to working from home.
Read More
Lenard's team has focused on improving dealership reporting, which is key to a dealership's day-to-day functionality, by creating dashboards that replace unreliable legacy systems with easily accessible and timely data and analytics.
Read More
Wyss has 33 patents and is known in the customer service industry as one of the world's leading experts in voice technology software.
Read More
Watts suggested that the company combine its multiple pieces of banking software into one fully integrated platform, a move that has fueled rapid growth.
Read More
Adams, the senior vice president of product engineering at Jobvite, has led the company's recent advancements on the artificial intelligence front with machine learning and sentiment analysis, as well as analytics.
Read More
Dalton has led the vending machine company through a comprehensive digital transformation of its core systems and applications.
Read More
Fisher has been instrumental in migrating KAR Global's core technology platforms to the cloud, including providing real-time live-stream auctions, a capability that took on added importance with the onset of COVID-19.
Read More
In more than four decades at Allison Transmission, Kirk has helped the company evolve from a test-based culture to an analysis- and simulation-based engineering culture.
Read More
Nair, who leads a team of more than 1,000 engineers, has played a key role in keeping Salesforce a global leader in customer relationship management.
Read More
Jones' co-workers say he has brought the Indiana Department of Child Services "out of the technology dark age and into the micro-chip millennium."
Read More
Speicher helped Aspire Indiana Health migrate all its technology to the cloud over three years.
Read More
Under Wagner's technology leadership, Franciscan Alliance has accelerated its virtual care capabilities and modernized its delivery model.
Read More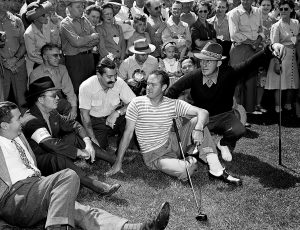 The Speedway and other venues paused for more than one season as World War II monopolized priorities and resources.
Read More