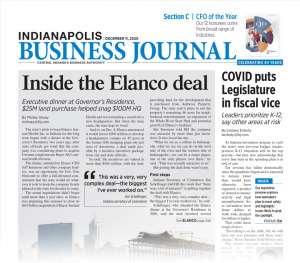 DEC. 11-17, 2020
The negotiations to relocate Elanco Animal Health's headquarters campus from Greenfield to downtown Indy's west side were so high-stakes and top-secret that city and state officials needed to use code names to refer to them. Mickey Shuey has a fascinating, behind-the-scenes look at the negotiations, which included a huge incentives package for Elanco, competition from other cities and an ungainly piece of property tied up in tense litigation between the city and a private developer. Also in this week's issue, Lindsey Erdody examines the financial strains that state legislators must address as they put together the state's next two-year budget—and the likelihood that education will shoulder some of the burden. And John Russell explores how hospitals are discharging some patients earlier than they normally would in order to free up more beds during the pandemic. In some situations, they're going home with oxygen machines, intravenous lines and powerful medicines.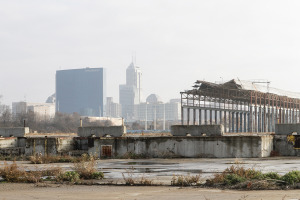 The state's pitch to keep Elanco Animal Health Inc. in Indiana for the long term began with a dinner at the Governor's Residence two years ago.
Read More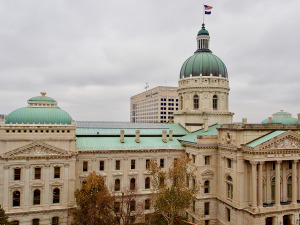 Leaders promise K-12 education will be the top priority, but they also acknowledge that every line item in the spending plan is at risk of cuts.
Read More
Hospitals are discharging patients several days earlier than they otherwise would, sending them home sometimes with oxygen machines, intravenous lines and powerful medicines.
Read More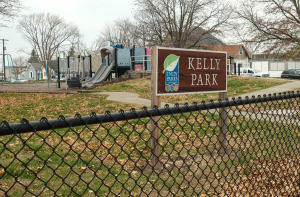 City program Lift Indy will direct $4 million in investment throughout the neighborhood. Many of those projects are already underway or will be launched in 2021.
Read More
In 2019, Republican Robert Vane launched a podcast called "Leaders and Legends" as a way to help promote his media relations and communications business.
Read More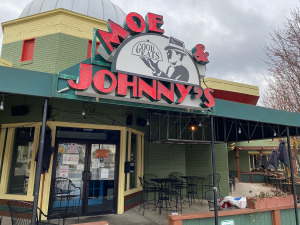 The longtime Meridian-Kessler sports bar and restaurant that announced last month it was closing "until further notice" is at the center of an ongoing legal dispute between the original owner and the new owner, who now wants out of the deal to buy the business.
Read More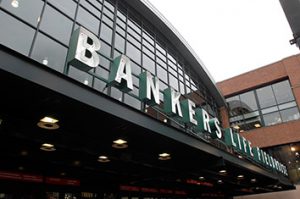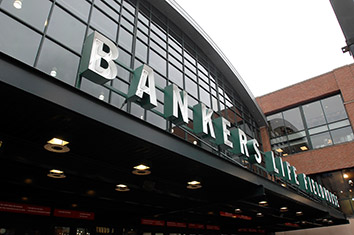 The new measures are part of the venue's effort to meet accreditation standards established by the International Well Building Institute at buildings across the country.
Read More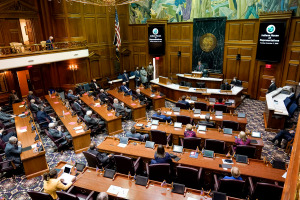 Republican leaders are confident the General Assembly can meet safely and still let the public have input, but Democrats are skeptical.
Read More
We have a special concern about students from low-income households, where internet connectivity could be spotty or nonexistent and where parents are more likely to be in jobs that are impossible to do from home.
Read More
Almost 30 years after joining IBJ, I look forward to what comes next and to continuing to support one of the finest regional business publications in the country.
Read More
The Assessment and Intervention Center is the culmination of the city's efforts over the last four years to build "off ramps" from the criminal justice system for individuals who do not represent a threat to the community and whose needs are better met through intervention than jail.
Read More
For employers, health benefits can seem like a black box even in the best of times. The pandemic made things even more confusing.
Read More
What metrics can help you decide when to begin staffing up and pursuing innovation more aggressively? What are the different possible paths for recovery in your industry, and how can your organization take advantage of inflection points?
Read More
Not needing a lot of money is a better strategy than having a lot of money.
Read More
The German architect who designed the Soldiers and Sailors Monument also drew up plans for the three largest war monuments in Germany.
Read More
After governments take delivery of the vaccines, they will provide them to citizens at zero user charge. If prices don't allocate resources, what does?
Read More
Indiana is the only state to ban light rail, a shortsighted mandate directly conflicting with Federal Transit Administration guidelines for technology selection.
Read More
The state appropriated $37.5 million for the two-year renovation to the 10,200-seat multi-purpose arena on the Terre Haute campus.
Read More
Indiana Republican Party Chairman Kyle Hupfer will focus on general corporate law and strategy, mergers and acquisitions, and government relations for Taft Stettinius & Hollister, the law firm announced Monday.
Read More
Allegion executive Tim Eckersley, who has led the company's Americas division since 2013, will shift to lead the company's operations in other parts of the world.
Read More
The agreement sets restrictions on noise and capacity, based in part on the number of toilets that are available at the tavern.
Read More
High Alpha's latest portfolio company, Trava, makes and markets an automated risk-management and cyber-insurance software platform designed for small- and mid-sized businesses.
Read More
Every effort should be made to contrast Republican leadership and policies with those of the Democrats.
Read More
Demographic diversity brings with it the true gold of American culture: diversity of thought. And the presence of that specific diversity is the reason the politics in American suburbia are changing.
Read More
Countries will require comprehensive, timely and high-quality data to address the challenges of vaccine delivery effectively.
Read More
Politicians will always look for ways to take credit for the work of others.
Read More
For a few more months, follow mask-wearing, social-distancing and hand-sanitization recommendations, and avoid high-risk situations.
Read More
I have continued to be puzzled and disturbed by the resistance of many people to wearing masks as we face a deadly pandemic of staggering proportions.
Read More
It has become increasingly clear that K-12 student learning outcomes will be affected by COVID-19.
Read More
Hispanics are religious practitioners, with 70% or more identifying as Catholic or evangelical protestant.
Read More
We need empathy … like we've never needed it before if we're ever going to rebuild trust in one another and in our political system.
Read More
I believe in the free marketplace of ideas and that competing ideas can keep each other in check.
Read More
As Democrats, it is our job to magnify the concerns of the people while concurrently offering tangible solutions.
Read More
My fear is that their inflammatory—and knowingly false—rhetoric could incite right-wing extremist groups or lone wolves to commit acts of political violence.
Read More
Instead of spouses fighting over which side of the family to see, you could have multiple options.
Read More
All business owners are problem-solvers, and Black business owners are no different.
Read More
Under Anna O'Nan's leadership, the company rolled out its NextGen platform and negotiated key partnership and reseller agreements, which accelerated growth and dramatically enhanced the company's market position.
Read More
Ivan Baird played a central role in growing and scaling the AIS and oversaw a doubling of year-over-year revenue from 2018 to 2019.
Read More
With Mundo Sanchez's help, the refrigerated-trucking company has grown 1,000% over the past five years and this year made IBJ's Fast 25 list of fastest-growing central Indiana companies.
Read More
Cindy Lucchese steers the financial fortunes of Penske Entertainment, the Roger Penske-owned entity she helped create when the racing icon bought the Indianapolis Motor Speedway, the IndyCar series and IMS Productions from the Hulman family in January 2020.
Read More
Michelle Demarco and her team arranged financing for enVista's long-term growth, and she led the company through the development of a strategic planning process that sets the stage to accelerate that growth.
Read More
Before anyone had heard of COVID-19, Steve Mark had worked with others on the Byrider executive team to update finance and accounting policies and procedures and equipped his entire team to work remotely.
Read More
In 2019, at Heath Fear's direction, Kite Realty Group Trust announced a bold plan to sell upward of $500 million in non-core assets and use the proceeds to retire debt.
Read More
Gustavo Garavaglia is responsible for electric utilities in Indianapolis and Dayton and several energy-generation facilities across the country that generate annual revenue of $3 billion.
Read More
With Todd Young's guidance, Elanco spun off from Eli Lilly and Co. in March 2019. In the process, Young built a 60-person corporate finance department from scratch.
Read More
Jennifer Alvey leads the financial fortunes of the largest health care system in the state, which serves more than 1 million patients every year and employs 34,000.
Read More
Camille Broeker is responsible for the financial oversight of the IUPUI campus, including its $1.65 billion operating budget.
Read More
Under Matt Hawkins' leadership, Ivy Tech has increased its net unrestricted funds from $331 million to $507 million, and the school's investment portfolio has exceeded its investment income goals by $33 million.
Read More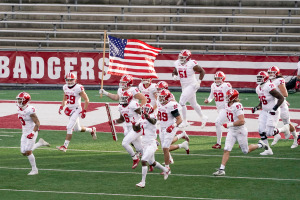 Indiana football has rarely, if ever, been the subject of nationwide conversation among college fans.
Read More