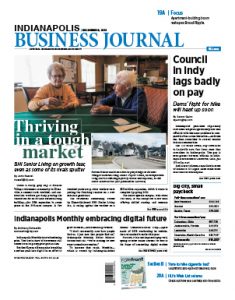 DEC. 6-12, 2019
John Russell examines the success of Zionsville-based BHI Senior Living. That's the developer of the upscale, 500-unit Hoosier Village campus, which has a long waiting list. BHI is thriving in a tough market for retirement communities. Back in Indianapolis, Democrats on the City-County Council raised some hackles when they proposed more than doubling the base pay for their part-time positions. It's an easy thing to criticize, but, as Samm Quinn reports this week, the base pay hasn't changed in more than 30 years, and Indianapolis councilors are underpaid compared to some nearby peer cities. And we have a classic tale of entrepreneurial ingenuity. Sam Stall reports on Fatheadz, which makes plus-sized eyewear. It was started by Indianapolis resident Rico Elmore after he couldn't find any sunglasses that would fit his generously sized melon.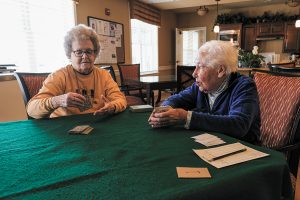 The retirement community operator had revenue of $51.4 million last year, up 4% from 2017, according to its Form 990 tax return.
Read More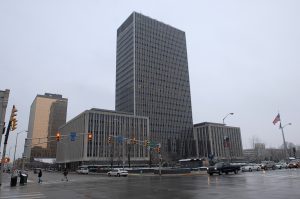 Indianapolis' part-time city-county councilors are paid significantly less than officials with the same positions in comparable cities across the nation
Read More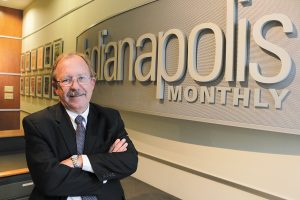 Indianapolis Monthly is not abandoning print. But the 42-year-old magazine is making a serious push into digital in an effort to grow its reach—and eventually revenue.
Read More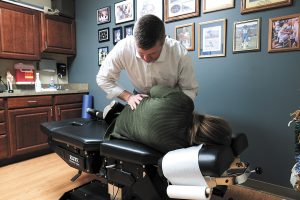 Founded in 1983, the practice has 28 physicians and annual revenue of $35 million, and shows little sign of slowing.
Read More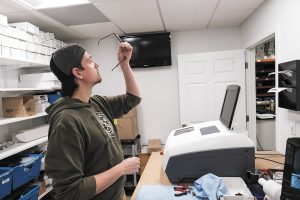 Starting out in 2005 with just four sets of sunglass frames, the eyeglass company now offers five lines for men and women with more than 100 frame styles.
Read More
Hay has an electrode sewn to his brain stem that conveys sound coming through a tiny device on the side of his head. He's now a sales director at Redux—which makes a device that dries and restores hearing aids.
Read More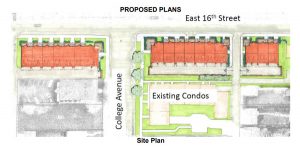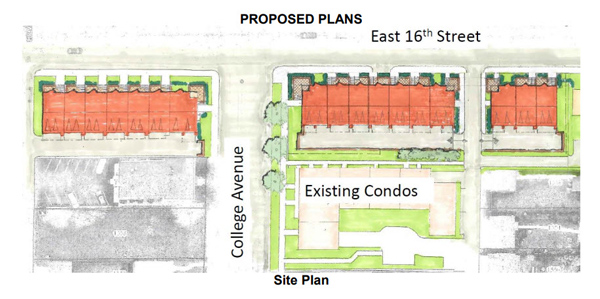 According to filings with the city, the project would consist of 17 two-story town houses over two blocks along East 16th Street.
Read More
Chicago-based Mercy Housing and Missouri-based MACO Development Co. plan to build the $25.6 million, 156-unit apartment complex at 3355 Kirkbride Way on the west side of Indianapolis.
Read More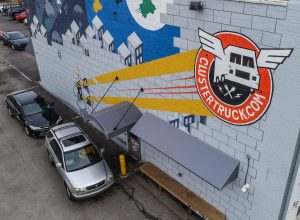 Indianapolis food-delivery company ClusterTruck is partnering with Cincinnati-based Kroger for a pilot program that will give the grocery giant an entry into the fast-growing meal delivery market, the companies announced Monday.
Read More
Todd Huston, of Fishers, became co-chairman of the powerful House Ways and Means Committee during the 2019 session and played a big role in crafting the 2020-2021 state budget.
Read More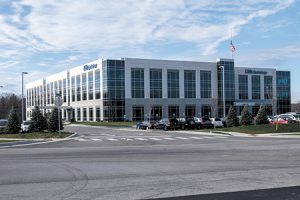 Group One Thousand One LLC, an Indianapolis-based insurance holding company, announced plans Tuesday to expand local operations into the Zionsville building beginning next year.
Read More
Christel House Academy, a politically influential charter network, wants to relocate its south-side school to Manual High School if oversight of that campus is returned to Indianapolis Public Schools.
Read More
Broad Ripple is wrapping up a prolific six-year stretch during which developers have spent more than $125 million to bring nearly 800 new apartments to the neighborhood.
Read More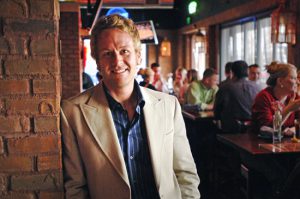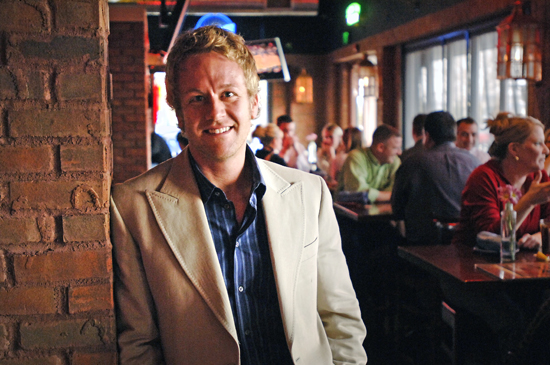 Scott Wise, who founded the once-flourishing Scotty's Brewhouse restaurant chain, starts Tuesday at CBRE's Indianapolis office, joining a team of 12 brokers in the office's retail division.
Read More
The three hotels at the intersection of Interstates 70 and 465 have nearly 500 rooms between them. The largest, a Marriott that serves as an overflow hotel for big downtown events, is slated for a renovation that could run between $10 million and $20 million.
Read More
The Securities and Exchange Commission under President Trump isn't known for its aggressiveness. As a Reuters analysis recently highlighted, the nation's "top market cop is slowly taking the shackles off corporations," in the hope that relaxed regulation will help reverse a 20-year decline in the number of U.S. public company listings. But we're glad to […]
Read More
As promised, this is the last of almost 500 regularly scheduled IBJ columns. My assistant Susan and I trashed the "fat file," the one on issues and ideas we have maintained for the last 25 years.
Read More
The collapse of the business model that sustained local newspapers is well-known; the consequences, however, are only beginning to be appreciated.
Read More
From wide perspective, decreasing fertility rates exacerbate the problem of slowing population growth. From the individual's perspective, they reflect continued positive economic trends.
Read More
Upcoming research from Purdue University indicates that local tax revenue generated by new homeowners doesn't keep up with added costs of services.
Read More
You can learn a lot about your organization by asking a few questions about what people might add to their space.
Read More
As with any investment, price is what you pay, but value is what you get.
Read More
Gary Varvel's statements regarding man not being able to destroy the climate because God would not allow it is putting way too much of a burden on God for the failures of man.
Read More
I respect Varvel's faith and his right to speak his own opinion. But it is his opinion, entirely disconnected from facts.
Read More
A naive belief that God will act in the 11th hour to reverse human-caused damage allows the so-called faithful to remain complacent and to continue "business as usual" in the irresponsible exploitation of Earth's resources.
Read More
For the past three sessions, I've pushed for legislation that would prevent homeowners associations from restricting the placement or use of solar panels.
Read More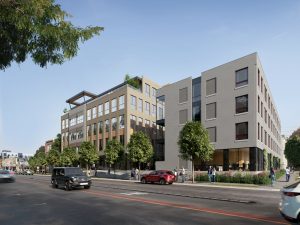 Sources said Eight Eleven Group is hoping to build a five-story office building, an adjacent four-story apartment structure and an underground parking garage where 200 to 250 people will be employed.
Read More
Indiana plans to seek federal approval to continue a health insurance program that covers about 418,000 low-income residents amid a pending lawsuit that could eliminate nearly all of the program's funding.
Read More
A special prosecutor started investigating former Deputy Treasurer Susan Byer's claims five months after she filed a November 2018 lawsuit alleging the office allowed county employees to waive penalties on late property-tax payments for themselves and family members.
Read More
Ronnie Ramos, executive editor of The Indianapolis Star since March 2018, plans to resign Dec. 20 "to pursue other opportunities," the newspaper reported Monday morning.
Read More
In-store sales slipped, but sales by people who bought things online and then headed to the store to pick them up surged 43.2% on Black Friday, according to Adobe Analytics.
Read More
Indiana's smoking prevalence results in tragic individual and family health consequences, including thousands of teens on course to becoming lifelong smokers.
Read More
The continued willful sanctioning of laws "for our good" is nothing more than death by a thousand cuts.
Read More
The acceptance clearly crosses political party lines, evidenced by the states that have passed legalization statutes and referendums.
Read More
What I am talking about is our overall selfishness as a generation.
Read More
Holcomb will need to overcome a legacy of choices that have led us here, many of which preceded him.
Read More
We are not talking about 15 additional hours of certification. It's included in the 90 hours teachers must get already.
Read More
Our Indiana teachers really are taking home less pay today.
Read More
Last year, 103 black males were murdered in Indianapolis.
Read More
Our performance has been below the national turnout since about 1990.
Read More
I am not predicting a blue-wave here, but some of Indiana's most important races could become dramatically more competitive.
Read More
Party insiders worry Curtis Hill is vulnerable, and anyone who wins the Democratic nomination could run a negative campaign.
Read More
If the person with whom you're negotiating gives you what you want, take the win and move on.
Read More
Approximately five U.S. children die every day of child abuse.
Read More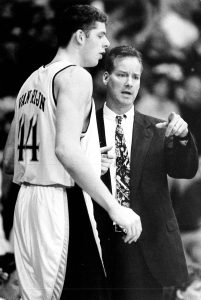 Before we get to the fluky set of circumstances that got Barry Collier to Butler in the first place and meet the man who made it happen, let's establish a premise: Without Collier, there is no Butler Way.
Read More